Breville Oracle vs Jura Z6 is the hotter debate right now since these machines are super high-end and super impressive. These models have such different designs that it is hard for me to decide which one is better. But after a lot of testing, Breville Oracle is my final winner.
The Oracle line is incredibly consistent, and it pulls excellent balanced-to-strong coffee flavor. With its trustworthy big 84oz water tank, you won't have to refill frequently. Thanks to the dual boilers, the espresso temperature is always right, and you can brew and forth simultaneously.
Jura Z6 is excelent in its field as well. The coffee flavor coming out of this machine is mellow, and balanced. It is very ideal for busy users who need a cup of coffee every morning in the quickest way. You will enjoy this if you want a machine that does it all for you automatically.
Breville Oracle vs Jura Z6: Comparison Chart
Table could not be displayed.
Breville Oracle vs Jura Z6: Differences
Breville Oracle wins 4-1 against Jura Z6 thanks to its amazingly flavorful coffee, powerful steam wand, and convenient features like one-touch americano and PID technology. You get consistent pulls of espresso and froth microfoam while you are at it. Check out further below.
Coffee Flavor: Breville Oracle
Grinder
Both models come with a conical burr grinder, which I consider to be the best type of grinder on the market. You can get even and fresh grounds with these machines.
As for the Breville's grinder, it has 45 settings, which I find a bit excessive but if you are detailed-oriented, I believe this variety will benefit you a lot. And for the Jura Z6, its AromaG3 grinder has 6 settings, suitable for users who search for simplicity.
My experience with these machines' grinders is: Breville Oracle is very consistent. It delivers evenly grounded beans with minimum noise, which is what we should expect from devices at this price range. Notice that I say "minimum" because it is impossible to avoid noise with machines that have integrated grinders, but this one keeps it to the bare minimum.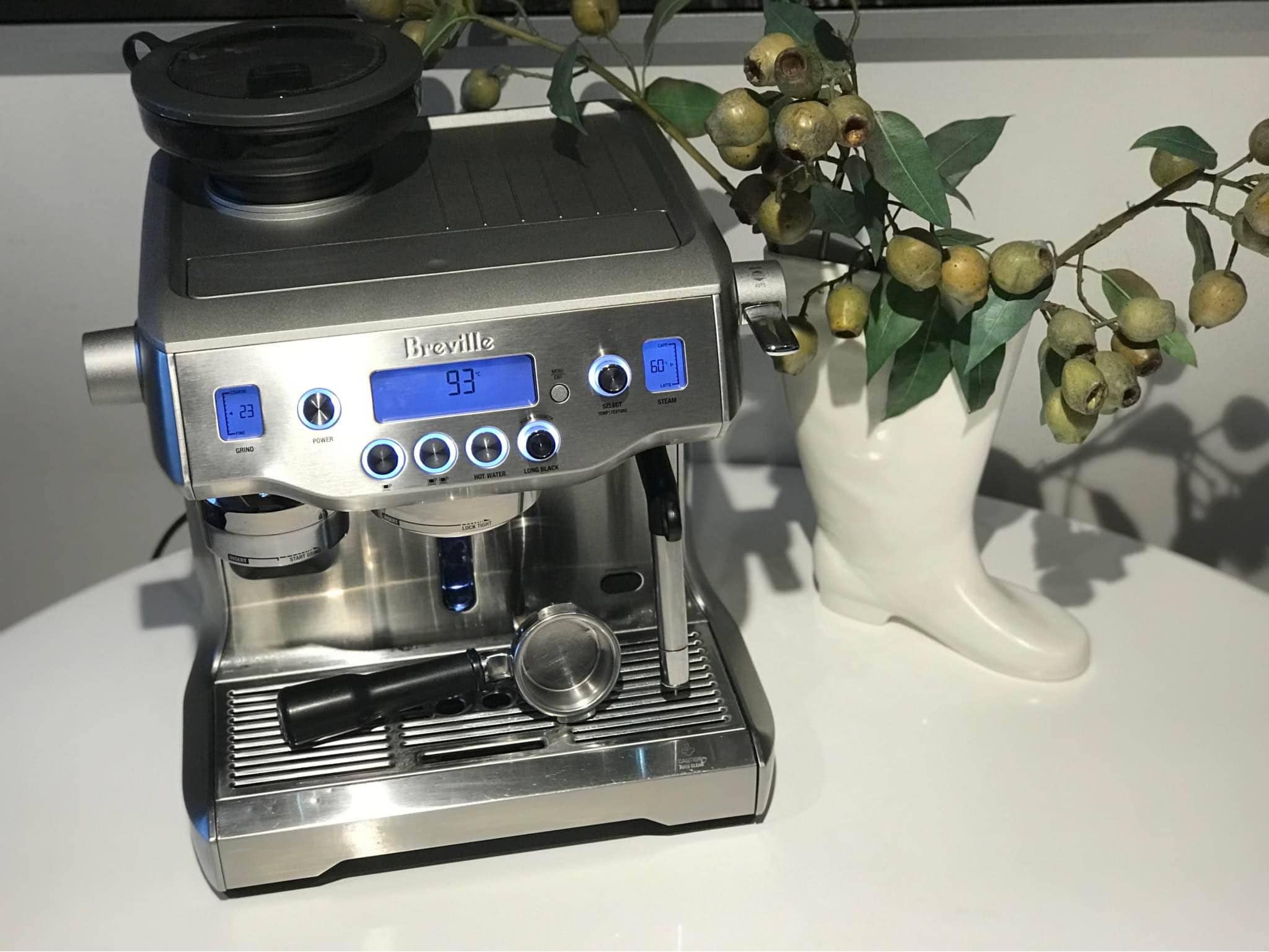 In terms of Jura Z6, I suggest you set its grinder at a high level so you can get finer coffee grounds at the end, resulting in more flavorful and more robust coffee/ espresso. This has to do with its dosing.
Since the machine uses 16g maximum, sometimes the flavor won't be as strong as you want it to be. Thus, extracting from finer grounds assures that the flavor packs a harder punch.
Dosing + tamping
These 3000$ models will do every step for you, including dosing and tamping. If you want a product that requires minimum effort, Jura Z6 is an excellent option. It grinds the beans, doses, then tamps consecutively, you won't have to touch any button during the process. The dose varies from 5 to 16g. So you get a mellow and balanced coffee flavor.
Still, Breville Oracle is still slightly better in this aspect. The dose varies from 19 to 22g depending on the recipe that you choose. For me, the flavor always comes out strong, nutty, and slightly bitter. These are my go-to layers of flavor.
Similar to Jura Z6, it doses and tamps for you as well. Personally, I prefer the dosing, tamping, and brewing process of this model. Why?
There are 2 sections: the dosing + tamping and the brewing. First, we place the portafilter in the dosing + tamping section to catch the freshly grounded beans. Then we remove the portafilter and pluck it in the brewing section. So definitely it is more manually compared to the Jura one. But, as an ex-barista, I enjoy these small steps more.
Heating system
Breville Oracle boasts of its efficient dual-boiler heating system while Jura Z6 shows the great speed with its Thermoblock.
If you are looking for a machine that is excellent at keeping up with the brewing temperature and the steam pressure, I recommend the Oracle line. Thanks to the dual boilers and the PID technology, the temperature control is top-notch. After many sessions of brewing and frothing, the medium temperature of espresso that I get runs around 188F. I get unmatchable coffee flavor and heat every single time.
If you are looking for a machine that can brew you a cup of latte 1 minute after starting up, Jura Z6 will be an optimum choice. The heat-up times take around 1 minute only, and the machine is ready to brew and froth. However, keep in mind that this model is not for users who look for hot and steaming coffee. The maximum coffee temperature that I get with this is 175F, so it tends to cool off quicker.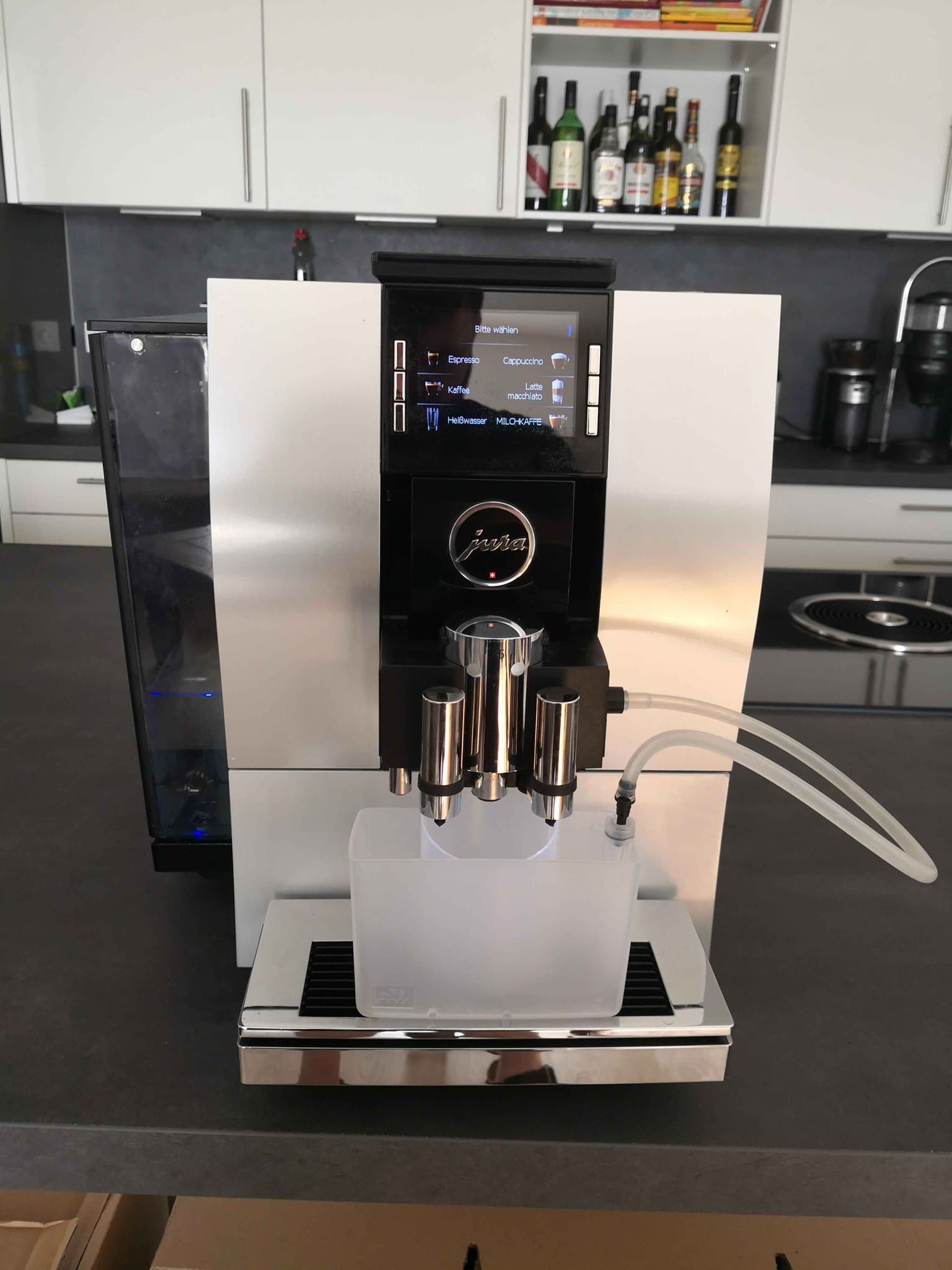 Brewing technique
Breville Oracle is designed with the pre-infusion function, which makes sure that the water seeps through the coffee ground evenly before it slowly applies pressure to extract the most full-bodied texture and complex layers of flavor. As I have said, this model is great for pulling balanced-to-strong coffee.
Jura Z6 doesn't come with a special brewing technique but I don't have much to complain about its coffee. So far, I have been enjoying its latte macchiato and overall espresso. But, it is true that this machine brews coffee that tastes balanced and sometimes weak if the dose is low. For coffee drinkers who search for nuanced taste, this one is less ideal than the model above.
Additional Features: tie
Each model has one additional that I believe to be worth mentioning. The Breville one has a one-touch button that is made especially for an americano. I would describe the taste as refreshing, lingering, and slightly bitter. It never seems watered-down when I randomly pull a cup. Are you a fan of americano? If the answer is yes, you know what to do.
The Jura Z6 line boasts of its side-loaded water tank with a blue light which makes checking water level so much easier. Filling the tank is as simple as it gets.
Milk system: tie
First, I want to highlight that it is 100% possible to froth microfoam with both machines, it just depends on the recipe or your preference. The thing is, Jura Z6 works with a separate carafe, while Breville Oracle has a steam wand with its own boiler.
So, convenience-wise, Jura Z6 is the winner. All you have to do is fill the carafe and attach it to Jura through a pipe. Then it will steam milk or make microfoam for you.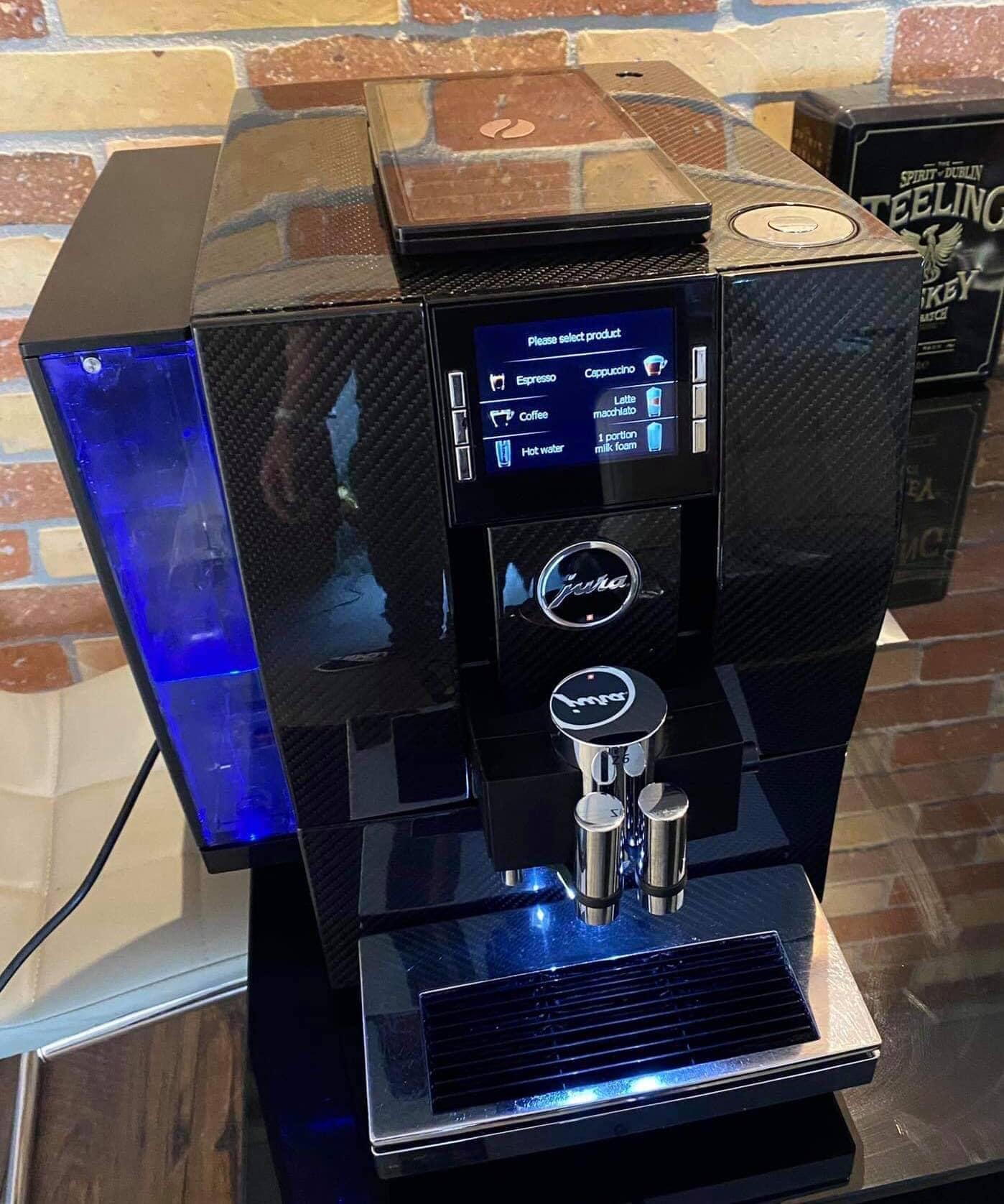 Texture-wise, I think Breville Oracle does a better job, simply because I have more control over the steam wand than I do with a carafe. There are 2 settings, manual and automatic. We can leave the milk jug with the steam wand, and it shuts off automatically or we froth and turn off the wand manually.
I absolutely love the efficiency and the texture of milk that Breville Oracle can deliver. It is creamy, thick and it gets done quickly. But, Jura Z6 does a wonderful job as well.
Cleaning & Maintain: Breville Oracle
Both are quite standard when it comes to cleaning. But, Breville Oracle takes the round with its steam wand's auto-purge function. After each steaming and frothing session, all we have to do is point the wand down the drip tray and its own dedicated boiler will push steam and water out through the wand to cleanse it.
Thus, keeping up with the milk path is an easy task with Breville Oracle. As for the Jura Z6, since it uses a separate carafe, you will have to clean the milk path when the carafe itself is already clean. It is important to use a cleaning solution with this one.
Design & Material: Breville Oracle
Both models are designed smartly, and there isn't any detail that truly bugs me. But, I do prefer the entire stainless steel body of Breville Oracle, it is worthy of its own price tag.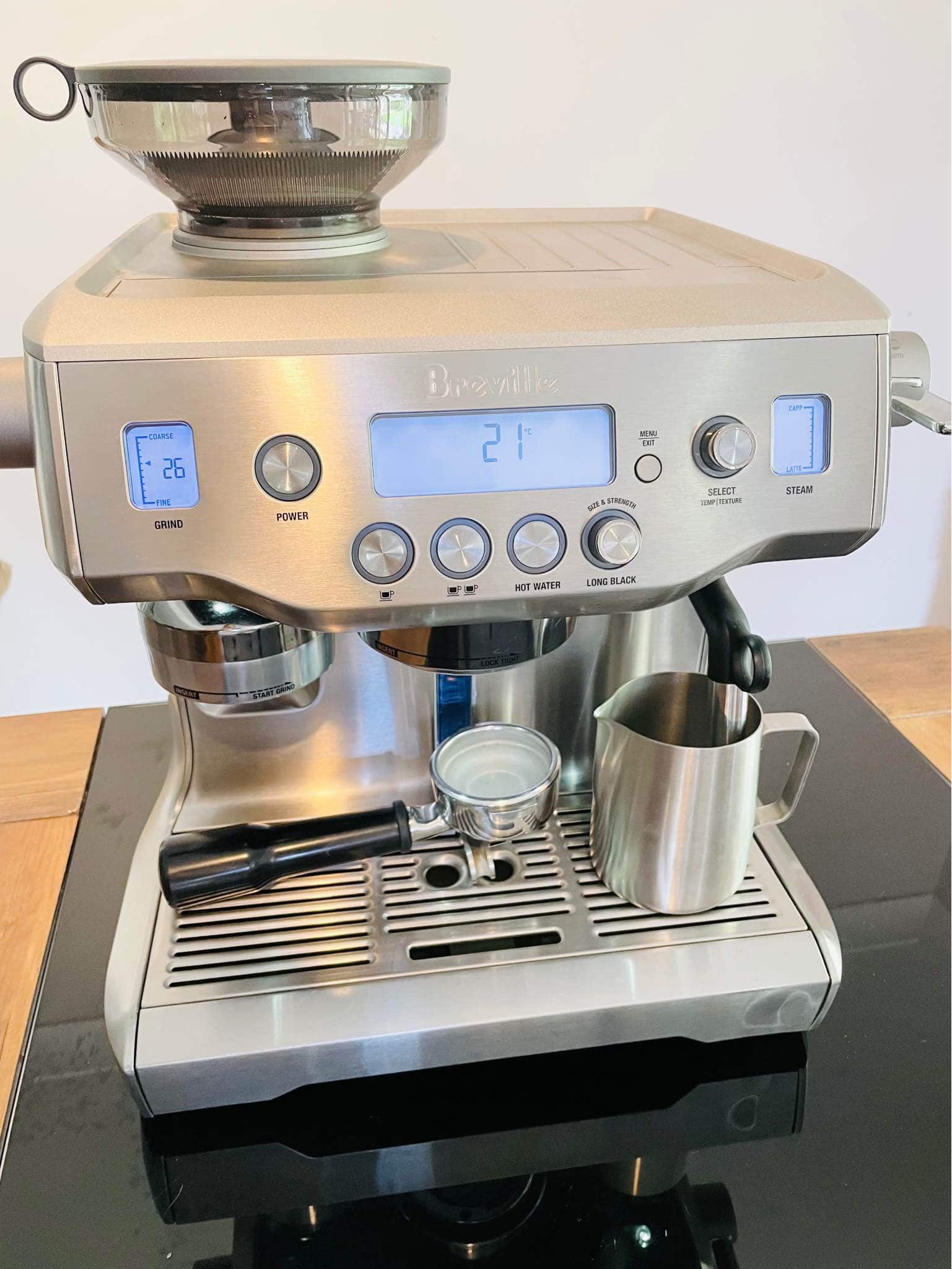 About the Jura Z6, I adore the aluminum parts of this machine since it is so durable and lightweight at the same time. But the sides and the back of Jura Z6 are made of plastic, so it is not as impressive as I want it to be,
Breville Oracle vs Jura Z6: Similarities
Breville Oracle vs Jura Z6 isn't just about major differences. Find out where they coincide now!
Adjustable Coffee Strength
The strength changes through the control of the dose, and these machines definitely can switch up the dose. You can also adjust the grinder setting to achieve variable flavor as well. The finer the ground, the stronger the taste.
Adjustable Milk Temperature
Not all users want warm steamed milk, some look for machines that can froth hot foam. And if you have the same need, keep in mind that you can change the milk temperature with Breville Oracle and Jura Z6.
Quick Rundown Of Breville Oracle
Breville BES980XL Oracle Espresso Machine, Brushed Stainless Steel
The Breville Oracle fully automatic delivers third wave specialty coffee at home using the 4 keys formula; It has a professional Dual Boiler construction that delivers unparalleled temperature control and simultaneous extraction and steaming
Dose Control Grinding: The integrated precision conical burr grinder automatically grinds, doses and tamps 22 grams of freshly ground coffee, for maximum flavor
Optimal Water Pressure: The Over Pressure Valve limits the maximum pump pressure throughout extraction, helping prevent bitter flavors; Low pressure pre infusion gradually increases water pressure to gently expand grinds for an even extraction
Precise Espresso Extraction: Dual stainless steel boilers and heated group head controlled by digital temperature control (PID) delivers water at precisely the right temperature, ensuring optimal espresso extraction
Automatic Microfoam Milk Texturing: Self-cleaning steam wand, powered by a dedicated boiler, automatically textures milk to your liking and delivers barista quality microfoam that enhances flavor and is essential for creating latte art at home
Last update on 2023-03-02 / Affiliate links / Images from Amazon Product Advertising API
Quick Rundown Of Juza Z6
Jura 15093 Automatic Coffee Machine Z6, Aluminum
The pulse extraction process (P.E.P.) allows the whole bouquet of aromas to Blossom. Result: possibly the best Espresso of all time - at the touch of a button
The innovative nozzle technology prepares fine, compact and very tempting milk foam. The machine switches from milk to milk foam fully automatically
The Z6 packs incredible performance into compact Dimensions. All the control elements are conveniently accessible on the front
Maintenance is just as easy as preparing a Coffee: one touch of a button is all that's needed
Only Original Jura maintenance products Guarantee complete hygiene and protection. Only our protective formulas have been carefully optimized to suit the programmed and materials used in Jura automatic machines.
Last update on 2023-03-03 / Affiliate links / Images from Amazon Product Advertising API
Product Videos
Related Articles to Breville Oracle
Related Articles to Jura Z6
References:

I am a passionate coffee drinker. Since I left my job as a barista a few years back in 2012, I've been sharing my expertise on coffee and buying the best coffee equipment online. That's how Wild Boar Coffee came to life.
I write about everything coffee-related under the sun. Where to buy the freshest coffee beans from? How to test coffee beans based on texture, aroma, and acidity?
I know all this from scratch – all thanks to my years and years of experience as a barista. So I've gotten real up-close-and-personal with coffee beans and different brewing techniques.