In the debate of Jura We8 vs Z6, I have found out the ultimate winner: Jura We8. After testing these models for 1 month, which I admit is not too long, here is my experience with Z6 and We8:
The winner Jura We8 is very consistent with its brewing sessions, and the coffee flavor comes out robust. The temperature control also is better even though these models share the same heating system. You can also trust the 101oz water tank to provide enough coffee for a small office. I recommend this model for users who look for value and price.
Jura Z6 also functions stably, and it brews smooth and balanced coffee/ espresso. The size of its water reservoir is ideal for homeowners, and it can make good milk-based recipes. But, compared to We8, Z6 is not as convenient and potent in certain points, which I will explain below.
Jura We8 vs Z6: Comparison Chart
Table could not be displayed.
Jura We8 vs Z6: Differences
Jura We8 wins 3 to 1 facing Jura Z6. The former can brew hot coffee, and its frothing system can deliver drier milk foam for cappuccino. With its big water tank, you won't have to refill it as frequently either. Check out for more details!
Coffee Flavor: Jura We8
+Grinder
There isn't much to complain about the grinders of Jura We8 and Z6 since I haven't experienced any problem with them anyway. With the Aroma G3 grinders, which both models use, we can change the grind setting to 6 levels, from fine coffee ground to coarse coffee ground.
From what I got so far, the ground is even, and there isn't any lumpy bit of coffee bean. This must be the reason why I never get too bitter or too watered-down coffee with these models because we all know that unevenly ground coffee beans can affect the quality of the final espresso.
If you are wondering about the noise, there is a difference. We8 is much quieter when it grinds coffee beans, while Z6 produces a screeching sound. Even though the grinding step is quick, you should keep this in mind if you have babies at home or work in an environment where minimal noise is advisable.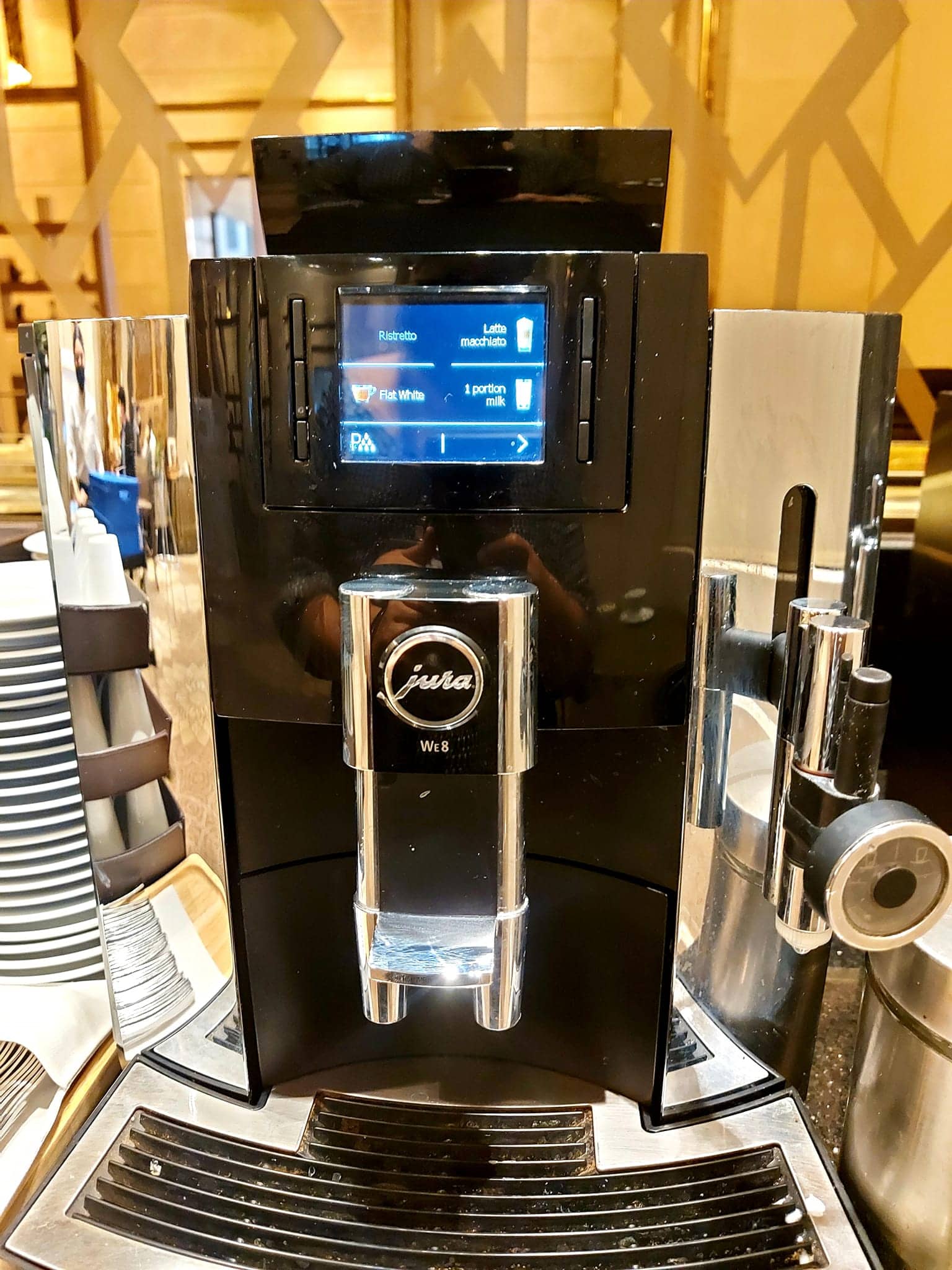 +Dosing + tamping
The dosing and tamping time of Jura Z6 and We8 take around 10 to 18 seconds maximum, and these models are super-automatic, so I don't have to do anything manually. Both machines have the same brewing unit, which varies from 5 to 16 grams.
Even though the dose is the same, I notice some differences in these machines' coffee flavors. We8 offers a more robust, full-bodied, and slightly bitter coffee, which is ideal for coffee lovers who love strong espresso and coffee. I prefer strong coffee, so We8 is the go-to option between the two.
Z6 offers a smoother, velvetier, and mellow coffee. This doesn't mean that the machine can't make strong coffee, but overall, I find the final results to be more mellow and balanced than We8's coffee, which packs a punch.
+Heating system
The pair uses the same 1 Thermoblock heating system, which heats up water quickly in about a minute. But from my experience, if you want to get hot coffees instead of warm ones, you should start up the machines 10 to 15 minutes beforehand, and this applies to every coffee machine out there, from home use to commercial.
Despite having the same heating system, Jura Z6 doesn't seem as efficient at brewing hot cups as Jura We8. Coffees that come out of Z6 are good for drinking right away, but you will have to rush it, or the drink will cool off quickly. We8, on the other hand, brews hot cups that are around 190F hot, which you can sip and enjoy patiently.
The heating system also affects the milk system, which I will detail further below.
Milk system: Tie
Firstly, the milk foam textures that I get from these machines are very different. With We8, its milk system can automatically froth dry foam, which I find perfect for a cappuccino. It is possible to make creamy foam as well, depending on the recipe, so there is no limitation in its milk system.
With Jura Z6, the milk foam belongs to the creamy side and doesn't have the same dry and airy texture as the milk foam that We8 makes. I get perfect lattes with this model.
In shorts, if you prefer dry foam and cappuccino, We8 is the better option. If you prefer latte and creamy foam, Z6 is the more suitable pick.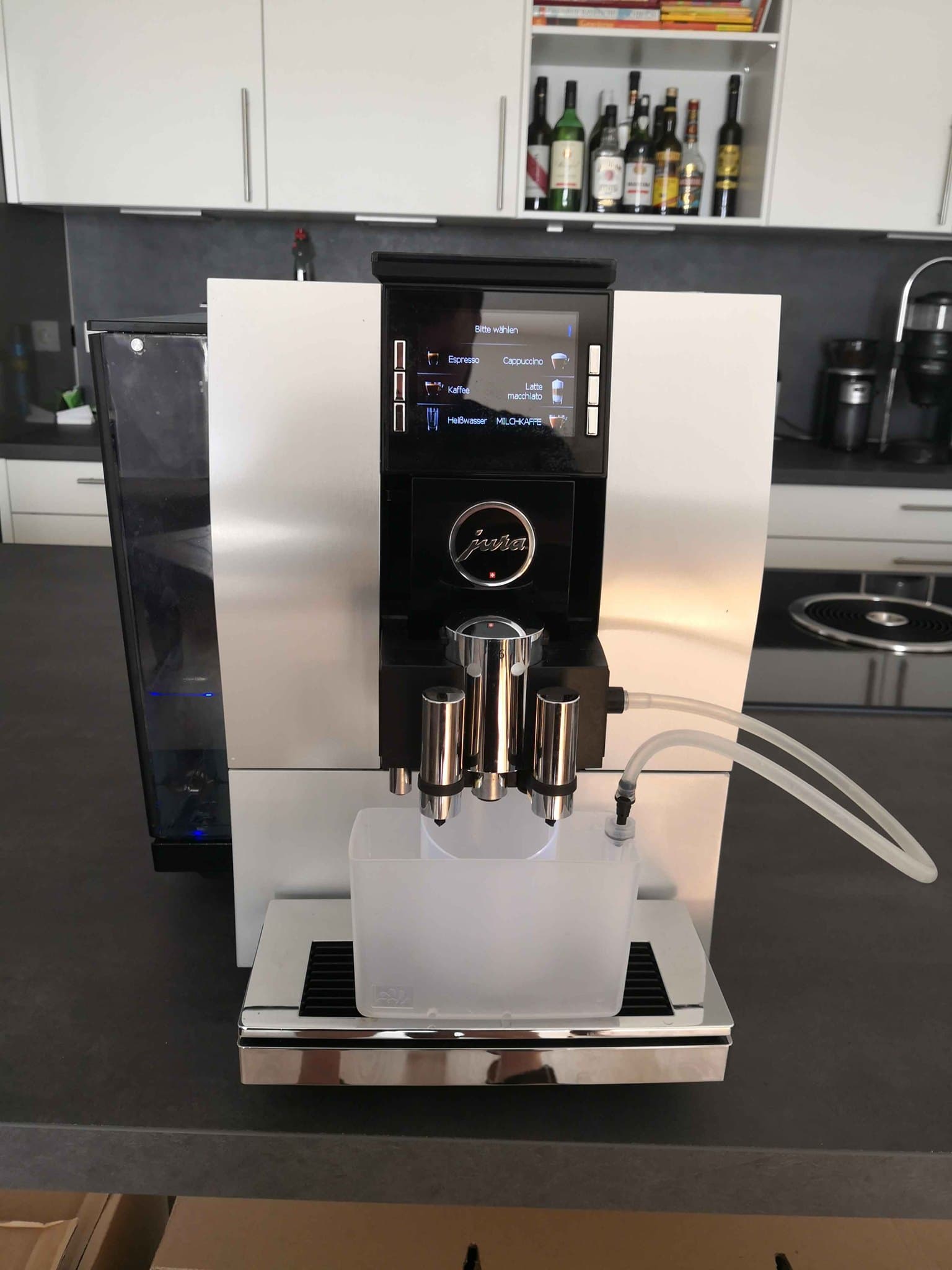 But, you should keep in mind the milk foam/ steamed milk temperature. After trying out different milk temperature and texture settings, I notice that We8 can make hotter milk than Z6, which affects the whole cup's temperature. If you want hot coffee with milk-based recipes, I fully recommend that you check out We8.
Utilities: Jura We8
Jura We8 has a bigger water tank capacity, so it is no surprise that it also has a larger coffee grounds container. It can hold up to 25 servings compared to the 20 servings of Z6. You won't have to dump the used pucks as frequently.
This feature is very convenient if you live in a shared apartment with many people or work in an office where employers use the same coffee machine.
Cleaning & Maintain: Tie
I like these machines because they run hot water through the nozzles or dispensers automatically when they shut off. This step helps push any leftover coffee or milk out of the brewing path. That way, the leftovers won't develop mold or bacteria that goes backward into the water tank and the brew group, which ruins the machines in the long run.
We use a cleaning tablet and drop it in the pre-ground slots to clean the brew groups thoroughly. Then we hit the deep clean option, and Jura We8 and Z6 deal with the rest of the process.
Jura We8 vs Z6: Similarities
Now. Let me introduce you to the similarities between the pair.
Side water tank
The side water tank is a major plus point for me. We don't have to remove it or move the machine around in order to get to the tank. Simply remove the lid on top and pour water in. Refilling is no longer a hectic task with espresso makers like these.
Lightweight design
Despite having large tanks and bulky designs, Jura Z6 and We8 aren't that heavy. Besides, you won't even have to move them around too much with the side water tanks.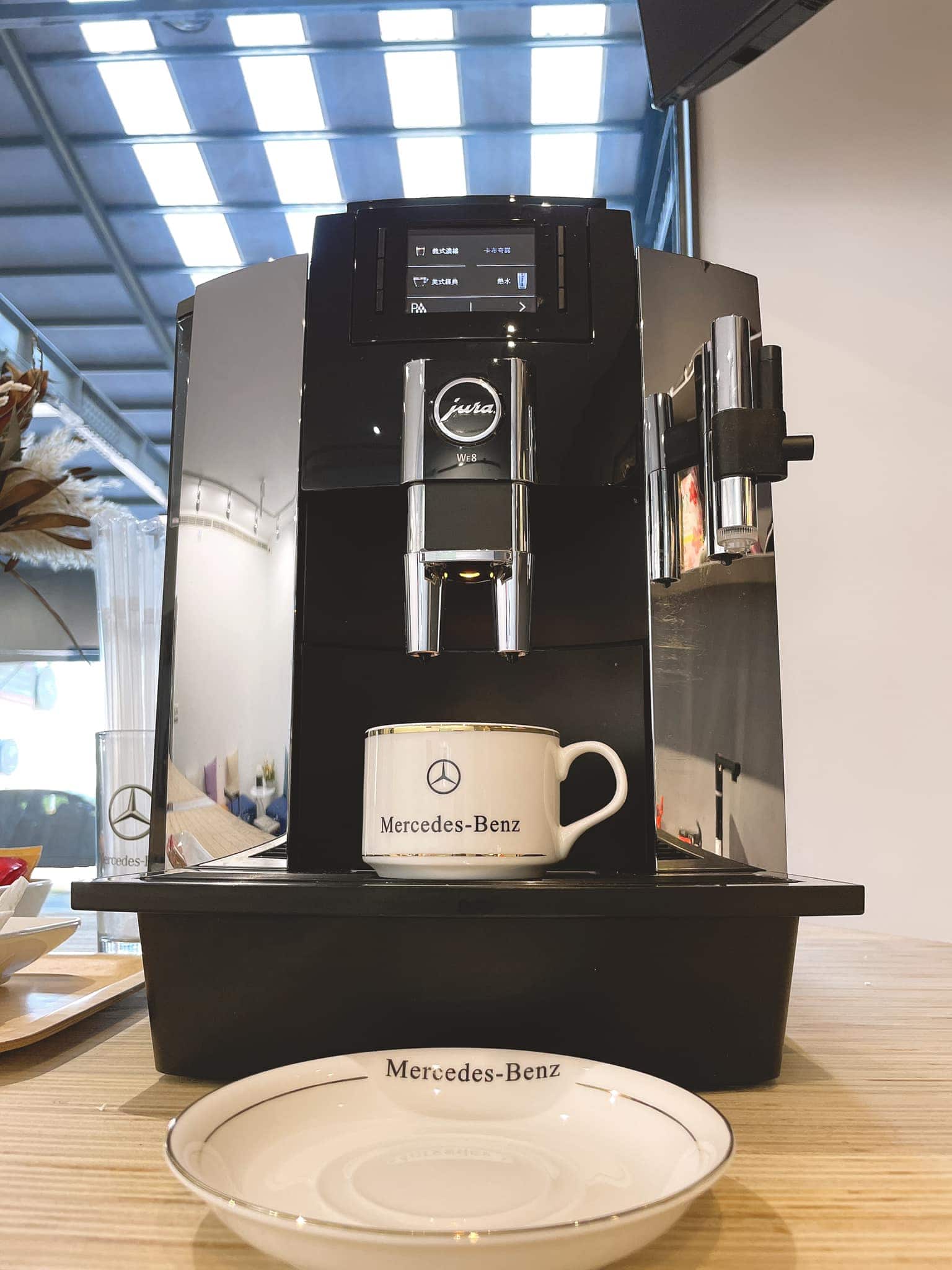 Another point I would like to add is that these machines are pretty anti-drip. After brewing a cup of latte or flat white, they continue to drip during 10s, and then the dripping stops definitely. With minimum dripping, you won't have to move the machines around to clean them regularly.
Quick Rundown Of Jura We8
Jura 15145 Automatic Coffee Machine WE8, Chrome
ONE TOUCH: Prepare 12 barista quality specialties including perfect espresso with JURA's exclusive Pulse Extraction Process, coffee, cappuccino, flat white and latte macchiato at the touch of a button
CONICAL BURR GRINDER: Fast and precise AromaG3 grinder grinds whole beans to the optimum fineness
ECO FRIENDLY: JURA is always freshly ground, not capsuled - fresh taste with very limited waste - single serve machine
OFFICE USE: Perfect machine for your workplace - ideal for small offices and self-serve coffee bars
CAPACITY: 101 ounce water tank, 17.6 ounce bean container
Last update on 2023-03-03 / Affiliate links / Images from Amazon Product Advertising API
Quick Rundown Of Jura Z6
Jura 15093 Automatic Coffee Machine Z6, Aluminum
The pulse extraction process (P.E.P.) allows the whole bouquet of aromas to Blossom. Result: possibly the best Espresso of all time - at the touch of a button
The innovative nozzle technology prepares fine, compact and very tempting milk foam. The machine switches from milk to milk foam fully automatically
The Z6 packs incredible performance into compact Dimensions. All the control elements are conveniently accessible on the front
Maintenance is just as easy as preparing a Coffee: one touch of a button is all that's needed
Only Original Jura maintenance products Guarantee complete hygiene and protection. Only our protective formulas have been carefully optimized to suit the programmed and materials used in Jura automatic machines.
Last update on 2023-03-03 / Affiliate links / Images from Amazon Product Advertising API
Product Videos
Related Articles to Jura We8
Related Articles to Jura Z6
References:
Jura We8: https://us.jura.com/en/professional/machines/WE8-UL-15145/Specifications#tabs
Jura Z6: https://us.jura.com/en/homeproducts/machines/Z6-Alu-UL-15093/Specifications

I am a passionate coffee drinker. Since I left my job as a barista a few years back in 2012, I've been sharing my expertise on coffee and buying the best coffee equipment online. That's how Wild Boar Coffee came to life.
I write about everything coffee-related under the sun. Where to buy the freshest coffee beans from? How to test coffee beans based on texture, aroma, and acidity?
I know all this from scratch – all thanks to my years and years of experience as a barista. So I've gotten real up-close-and-personal with coffee beans and different brewing techniques.