One of the best ways to make a great cup of coffee is by grinding your own beans. Freshly ground coffee will give you the best tasting cup when compared to pre-ground coffee, but what do you do if you don't have a grinder? This article will show you the solution by answering the question " Will Starbucks grind my coffee?"
See also:
Will Starbucks Grind My Coffee?
Starbucks is everywhere. If you have an unopened bag of fresh coffee beans, you might wonder if Starbucks would grind them for you. The Starbucks' grinders will have your coffee ground in a jiffy.
Starbucks is willing to grind your coffee beans for you for free. But you can't take any coffee beans and get them ground at Starbucks. Your coffee beans have to meet some requirements.
So, here is what you should know before going to Starbucks to have your coffee ground.
Starbucks Requirements for Grinding Coffee Beans
The Coffee Brand
This is the most important point to conside because Starbucks will only their grind coffee beans. They will not grind any other brand. This might sound like they're trying to force you to buy their beans, but there is another reasonable reason for this requirement.
If Starbucks were to grind a different brand of coffee beans, the oils from those coffee beans would "contaminate" their grinders, which would drastically affect the final flavor.
The Coffee Bag Needs To Be Sealed And Not Expired
Customers who bring coffee grounds to Starbucks for grinding should make sure the bag of beans is sealed and unopened. The beans shouldn't be expired, either. This is very important.
The beans can also contain external contaminants or small foreign objects, which could lead to anything from damage to the machine, poison employees and customers.
Selecting The Right Coffee Grind
It is something that could take up time and serve to embarrass you when you queue for selecting coffee grind. Knowing the kind of coffee grind you need will save you, and others, a lot of time.
You need to know what type of grind you're going to need. There are different grinds that Starbucks can provide based on your needs.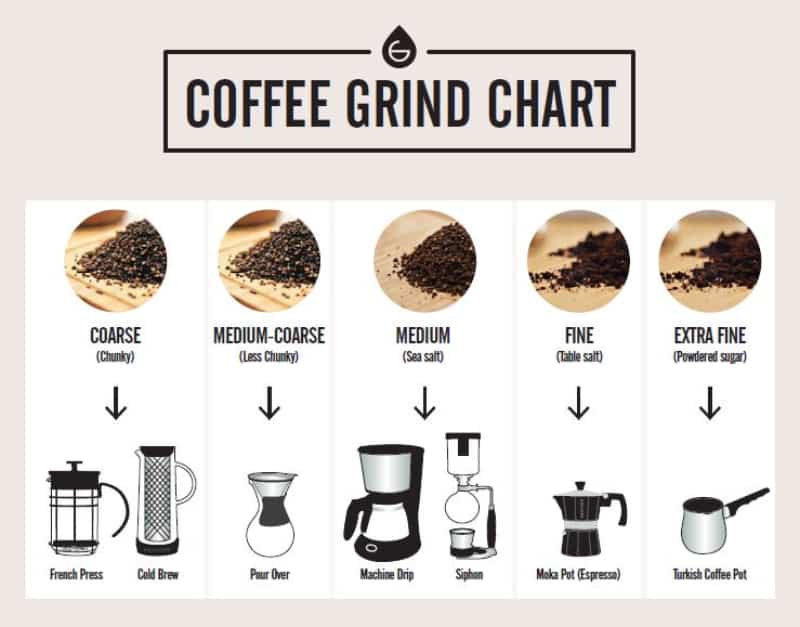 If you're not sure which grind is right for you, you can consider Universal grind that was designed by Starbucks. Universal grind works fine for most drip coffees from drip coffee brewing methods to French press. Additionally, this is the grind of coffee that they use in their retail stores.
FAQs
Does Starbucks grind coffee from Costco?
If the coffee beans you buy at Costco are from Starbucks, Starbucks will grind them for you. But if the coffee beans are from another brand, they will not.
If you're stuck with non-Starbucks brand coffee beans, then you might want to seek out other local grinders. Most coffee stores, and some grocery stores, will have grinders and they will help in grinding beans for a small charge. 
Will Starbucks grind my coffee for free?
Starbucks grind your coffee bean for free. But you can't just take any beans and get them ground at Starbucks. Your coffee beans need to meet some requirements mentioned above.
How can I grind my coffee beans without a grinder?
Yes, you can grind coffee beans without a grinder. You can use a blender or food processor if you don't want to do it by hand. To grind beans by hand, use a hammer, mortar, pestle, hand mincer, or rolling pin. Each of the following methods will allow you to make a grind as coarse or fine as you'd like.
Conclusion
Starbucks' service extends farther than just making delicious coffee-based drinks and snacks. They will also provide a coffee-grinding service to all customers for free if they meet the requirements above. This means that you don't have to worry about it costing a lot over time.
However, if you want to have freshly ground coffee at home frequently, you should invest in your own grinder and learn how to use it. It might not be cheap but it is a great investment if you are a true coffee lover. You won't have to worry about buying one particular brand of beans, rather you can get the one that you want every time.

I am a passionate coffee drinker. Since I left my job as a barista a few years back in 2012, I've been sharing my expertise on coffee and buying the best coffee equipment online. That's how Wild Boar Coffee came to life.
I write about everything coffee-related under the sun. Where to buy the freshest coffee beans from? How to test coffee beans based on texture, aroma, and acidity?
I know all this from scratch – all thanks to my years and years of experience as a barista. So I've gotten real up-close-and-personal with coffee beans and different brewing techniques.