Finding the best Breville espresso machine for the first time is not only difficult but also confusing. The reason is that there are clearly so many models of a Breville espresso machine with unique features and functionalities.
Speaking of which, a compact but mighty pick would be the Breville Bambino Plus. It does pack a punch and deliver high-quality and smooth espressos.
But moving on to more options, which is the best Breville espresso machine? How to choose one? And how do they measure up to the ideal standard in terms of value and performance?
See also:
EASIEST TO USE FOR BEGINNERS
BREVILLE BAMBINO PLUS ESPRESSO MACHINE
USER-FRIENDLY ESPRESSO MACHINE
BREVILLE BARISTA EXPRESS ESPRESSO MACHINE
CUSTOMIZABLE ESPRESSO MACHINE
BREVILLE BARISTA TOUCH ESPRESSO MACHINE
SEMI-AUTOMATIC ESPRESSO MACHINE
BREVILLE INFUSER ESPRESSO MACHINE
AUTOMATIC ESPRESSO MACHINE
BREVILLE BARISTA PRO ESPRESSO MACHINE
It can fit easily in any cabinet or on the countertop.
It delivers a full-bodied and balanced flavor of the coffee.
Super easy to clean up afterward.
Premium-quality portafilter and pressurized basket.
Attractive and durable stainless steel body.
Mess-free burr grinder with bean hopper and tamper.
16 grinder settings for fineness and rich extraction.
Both manual and automatic dose control.
Automatic espresso and milk texturing features.
Great programmability for every type of coffee.
The Auto-cleaning feature is fast and smooth.
Stable and efficient espresso extraction.
The steam wand rotates 360 degrees.
Automatic heating/cooling of the heating system to brew quickly.
Quick and accurate digital PID temperature controls.
Low-pressure pre-infusion works perfectly for every cup.
Stable and sturdy use of a steam wand, portafilter, and grinder.
Last update on 2023-11-30 / Affiliate links / Images from Amazon Product Advertising API
Top 5 Best Breville Espresso Machines Reviewed
Many features determine the making of a reliable espresso maker. How many do you consider important right now? Let's look at the best Breville espresso machine based on these factors, shall we?
Sale
Last update on 2023-11-30 / Affiliate links / Images from Amazon Product Advertising API
For the fastest brewing time and durable body, go for the Breville Bambino Plus. My coffee consumption has increased magnanimously because of how good this espresso machine is.
So easy to use
But the most impressive thing about it is the user-friendly and intuitive functionality. It's best for beginners in the same way as it is for more advanced users. So it's quite a relevant and dependable choice for someone with little to no knowledge about espresso makers.
Strong and premium body
The physicality of the product is also superior. It's made up of premium-grade material like stainless steel. It's shiny, sleek, and modern-looking. And this is not mentioned anywhere else, but the compactness of the design makes it so much easier to clean!
Fast start-up time
Did you mention how fast this machine is? It takes only 3 seconds to do its magic. Heating up the water to make espresso and steaming the milk to froth. The ease with which I make espresso every morning is fun and I don't know I've ever come across a machine this smooth.
Quick and accurate measurements
The portafilter has a 19 grams size that makes measuring easier. Even with the steam wand, it is at a comfortable height so you'll know how much to put in the milk pitcher to froth.
A better, sturdier choice
In many ways, the Breville Bambino Plus is a classier competitor. Because it delivers on its promise of making espresso taste exactly like a barista's. Even though it doesn't cost as much and takes little time to clean and maintain.
The steam wand fits snugly beside the portafilter. It offers smooth, silky, and creamy milk in only 3 seconds. You can fit it anywhere in your kitchen if you're running short of space. Or even keep it in a special cabinet if you don't want it exposed.
See the comparision between Breville Bambino Plus vs Barista Pro
Sale
Breville Barista Express Espresso Machine, Brushed Stainless Steel, BES870XL, Large
The Breville Barista Express delivers third wave specialty coffee at home using the 4 keys formula and is part of the Barista Series that offers all in one espresso machines with integrated grinder to go from beans to espresso in under one minute.Grind Settings : 16 precision grind settings, Tamping : Manual removable magnetic tamper,.Pressure Gauge : Extraction Feedback pressure gauge. Interface : Simple button control.
DOSE CONTROL GRINDING: Integrated precision conical burr grinder grinds on demand to deliver the right amount of freshly ground coffee directly into the portafilter for your preferred taste with any roast of bean
OPTIMAL WATER PRESSURE: Low pressure pre-infusion gradually increases pressure at the start and helps ensure all the flavors are drawn out evenly during the extraction for a balanced tasting cup
PRECISE ESPRESSO EXTRACTION: Digital temperature control (PID) delivers water at precisely the right temperature, ensuring optimal espresso extraction
MANUAL MICROFOAM MILK TEXTURING: The powerful steam wand performance allows you to hand texture microfoam milk that enhances flavor and enables creation of latte art
Last update on 2023-11-30 / Affiliate links / Images from Amazon Product Advertising API
The Breville Barista Express Espresso Machine sets the perfect example of how espresso machines should be. From what's missing in the Bambino Plus, and that is a built-in grinder, buying the Barista Express is a steal.
A smooth and efficient built-in grinder
Low-priced but it has a built-in grinder? The Barista Express is not afraid to bust some assumptions about at-home espresso makers. It brings out the whole package. Grinding the exact amount of coffee needed to produce a delicious cup has never been this easier. It creates less of a mess and you have control over the amount of grounds you want per shot.
Unparalleled and rich taste
Let's talk about why the Barista Express produces some of the best espressos I've ever had. The credits for that go to the premium pressure system. The single and double wall baskets really make a difference in how powerful the brewing capability is.
With the pressurized basket, you can dial the perfect shot with the adjustable settings of the machine. And if you crave a little bit more control, use the non-pressurized basket. It allows you to dial in a shot when you know what you're doing.
The dose control features allow you to extract the richest flavor in 16 different ways. That's right: you can control the fineness of coffee on 16 levels.
Simple and sturdy parts
The portafilter and steam wand, and the way they both complement the overall design of the Breville Barista Express, is amazing! It even features a durable tamper to flatten out the grounds after grinding.
There's a quick button where you can manually control the grind or you can let the machine do it for you. Right next to that is the tamper that you can place directly over the portafilter in one quick motion.
Sale
Last update on 2023-11-29 / Affiliate links / Images from Amazon Product Advertising API
For all-around performance, go for the Breville Barista Touch Espresso Machine. Nuanced espresso with strong hints of rich nuttiness and bittersweetness has finally found its place. All thanks to this skilled and impressive espresso machine.
Awesome Touch Screen Display
It's impossible to talk about the Barista Touch without mentioning its display. It transforms everything because it gives you intricate customizations. It's like ordering for your favorite drink in a barista, you get exactly what you paid for.
The touch screen display features to grind, brew, and milk customizations. These customizations allow you to tweak the temperature, strength, and texture of both coffee and milk.
And, that's not all, you can also save up to 8 personal drink choices based on these values. Set it to your personal tastes if you don't prefer the default settings on the machine.
Beginner-Friendly
The Barista Touch features professional low pressure and pre-infusion brewing technology. While this may sound complicated in terms of what it does to beginners. Using the machine is not.
The machine totally guides you through what you need to do. The bean hopper and grinder are amazing. But if you want, you can use pre-ground coffee as well of your choice. Since it offers impressive programming, you do not have to deal with the mess that other machines make during grinding the coffee beans.
It's not an intimidating espresso machine and it works precisely and effectively.
Overall, if you're interested in having the grinder, brewer, and frother all in one, the Barista Touch is the most intuitive choice for you.
Sale
Breville Infuser Espresso Machine,61 ounces, Brushed Stainless Steel, BES840XL
Note: 1)Too coarse a grind, too little coffee, or insufficiently tamping the grounds before brewing can all lead to inadequate pressure for a proper brew. 2)It is important to note that the amount of espresso extracted will vary depending on the grind size and amount and reprogramming may be needed when the size and amount are adjusted.Tamping : Manual removable magnetic tamper. Portafilter : High quality 54mm portafilter.
The Breville Infuser delivers optimal flavor in every cup creating third wave specialty coffee at home using the 4 keys formula, ensuring the right dose of beans, optimal water pressure, precise temperature control and microfoam milk for latte art
VOLUMETRIC AND SHOT CONTROL: Control the volume of each pour at the touch of a button and choose 1 shot, 2 shot or manually control over how much espresso ends up in your cup for the perfect dose every time
OPTIMAL WATER PRESSURE: Low pressure pre-infusion gradually increases pressure at the start and helps ensure all the flavors are drawn out evenly during the extraction for a balanced tasting cup
PRECISE ESPRESSO EXTRACTION: Maximize flavor potential with low pressure pre-infusion, digital PID temperature control, adjustable in 4 ⁰F increments complete with pressure gauge that guides you to the right extraction every time
Last update on 2023-11-29 / Affiliate links / Images from Amazon Product Advertising API
The Breville Infuser delivers stronger and richer coffee than anything I've ever seen or heard about. And it also does a pretty good job of milk texturing for producing the creamiest lattes.
Clean, rich espresso shots
With a machine like the Breville Infuser, there's so much you can do. Each shot you pull has the perfect layer of crema on top. And the flavors are varied depending upon your personal tastes. And all of them are full-bodied and smooth nevertheless.
The Infuser does offer volume dose control. There's a special button on the control panel offering you quick and one-touch operation.
Coupled with that, the internal water pressure heats up quickly and stabilizes the natural coffee oils with its bittersweet flavor. All this produces the richest espresso combating even barista-grade coffee.
Quick cleaning
The Infuser has an auto-purge feature that is not talked about enough. The Auto Purge feature is a God-send. It will automatically purge the heating system of the machine to get ready for the next shot. This is for the espresso and milk steaming.
On top of that, it has all the necessary cleaning tools for easy maintenance.
In case you want to use tap water, there is a water filter with a sturdy holder to filter away hard water deposits before brewing the coffee.
Accurate temperature
PID water temperature controls the heating system of the Infuser. It promises quick and accurate heating and it delivers on that promise. The Infuser uses a Thermocoil heating system that gets your espresso out faster and hotter. But without compromising on quality.
You can shed a minute or two from your morning brewing time from brewing to steaming with the PID + Thermocoil technology.
Last update on 2023-11-29 / Affiliate links / Images from Amazon Product Advertising API
I recommend the Barista Pro for those who have a bit of experience with Breville espresso machines. However, it is very convenient and attractive because of the bright display and buttons.
Smooth user experience
The upgraded features of the Barista Pro are a great addition to the Barista Express. But that's not all. In this one, you get to experience faster heating time, smoother workflow, and consistent brewing.
The first thing to look at that delivers said user experience is the LCD display. You can see everything that the machine does to produce smooth coffee.
Through this, you get access to the many intuitive features of the espresso maker. Dose control grinding, temperature, and manual microfoam. It will also display all the correct measurements of brewing such as single/double shot, time, and temperature.
Fast burr grinder
The conical burr grinder is a superb addition to the Barista Pro. And with additional dose control settings, you can tap into the most authentic way of brewing coffee at home.
The 54mm portafilter consists of a 19 to 22g size capacity. This gives you the much-needed flexibility to pick how much espresso you need in your cup.
Buying a separate coffee grinder that does two things. First, they are messier to maintain and clean given that it's an additional appliance in your kitchen. Second, tuning to the correct grind measurements can be tough if you don't know what you're doing.
Thanks to the automatic features of this burr grinder, you have everything at the press of a button.
Buying Guide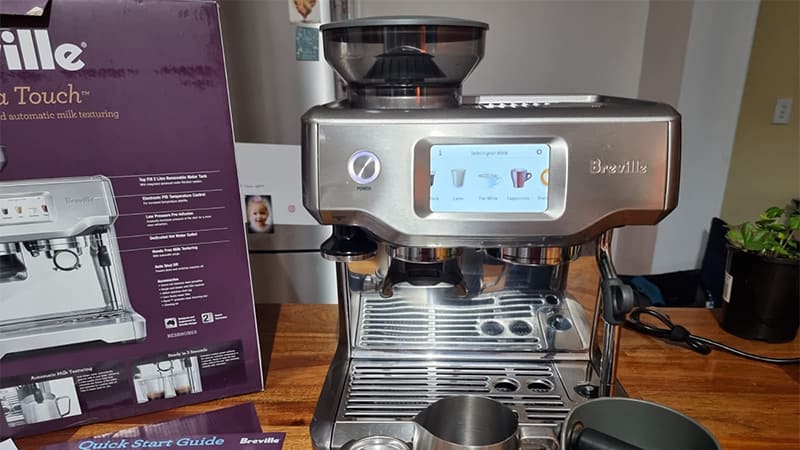 I'm taking a slightly different route in figuring out how espresso makers perform as home appliances.
Choosing A Grinder
The first step to making espresso is deciding which grinder to buy. The easiest coffee grinder gives you some control over how fine or coarse you want your coffee.
In the case of an espresso machine, you need more intricate adjustability in fineness. A burr grinder does the job perfectly. It grinds the coffee uniformly without heating or burning the grounds.
You can either buy a separate burr grinder or use an espresso maker with a built-in grinder. Such espresso makers allow more control in precise increments. This improves the taste and aroma of coffee tremendously.
With such a tempting grinder, you can try different roasts successfully. Experimenting with lighter roasts, single-origin beans, and decaf coffee is a must for people with espresso makers. So a built-in burr grinder gives you that freedom of selection. No other espresso brewing technique can offer such intricate and effortless features.
Choosing a Pressurized vs. Non-Pressurized Filter Basket
You'll probably read this and not pay attention to what I'm about to say next. But please do – this is an important aspect of using an espresso maker at home that I don't see many coffee experts talking about.
Every espresso maker is equipped with a pressurized or a non-pressurized filter basket or both. And yes, there is a significant functional difference between the two.
Think of how crema is produced in espresso and you'll want a pressurized filter basket. In a pressurized basket, the hot water passes through the coffee grounds via a tiny hole. It offers uniformity in the coffee taste even though it may not contribute to improving the fineness of the texture or flavor.
Most espresso makers with built-in grinders have pressurized filter baskets as default. It requires no dialing into a thick crema and a rich espresso flavor and aroma.
If you want to learn how to dial in pressure to produce a smooth and uniform shot of espresso, go for a non-pressurized filter basket. There is a learning curve involved but it will teach you a lot about making espresso at home the right way.
Frequently Asked Questions (FAQs)
1. How to clean and maintain a Breville espresso machine?

Even if your machine has a self-cleaning function, basic cleaning and descaling are necessary. They are important steps that prolong the shelf life and efficacy of the machine. Something you need to do if you do not want the heating system to stop working. 
Always wipe every surface of the espresso machine dry. It shouldn't sit with moisture for too long. This will develop mold, mineral deposits, and odor. Speaking of mineral deposits, limescale buildup is one of the most common problems of a Breville espresso machine.
Water passing through the interior tubes of the machine can, over time, cause limescale buildup. This may interfere with how the water heats up for espresso and steam.
Look for self-cleaning and descaling features to help you streamline the cleaning process. Clean coffee parts brew richer and better coffee.  
2. What are the benefits of using an espresso machine?

So we all know what makes them so popular, right? Let's quickly recap what those reasons are:
1. They bring the joy of drinking espresso coffees at home. Nothing like a warm cup of creamy latte or real (not instant) Americano kick-start a gloomy weekday morning. 
2. They are cost-effective and make up for their high price in what they can do for you. Once you buy an espresso maker, it'll last for years. All you really need to pay for is buying pre-ground coffee or beans. 
3. There are different types of espresso makers offering manual and automatic features. This means you get to learn a bit about making espresso at home. Even if you don't want to, your espresso machine won't mind.
4. You can do latte art at home. Granted this takes time because you have to practice, practice, practice! Microfoam milk texturing allows you to make creamy and velvety lattes and cappuccinos at home. The steam wand uses steam to heat and froth milk in seconds!
5. You put in less work to make espresso right away. Aspiring baristas don't mind the hassle of carefully measuring out every little detail before brewing. And that's nice if you want to do the same thing too. But espresso makers give you that often to skip these steps. You can simply press a few buttons, choose your drink, and voila!
Final Thoughts
One thing that every coffee drinker wants is café-quality espresso shots at home. That is why you want to put in a large sum of money for an espresso machine. And thanks to Breville, these high-end appliances aren't as expensive as the espresso machines used in baristas. So take your pick and enjoy!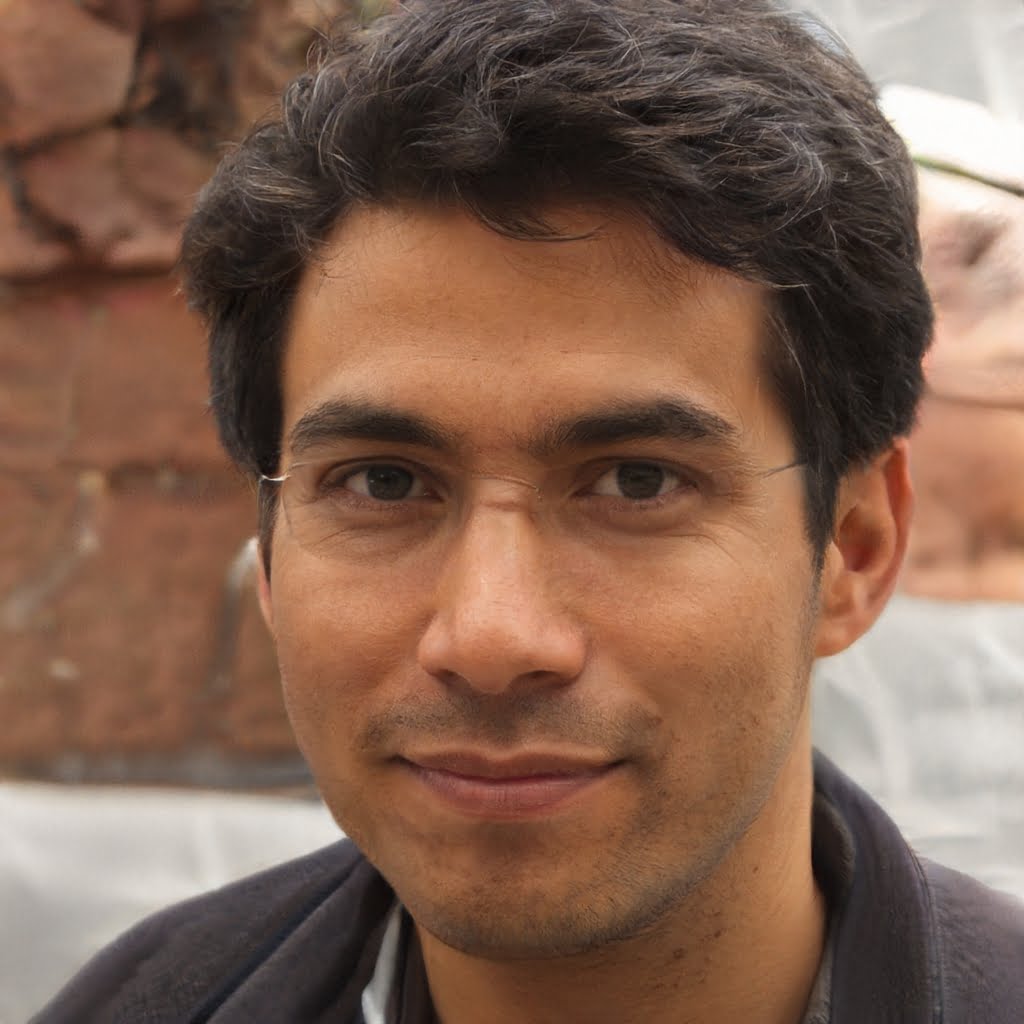 Felix Hendricks is a skilled barista with over 12 years of experience. He excels in crafting coffee and has a strong foundation in coffee machine mechanics. Felix holds a Coffee Machine Maintenance Certification from the Coffee Equipment Technical Institute, showcasing his ability to diagnose and repair coffee machines. He's also worked as a quality control specialist, selecting premium coffee beans for optimal flavor. Felix has a diverse work history, including stints at renowned coffee spots like Café Euphoria & Starbucks. His expertise in both brewing and machine maintenance makes him a respected figure in the coffee industry.