In the comparison between two products Breville Oracle vs Delonghi La Specialista, it is very clear that Breville Oracle wins hands down. The price of Breville Oracle may blow your mind, but the features and capabilities make it truly worth the cost to become the winner. This super-automatic espresso machine has more impressive features than the competition such as a triple heat system, PID, customized espresso shots,…
Nevertheless, the runner-up Delonghi La Specialista is also a worthy choice. That's because of the features it provides, including sensor grinding, integrated smart tamping, and a dual heating system. It is ideal for beginners looking for an attractive semi-automatic espresso machine
Breville Oracle vs Delonghi La Specialista: Comparison Chart
Image
THE WINNER (#1)
The Runner-up (#2)
Dimensions (LxWxH)
14.5 x 14.7 x 17.6 Inches
Grinder type
Fully-integrated conical burr grinder
Integrated Sensor Grinder
Digital temperature control (PID)
What I Like
Dual boilers and dual pumps
Has options to switch to manual settings
Advanced programmability allows you to customize your espresso
Grinds, doses, and tamps coffee automatically
Brew single, double and customized espresso shots
Quick start
Fuss-free, fantastic milk froth
The tamping feature is really cool.
Easy cleaning and operation
Very quiet
THE WINNER (#1)
Image
Dimensions (LxWxH)
14.5 x 14.7 x 17.6 Inches
Grinder type
Fully-integrated conical burr grinder
Digital temperature control (PID)
What I Like
Dual boilers and dual pumps
Has options to switch to manual settings
Advanced programmability allows you to customize your espresso
Grinds, doses, and tamps coffee automatically
Brew single, double and customized espresso shots
The Runner-up (#2)
Image
Grinder type
Integrated Sensor Grinder
Digital temperature control (PID)
What I Like
Quick start
Fuss-free, fantastic milk froth
The tamping feature is really cool.
Easy cleaning and operation
Very quiet
Last update on 2023-03-02 / Affiliate links / Images from Amazon Product Advertising API
Breville Oracle vs Delonghi La Specialista: Differences
The Breville Oracle was able to defeat the Delonghi La Specialista with a score of 4-2, due to its unique and useful features. It grinds beans automatically, tamps them perfectly, extracts coffee with precision, and textures milk for you all in under one minute. Keep reading to know the differences between these two machines.
1. Design
The Winner: Delonghi La Specialista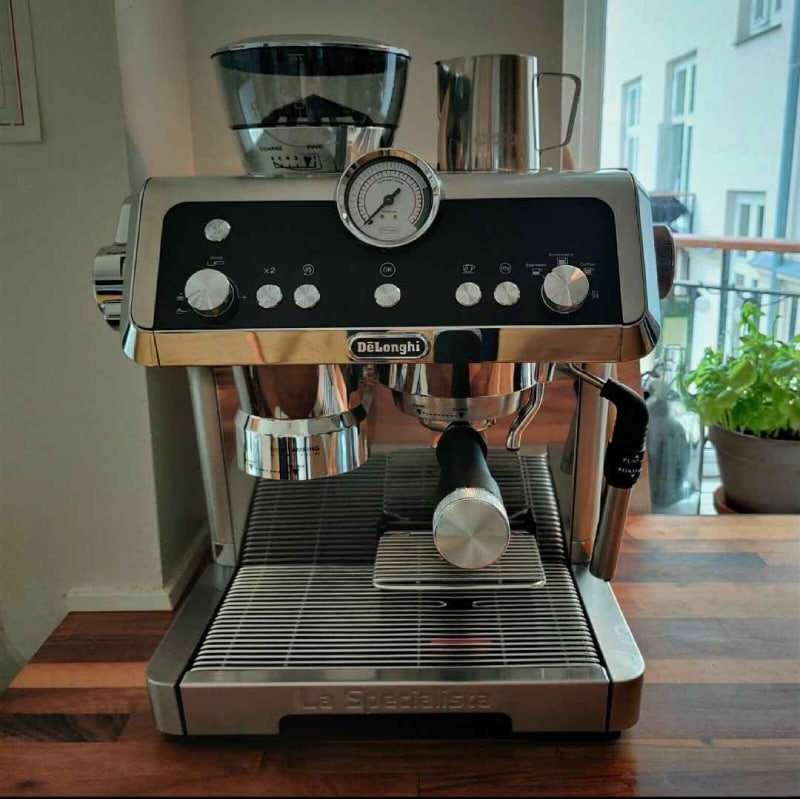 Oracle has bridged the gap between semi-automatic machines and super-automatics. In addition to the stylish outer casing, which is made in stainless steel, the top surface of the espresso maker is constructed with aluminum, and it is equipped with a built-in cup warmer.
Though it looks great, it might not be the right fit for every kitchen space. With dimensions of 14.5 x 14.7 x 17.6 inches and a weight of 34.5 lbs, this coffee maker is a real beast.
With its stainless-steel body, same as Oracle, DeLonghi La Specialista is a semi-automatic espresso machine resistant to corrosion, rust, and impact damage. While it's also not the compact machine you'd expect, with dimensions of 14.48 x 15 x 17.5 inches and a weight of 29.7 Pounds, it is still smaller and lighter than the Oracle.
2. Water Reservoir Capacity
The Winner: Breville Oracle
It is essential that you check the machine's water reservoir capacity when you plan to use your espresso machine for making large amounts of espresso-for example, for a big family. The term refers to how many cups the machine can brew before you need to refill it. The higher the water reservoir capacity, the more espressos you can make at once.
With that in mind, the Oracle is the winner with its higher water tank capacity. While DeLonghi La Specialista has a 2-liter water tank capacity, Breville Oracle has a more gargantuan of 2.5 liters. The best part is that you can easily refill the tank by opening the lid on top. There is no need to turn it all the way around.
3. Grinder Type
The Winner: Delonghi La Specialista
Buying espresso machines with an espresso grinder is essential if you plan to grind your own beans. It is a common feature in most espresso machines to come with an integrated grinder. However, all grinders are not the same.
Breville Oracle is equipped with an automatic grind, dose, and tamp function. Powered by an integrated conical burr grinder, it has a fully automated grinding, dosing, and tamping mechanism that automatically grinds, doses and tamps 22 grams of coffee straight into the portafilter.
A built-in integrated grinder is also included in DeLonghi's La Specialista. The best part is that it comes with exclusive sensor technology, which means you'll achieve better, fresher and consistent grinding every time and you'll make the right dosage without having to fiddle with anything.
4. Coffee Extraction
The Winner: Breville Oracle
Low-pressure pre-infusion allows water to pass evenly through the coffee grounds, reducing uneven extraction and channeling to creating a rich, creamy, caramel-colored espresso.
The La Specialista will pre-infuse the coffee automatically before it begins brewing. Due to the 'Active Temperature Control' feature, this machine ensures that the temperature stays stable so that optimal extraction and milk texturing can be achieved. It does not, however, include a PID system. With a pump pressure of 19 bars, you will certainly get a decent cup of espresso.
With 15 bars of pump pressure, Breville Oracle still can extract perfect cups. It also has true low-pressure pre-infusion. The Oracle uses state-of-the-art PID technology to control the espresso extraction temperature, the same as high-end commercial machines.
The PID ensures the extraction temperature is +/- 1°C of the desired temperature, giving you consistent and delicious tasting results every time.
5. Heating System
The Winner: Breville Oracle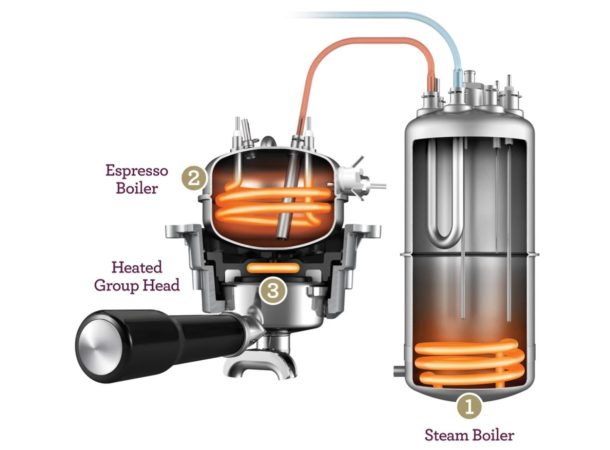 A unique feature of the Oracle is the revolutionary triple heat system, allowing you to make two delicious cappuccinos or lattes in just 90 seconds.
The system comprises a dedicated steam boiler with integrated Heat Exchange, an espresso boiler powered by PID technology ensuring ideal water temperature for brewing, and an embedded heated group head controlled by PID to maintain thermal stability throughout the brewing process.
With Delonghi La Specialista, you are able to enjoy dual heating systems. There is one thermoblock for extracting coffee and an independent system for steaming milk or frothing the milk.
6. Programmable Shot Control
The Winner: Breville Oracle
There are quite many advantages of using the Breville Oracle Espresso Machine, including its ability to control shot volume that you do not have control over in the DeLonghi La Specialista.
You can pick between a single or double espresso shot, or switch to manual control which means you have total freedom to choose how much espresso you want in every cup. Similarly, the machine also lets you program the shots by volume quickly and accurately.
Quick Rundown of Breville Oracle
Breville BES980XL Oracle Espresso Machine, Brushed Stainless Steel
The Breville Oracle fully automatic delivers third wave specialty coffee at home using the 4 keys formula; It has a professional Dual Boiler construction that delivers unparalleled temperature control and simultaneous extraction and steaming
Dose Control Grinding: The integrated precision conical burr grinder automatically grinds, doses and tamps 22 grams of freshly ground coffee, for maximum flavor
Optimal Water Pressure: The Over Pressure Valve limits the maximum pump pressure throughout extraction, helping prevent bitter flavors; Low pressure pre infusion gradually increases water pressure to gently expand grinds for an even extraction
Precise Espresso Extraction: Dual stainless steel boilers and heated group head controlled by digital temperature control (PID) delivers water at precisely the right temperature, ensuring optimal espresso extraction
Automatic Microfoam Milk Texturing: Self-cleaning steam wand, powered by a dedicated boiler, automatically textures milk to your liking and delivers barista quality microfoam that enhances flavor and is essential for creating latte art at home
Last update on 2023-03-02 / Affiliate links / Images from Amazon Product Advertising API
Quick Rundown of Delonghi La Specialista
Sale
De'Longhi La Specialista Espresso Machine with Sensor Grinder, Dual Heating System, Advanced Latte System & Hot Water Spout for Americano Coffee or Tea, Stainless Steel, EC9335M
Note: 1)Too coarse a grind, too little coffee, or insufficiently tamping the grounds before brewing can all lead to inadequate pressure for a proper brew. 2)It is important to note that the amount of espresso extracted will vary depending on the grind size and amount and reprogramming may be needed when the size and amount are adjusted
Sensor grinding technology: Exclusive segsing technology delivers precise, consistent grinding and the optimal dose for espresso, every time. Plus, the bean sensor ensures you'll never run out of beans while grindin. Auto shut-off
The smart tamping station: Simply pull the lever to tamp the ground coffee with the right pressure for perfect results. There's no need to remove the portafilter, so you get to enjoy a mess-free experience, for Espresso Made Right(TM)
Active temperature control with dual heating system: The best temperature stability for optimal coffee extraction and milk texturing. One thermoblock for extracting coffee and an independent heating system for steaming milk or frothing
Advanced latte system: Micro-foam frothing for Latte Art or rich froth for cappuccino. Just place your cup under the spout and select flat or foam. Now, you can enjoy your flat hot milk, or the perfect foam to express your latte art creativity
Last update on 2023-03-03 / Affiliate links / Images from Amazon Product Advertising API
Product Videos
Related Articles to Breville Oracle
Related Articles to Delonghi La Specialista
References

I am a passionate coffee drinker. Since I left my job as a barista a few years back in 2012, I've been sharing my expertise on coffee and buying the best coffee equipment online. That's how Wild Boar Coffee came to life.
I write about everything coffee-related under the sun. Where to buy the freshest coffee beans from? How to test coffee beans based on texture, aroma, and acidity?
I know all this from scratch – all thanks to my years and years of experience as a barista. So I've gotten real up-close-and-personal with coffee beans and different brewing techniques.