One of the most convenient ways to make coffee is by using K-Cups. They're quick and make tasty coffee, but you have you ever been curious about how much coffee is actually in each K-Cup?
This blog post will show how much coffee per k cup and how much caffeine in it, and further more.
See also:
How Much Does A K-cup Weigh?
To keep the coffee in the pod fresh, we need to encase it by packaging. The average K-Cup weighs between 12 and 16 grams or 0.4 to 0.6 ounces. The packaging accounts for only about 3 grams (0.1 ounces) of that weight.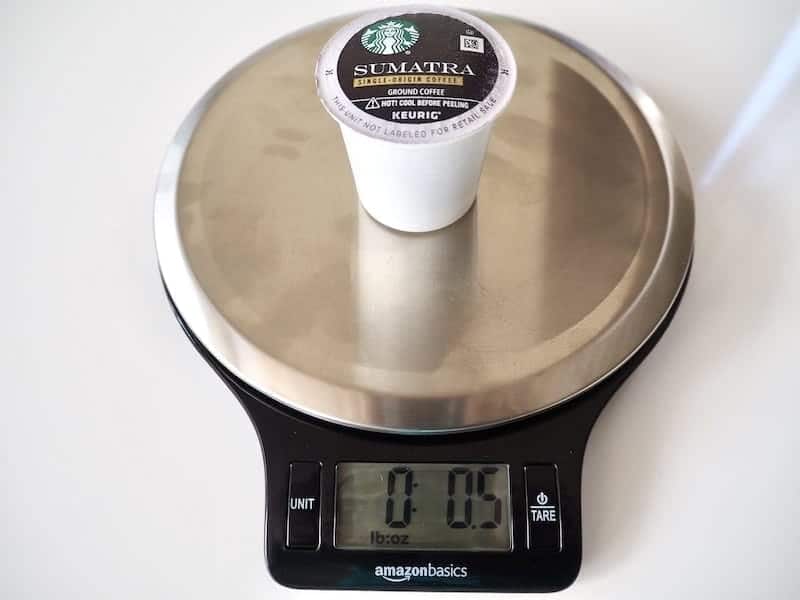 How Much Coffee Per K Cup?
The majority of weight coming from the coffee grounds inside is an excellent news in terms of value. No one wants to spend a lot of money on the packaging that heads straight for the trash or recycling bin.
The amount of coffee in a Keurig K-Cup can vary depending on the brand and blend. The average K-Cup has 9 to 12 grams (0.3 to 0.4 ounces) of ground coffee. The actual amount inside your K-Cups depends on which brand you buy.
How Much Caffeine Is In A K-cup?
There are many brands that produce K Cup and there's no specific standard. It's hard to determine for sure the amount of caffeine is a K-Cup. Though the exact caffeine content of each K-Cup varies, the average is approximately 75 to 150 milligrams.
Coffee lovers who want to enjoy the taste but without consuming caffeine can purchase decaffeinated K-Cups. A decaf K-Cup will have negligible amounts of caffeine, while an extra-strong pod could have quite a bit more.
Some Other Related Question
Is it cheaper to buy K-cups or ground coffee?
To answer this question, we need to compare apples to apples. This means comparing the prices of K-Cup pods vs. ground coffee of the same brand. Depending on the brand, K-cups cost 2-9 times more than ground coffee. On average k-cups cost about 4x more than ground coffee of the same brand.
Do bold blends have more coffee grounds in the K-cup?
Yes, they do. Bolder blends have roughly 30% more coffee than regular ones. Generally, light roasts and breakfast blends have the least amount of coffee; 9-9.5 grams per cup, medium roast blend at around 10-11 grams per cup. You'll find the most coffee in the dark roast blends at 12 grams per cup, with some brands having up to 14 grams per cup.
How much ground coffee do you put in a reusable K-cup?
 Use it if usual of how much grounds to add to brew your java and the cup size you need. Most reusable K-Cup holds 10 grams of coffee, which is the equivalent of 2 tablespoons.
The My Cup allows you to use any ground coffee you choose — but you need to know how much to add. The good news? This is easy to figure out, and you don't even need to measure! Just fill your My Cup to the MAX line.
Conclusion
The K-Cup pods are definitely perfect some specific situations and places. They're disposable, which makes them great for office use or to set up in waiting areas. You can enjoy a quality, hassle-free cup of coffee.
For those that prefer a more permanent coffee companion, the reusable K-Cup is an excellent choice. The reusable K-Cup is just as functional with the added benefit of being eco-friendly. So you can enjoy your cuppa joe guilt-free!
Now you know how much coffee is inside a K-Cup — and what else is in there, too! We hope this guide helps you understand what you're buying and drinking. K-Cup coffee can be a tasty and affordable option, and it certainly pays to be informed.

I am a passionate coffee drinker. Since I left my job as a barista a few years back in 2012, I've been sharing my expertise on coffee and buying the best coffee equipment online. That's how Wild Boar Coffee came to life.
I write about everything coffee-related under the sun. Where to buy the freshest coffee beans from? How to test coffee beans based on texture, aroma, and acidity?
I know all this from scratch – all thanks to my years and years of experience as a barista. So I've gotten real up-close-and-personal with coffee beans and different brewing techniques.