The moment has come to invest in a higher quality and premium super-automatic machine. The DeLonghi Eletta vs Jura E8 are perfect choices for that very reason. You can attempt and succeed at making delicious espresso at home on a more regular basis.
The DeLonghi Eletta has features that a beginner will find most comforting and easy to use. If you buy it, I guarantee that you will be happy with its espresso taste and ease of use. But I love the pre-programmability of the Jura E8 which most other super-automatic espresso makers are unable to match up to.
The Jura E8 is one of those rare finds that produce barista-like espresso at home. Including a fast, precise coffee grinder that is not as expensive as some of the other espresso makers, I've come across.
DeLonghi Eletta vs Jura E8: Comparision Chart
Table could not be displayed.
DeLonghi Eletta vs Jura E8: Differences
The DeLonghi Eletta is the ideal coffee drinker's machine. It's perfect for entry-level use. And so it wins 3 – 2 against the Jura E8 for its intuitive and easy performance, better grinder functions, and smoother and creamier milk foam.
1. Programmable Features
The Winner: Jura E8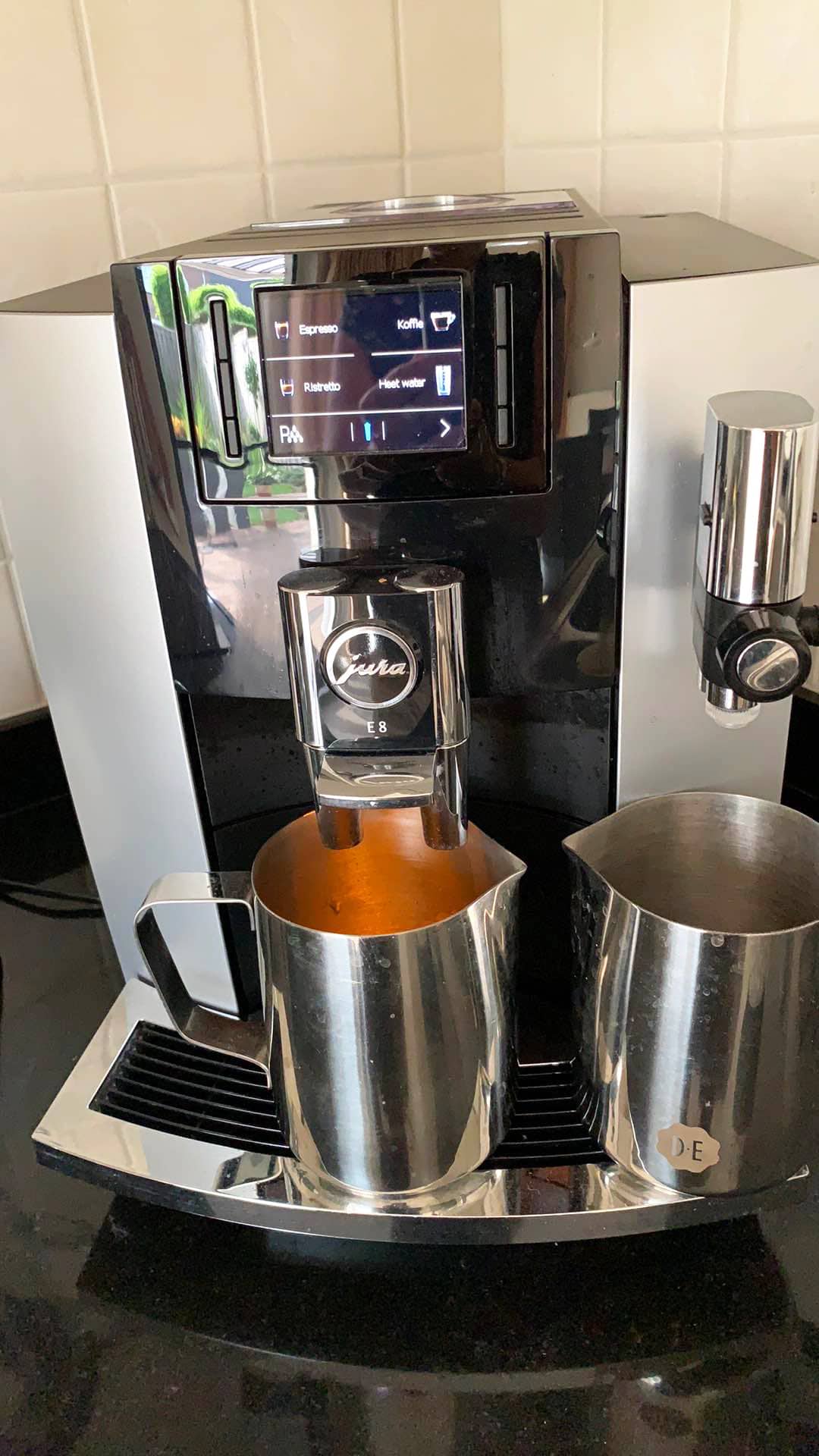 Both being competitive performers, the Jura E8 has more customizable features for experimenting with coffee than the DeLonghi Eletta. Having said that, I would also like to clear up any misconception that Eletta's programmability is not proficient enough.
While both espresso machines have excellent programmability, the Jura E8 boasts more flexibility in control. The Eletta features 13 grind settings with adjustable temperature, milk to espresso ratio, and one-touch coffee drinks for cappuccino, latte macchiato, and cafe latte.
The Jura, on the other hand, has 12 programmable coffee drinks with 8 programmable coffee strength levels. So by and large, it has better customization than the DeLonghi Eletta.
2. Milk Frothing Technology
The Winner: DeLonghi Eletta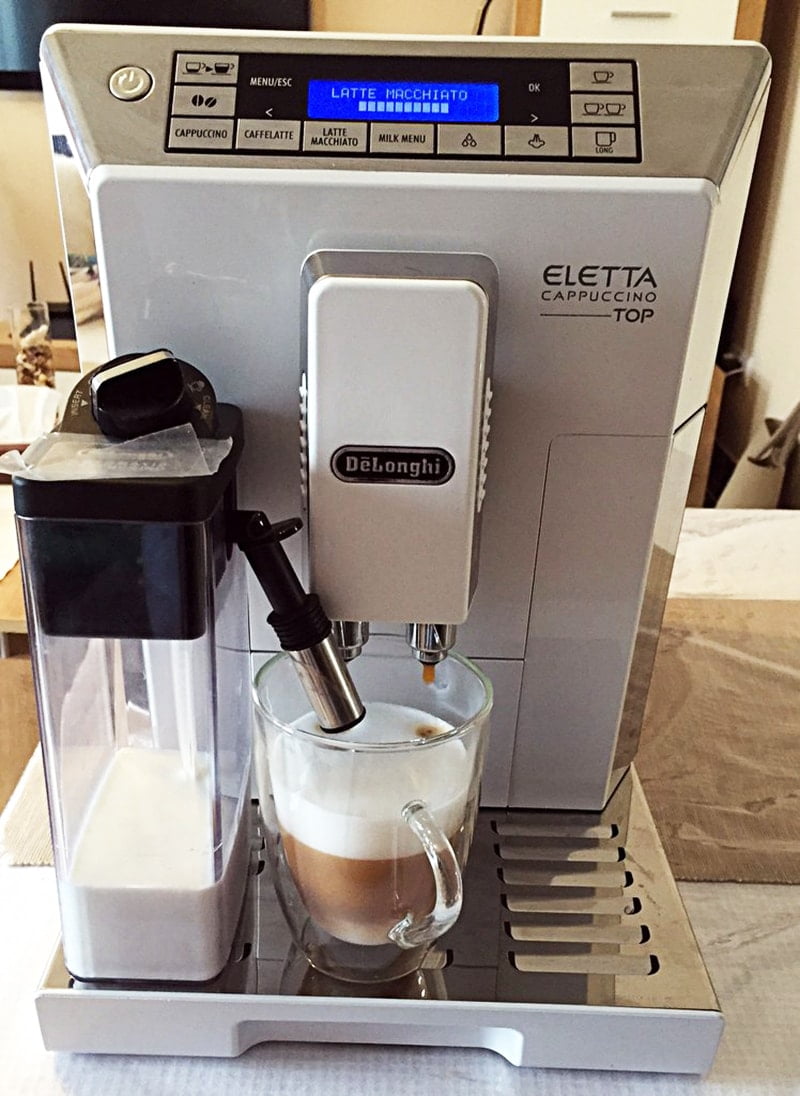 For this, the DeLonghi Eletta produces finer, smoother, and richer milk foam for latte and latte art. All credits go to Eletta's LatteCrema system. It has accurate temperature controls which improve the flavour and texture of milk. Plus, I found that it keeps the milk hotter for a longer time.
The Jura E8 has a quick and simple milk frothing system. But it lags behind in terms of consistency and producing a rich micro-foam. If you want to control the milk foam, it does offer you adjustable milk settings. But it produces denser milk.
The milk spout offers some control over how you want to froth the milk but the functionality is mostly automatic.
3. Temperature Control
The Winner: DeLonghi Eletta
The heating system on the Eletta and the Jura E8 is impressive and functional. But the DeLonghi Eletta has a faster brewing system than the Jura E8. The one-touch functionality makes it exceptionally fast.
And, on the plus side, it also brews espresso and steams the milk simultaneously. It can also prepare two cups of coffee within the time it takes to usually brew a single cup! All this, and it takes approximate 45 to 60 seconds to heat up.
The Jura E8 differs in two ways: it does not support simultaneous brewing and frothing. You will have to do one after the other. And the machine is a bit slow to start up, so the heating time takes more than 1 minute, in some cases as long as 2 minutes.
4. Coffee Grinder
The Winner: DeLonghi Eletta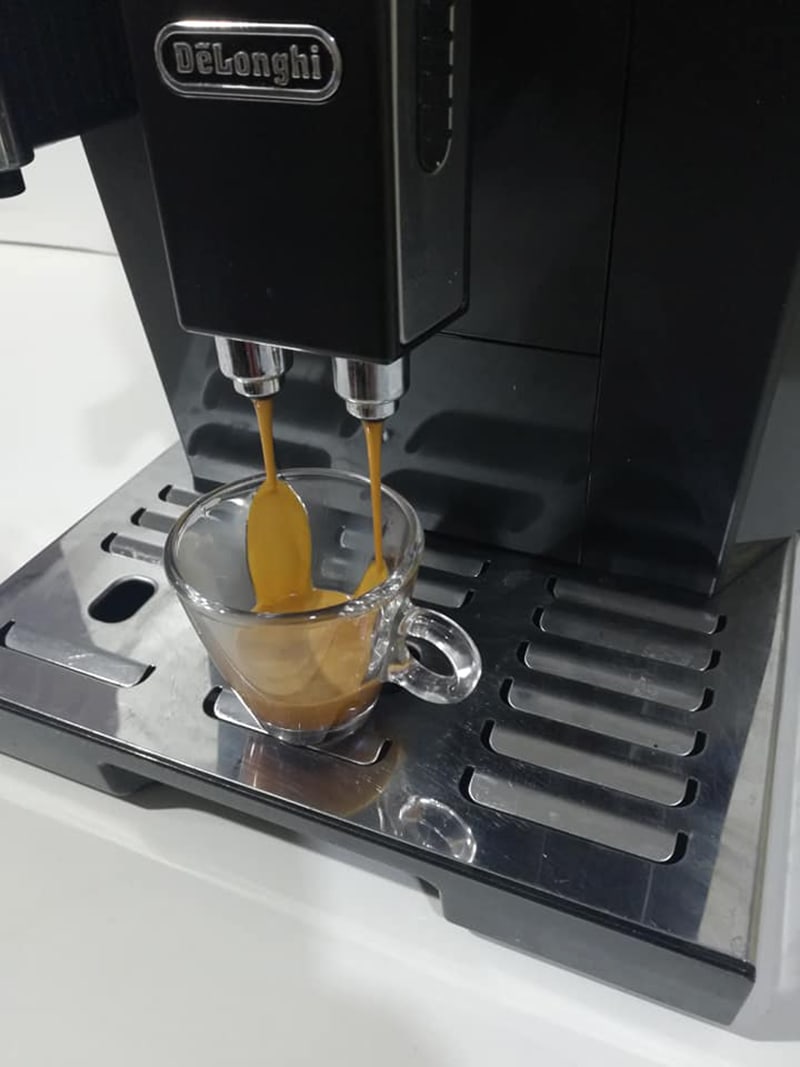 The DeLonghi Eletta is easy and relatively faster to use. On top of that, you can also add that it grinds coffee more flexibly than the Jura E8. With its 13 different grind size controls, the integrated burr grinder is smooth and multi-functional. You can intricately adjust the fineness and coarseness of the grind without any worries.
The Jura's Aroma3 grinder has 7 levels of grind size adjustments. It's a quiet one, which is not the case with the Eletta. But it lacks the level of versatility and programmability that the DeLonghi Eletta is famous for.
5. Espresso Quality
The Winner: Jura E8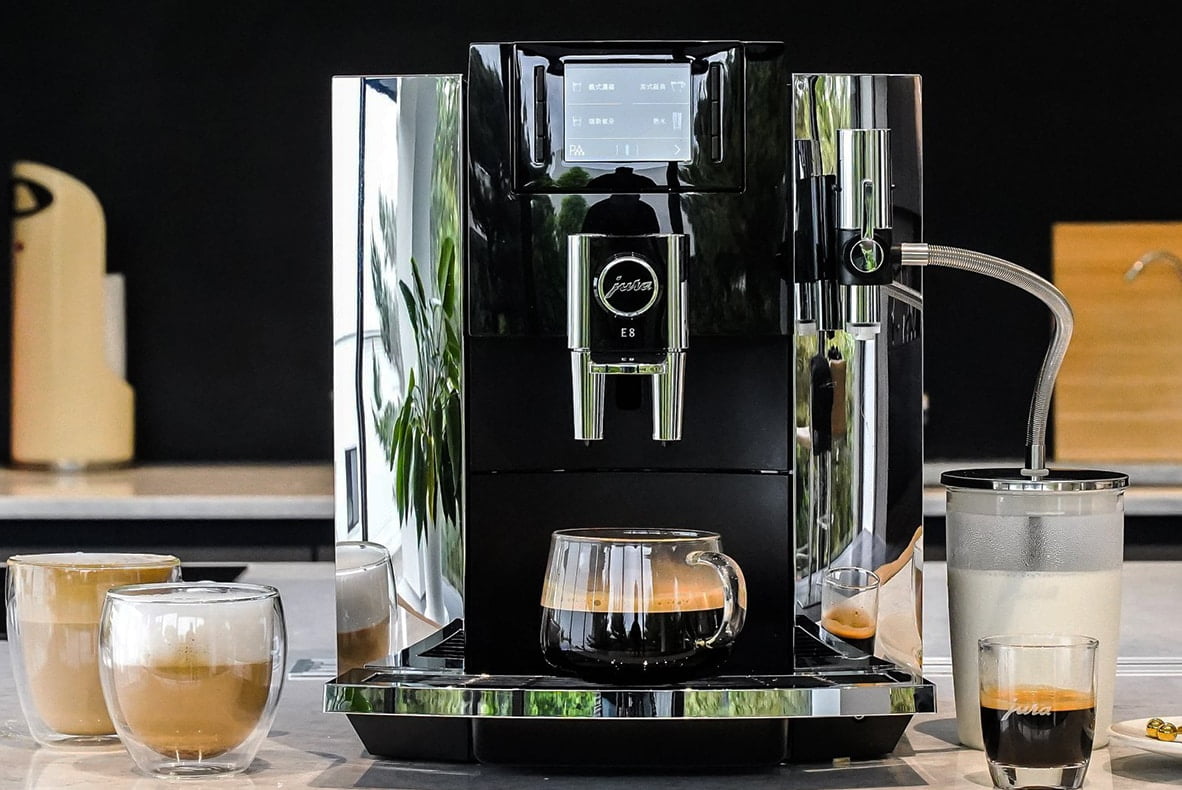 Where do I even begin? Using the Jura E8 feels like you're working in a real coffee shop! It carries the rich and strong aroma of freshly ground coffee beans all over. Jura's technology is designed for the coffee purist at heart. Featuring the 15 bar pump technology to extract espresso consistently, without the bitter aftertaste.
The DeLonghi does not cater to such brewing. It is a good super-automatic machine for beginners. But lacks the high-performance pump system of the Jura. My suggestion is to go with the Jura E8 if you want to drink really delicious espresso with an irresistible aroma. It's more barista-grade and authentic, even for beginners.
DeLonghi Eletta vs Jura E8: Similarities
1. Ease of Use
Whether you're drinking a cappuccino, latte, or an Americano, both machines, the DeLonghi Eletta and the Jura E8 make it really simple. With its quick and programmable one-touch features, you can have your drink in no time. And you don't have to do a thing!
You can quickly adjust the programmability on both machines using their intuitive and responsive control panel. They have all the right controls for faster and better adjustability.
The display reads out all the right features, precise adjustments, and alerts you when it's necessary.
2. Maintenance
Both machines are quick and easy to maintain. Having said that, both machines require daily maintenance, especially if you drink espresso daily. Rinsing the coffee system every morning, making sure that after you use the milk froth, you wipe down the necessary surfaces to prevent clogging.
Pass hot water by pressing the button on the control panel. This should help you get rid of any tough stains. The bean hopper, drip tray, coffee spout, and the top of the machine are all quick and easy to wipe down.
There is an automatic rinsing/cleaning/descaling mechanism that saves you time and effort. Such machines do a huge favour by keeping themselves clean for prolonged use.
The Eletta features cleaning warnings and auto-cleaning programs for keeping the machine happy and healthy.
Quick Rundown Of DeLonghi Eletta ECAM44660B
Sale
Delonghi super-automatic espresso coffee machine with an adjustable grinder, double boiler, milk frothermaker for brewing espresso, cappuccino, latte, macchiato & Flat white. ECAM44660B Eletta
MULTIFUNCTIONAL Super-automatic espresso coffee machine with a patented AUTOMATIC CAPPUCCINO system that delivers a tasty barista-quality Cappuccino, Caffelatte, Latte Macchiato, hot Milk, Flat White in less than 3 minutes. Can be used with either coffee beans or ground coffee for preparation of two cups of coffee within a single brewing cycle.
PROFESSIONAL Brew two cups of magic drink simultaneously with Top-of-the-line Delonghi bean-to-cup brews two cups. Great brewing without having to learn how to be a barista. This fully automated machine has an integrated silent coffee grinder with 13 adjustable grinding settings, a bypass doser, a pump generating up to 15 bars of pressure, a water filter, a double boiler system, an automatic milk frother, a milk jug and cup warmer, as well as electronic temperature control.
USER FRIENDLY. A super-automatic espresso maker can deliver the coffee shop experience to the comfort of your home, any time you feel the urge. System equipped with a touch control panel, a front-loading water tank, a frothing unit, a telescoping spigot, a bean hopper & coffee-grounds container with a capacity indicator and also provides adjustable water, milk & coffee drink quantity.
EASY TO CLEAN Automatic cleaning with Descaling, cleaning and rinsing programs with a Cappuccino System cleaning indicator. All removable components of the Delonghi super-automatic espresso coffee machine are dishwasher safe
WORRY-FREE PURCHASE: Delonghi super-automatic coffee machine backed with an Unconditional Satisfaction Guarantee and a 12-month Warranty. If you are not 100% satisfied, please CONTACT US immediately and we will help you right away. Our world-class customer support is available 7 days per week.
Last update on 2023-02-03 / Affiliate links / Images from Amazon Product Advertising API
Quick Rundown Of Jura E8 15097
Jura E8 Chrome Automatic Coffee Machine
Stainless steel machine with chrome color
Professional aroma grinder
17 different specialty coffee drinks
Dedicated hot water spout system
Exclusive Extra Shot function
Last update on 2023-02-03 / Affiliate links / Images from Amazon Product Advertising API
Product Videos
Related Articles to Delonghi Eletta
Related Articles to Jura E8
References

I am a passionate coffee drinker. Since I left my job as a barista a few years back in 2012, I've been sharing my expertise on coffee and buying the best coffee equipment online. That's how Wild Boar Coffee came to life.
I write about everything coffee-related under the sun. Where to buy the freshest coffee beans from? How to test coffee beans based on texture, aroma, and acidity?
I know all this from scratch – all thanks to my years and years of experience as a barista. So I've gotten real up-close-and-personal with coffee beans and different brewing techniques.