If you're a morning coffee type of person, you will end up loving a super-automatic espresso machine like the DeLonghi Dinamica Plus vs Jura E8. Both machines may cost more than your average coffee maker but they do end up paying for themselves in the long run.
On that note, the DeLonghi Dinamica Plus is easier to work for beginners. It has impressive programmable features in a strong, sturdy stainless steel housing. With a fast, controllable grinder and milk frothing system, the machine is fit for daily use.
The Jura E8 is the coffee purist's delight. It boasts of a premium-grade espresso extraction system that is intelligent and more consistent than the Dinamica Plus. One review labels the Jura E8 as the "Ferrari of coffee makers" – for a delicious espresso, this is your pick.
DeLonghi Dinamica Plus vs Jura E8: Comparision Chart
Table could not be displayed.
DeLonghi Dinamica Plus vs Jura E8: Differences
Both espresso makers are powerful and effective to use. That is why it's a tie between both super-automatic espresso machines. The DeLonghi Dinamica Plus vs Jura E8 scores 4 – 4 points after the evaluation of the most important features such as…
1. Water Tank Capacity
The Winner: Jura E8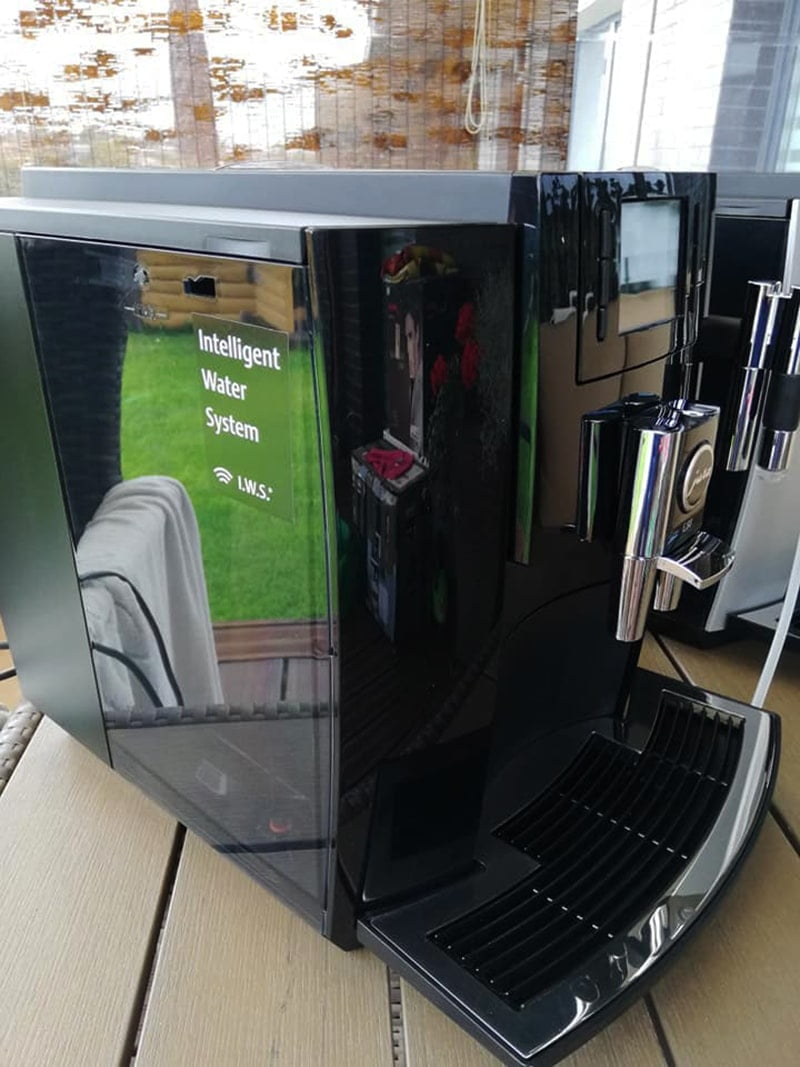 Though the difference between the Dinamica Plus vs Jura E8 is not significant with regards to water tank size, the latter is 5% bigger than the former. The Dinamica Plus is 1.8L and the Jura E8 1.9L.
The size dimensions between the DeLonghi Dinamica Plus and Jura E8 are much the same. So both espresso makers are compact with the Jura E8 with 0.1L more water capacity.
2. Programmability
The Winner: DeLonghi Dinamica Plus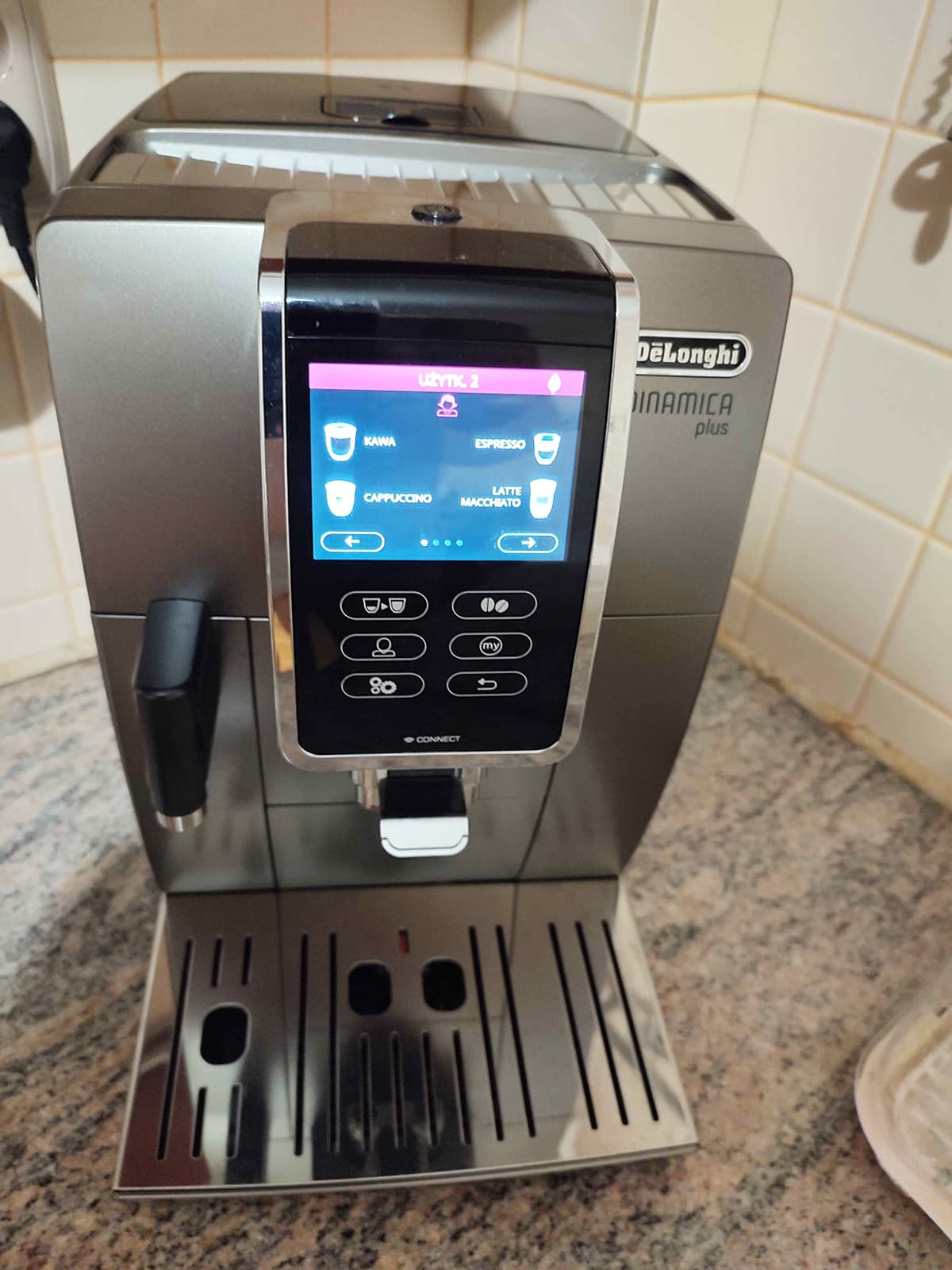 The DeLonghi Dinamica Plus boasts of an all-around performance with intricate customizations including 16 pre-programmed coffee drinks. These are one-touch drinks that deliver drinks like latte, cappuccino, flat white, cappuccino mix, etc. in seconds.
On top of the programmable functions, you also have the option of saving up to 3 personalized coffees based on your customizations. Adjust the settings including the strength and the machine remembers it.
The Jura, on the other hand, has 12 programmable coffee drinks, not 16 like the Dinamica Plus. It also offers 8 different coffee strength adjustments for quick access. This gives you control over how strong or light you want the espresso to taste per cup.
If you're craving more versatility, buy the DeLonghi Dinamica Plus for its intricate and fast customizations.
3. TrueBrew Over Ice
The Winner: DeLonghi Dinamica Plus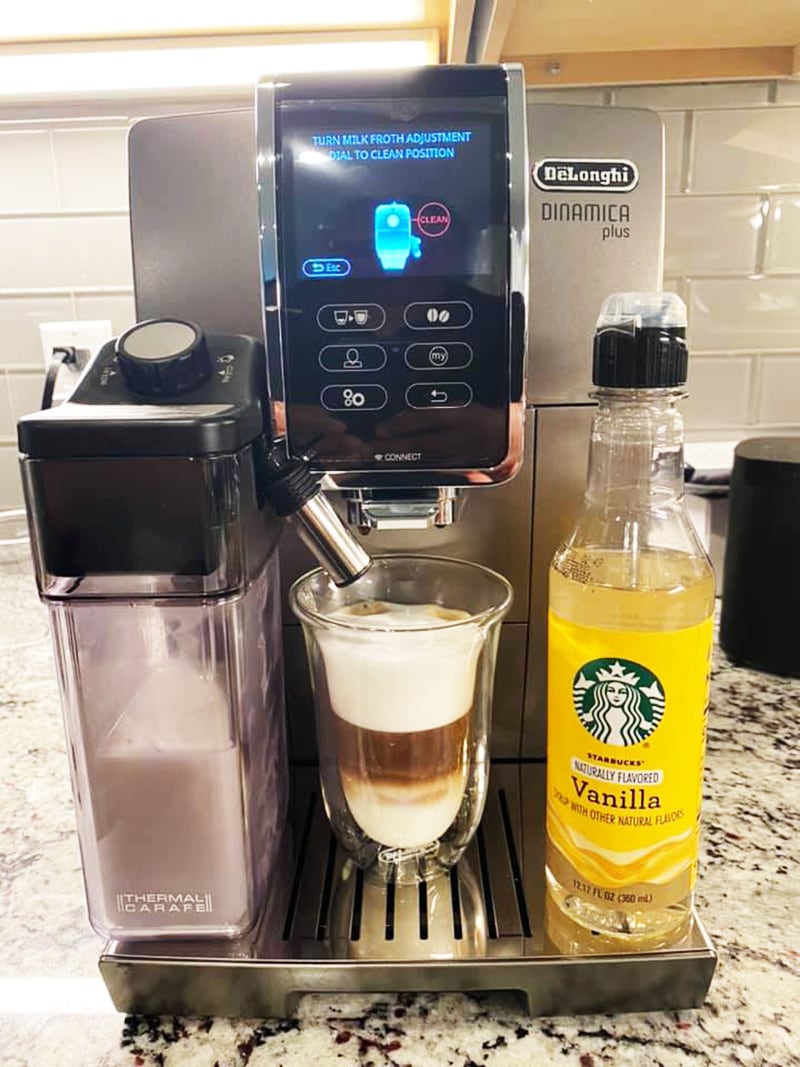 DeLonghi's TrueBrew Over Ice technology is unique in that it allows softer but stronger extraction of coffee for pouring over ice. Now, iced coffee requires a different flavour of espresso than espresso for a latte or cappuccino.
This stronger flavour is difficult to "dial-in" in a super-automatic espresso maker, especially if you're a beginner. So the DeLonghi makes it easier with its fully automatic and one-touch TrueBrew Over Ice feature.
It directly brews espresso for iced drinks without losing its strength or tasting too watered down. Your personal iced coffee barista is at your disposal!
The Jura E8 may not feature this pre-infusion feature, but it does employ the Intelligent Pre-Brew Aroma system. This works only on JURA machines. It pre-brews the coffee to bring out maximum espresso taste.
Coffee purists will notice a significant difference in flavour, stronger, velvety, and with more crema!
This works for all drinks, including iced coffee. However, the Dinamica Plus is more personally tailored for iced coffee drinks with its TrueBrew feature.
4. Coffee Grinder
The Winner: DeLonghi Dinamica Plus
Both machines offer a bypass doser for decaf or pre-ground coffee. But I've found that the Dinamica Plus extracts coffee more consistently for decaf than the Jura E8.
The advantage that Jura E8 has over Dinamica Plus with regards to the grinding mechanism is that it is quieter for early morning use! So it won't wake up the whole house. Chances are the Dinamica Plus might.
5. Milk Frothing
The Winner: DeLonghi Dinamica Plus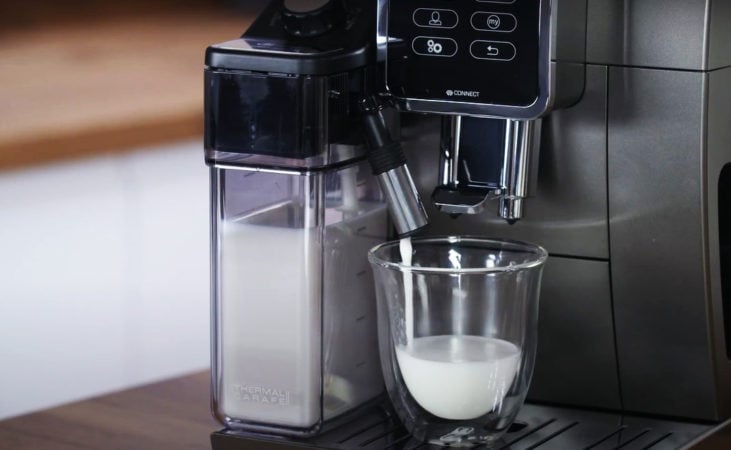 The Dinamica Plus has the LatteCrema technology which is an advanced feature for texturing and frothing milk for latte art. This system works for all types of milk, including soy, coconut, and nut milk.
It also comes with a useful milk carafe that you can store the milk in to keep in the refrigerator. This you can do before frothing or even after. The attachment is simple and handy, plus it's easy to clean with DeLonghi automatic cleaning system.
For hot water, you can remove the attachment and use the hot water spigot to hot water directly into your cup for tea or Americano.
The milk frothing settings on the Dinamica Plus is impressive. It can produce up to a 4-inch layer of creamy and smooth milk for a large coffee.
The milk system works with syrups as well. It froths milk to mix with caramel, vanilla, and hazelnut syrups. After you're done, the automatic cleaning feature flushes the frother with hot steam to get rid of stubborn milk stains.
The Jura E8's milk frothing is automatic with little control and no milk attachment like the Dinamica Plus. It does feature a quick automatic cleaning system. But unlike the Dinamica Plus, it needs a milk cleanser, interchangeable milk spout, and descaling tablets.
If you're a coffee purist, and you hardly use the milk frother, then regular maintenance of the milk system is not needed. But for daily milk use, it's necessary to invest more money into keeping the machine in good condition.
The milk programmability allows you to customize the milk volume with a push of a button – so that's easy!
6. Bar Pressure System
The Winner: Jura E8
Between Dinamica Plus's 19 bar and Jura E8's 15 bar, the latter is more efficient and effective at pulling rich espresso shots.
The Jura E8 features a 15 bar pump system which is both easy to program and makes the perfect balance of strong and flavorful espresso shots. Combined with the low-pressure extraction, Jura also uses PEP to get more out of the freshly ground coffee in less than a minute.
It pumps hot water through the puck as soon as it is ground. The PEP stands for Pulse Extraction Process which pulls an espresso shot at a higher water temperature, similar to the heating mechanism that barista-grade espresso machines use. So the Jura is more superior as it meets industry standards.
7. Maintenance
The Winner: Jura E8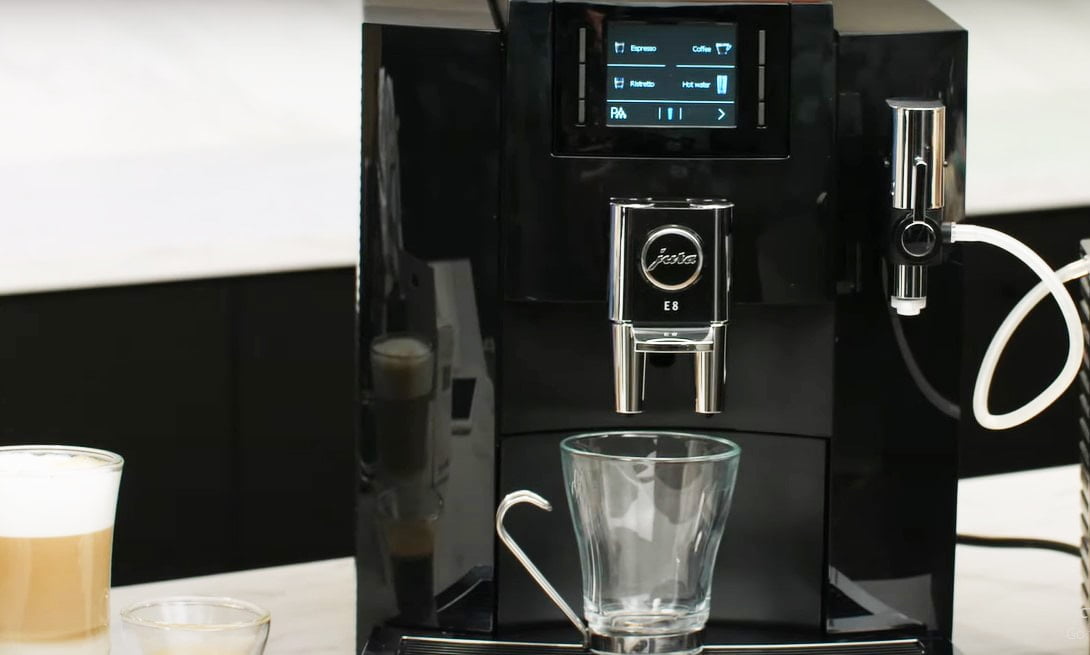 Maintaining a super-automatic espresso machine is not that difficult with the right set of pre-programmed features. The Jura E8, for example, comes with more eco-friendly features. And it features an energy-save mode that lets you maintain the machine more efficiently.
The DeLonghi Dinamica Plus features removable parts that are dishwasher-safe. Auto power off to save energy, an anti-scale system for running a clean cycle to prevent limescale build-up. With the water filter in place, the Dinamica Plus can last for a long time.
But the Jura E8 features a far more superior CLEARYL water filter that keeps your brewing cycles clog-free and free of heavy metals. The machine also auto-rinses before shutting off and after shutting on. The milk frother sterilizes itself with hot water. You can descale the machine using Jura's patented cleaning capsules every 80 or so brewing cycles. This is quick and leaves your espresso maker as good as new.
The Jura E8 also features an anti-drip system which is not present in the Dinamica Plus. The anti-drip system ensures a mess-free surface with no chance of leaking or overflowing.
8. Interface
The Winner: Jura E8
The Dinamica Plus comes with a touch display that is LCD. The Jura E8 has a TFT display with touch and buttons control. This is better than an LCD display because it's more responsive and user-friendly to use.
The Jura E8 has bright colourful icons making it easier to program and customize, even during the night. The only drawback about using TFT displays is that it takes more energy. But the eco-friendly features of the Jura E8 take care of that as well.
DeLonghi Dinamica Plus vs Jura E8: Similarities
DeLonghi Dinamica Plus and the Jura E8 deliver café-like espresso drinks at home. They both feature a built-in grinder with multiple adjustment levels. You won't find the taste or aroma of the espressos that both machines produce. With programmable features, you can adjust the strength of the coffee while also customizing how much foam you want on your latte.
With quick one-touch drinks, both Dinamica Plus and Jura E8 remain bestsellers for their ease of use, programmability, and speed. Their value among coffee enthusiasts and professional baristas are high.
You can rely on features like automatic shut off, thermoblock boiler, removable parts, self-cleaning functionality, and adjustable temperature controls on both machines to provide you with a pleasant, long-lasting barista experience at home.
Quick Rundown Of DeLonghi Dinamica Plus ECAM37095TI
De'Longhi Dinamica Plus Fully Automatic Espresso Machine, Titanium
Note: 1)Too coarse a grind, too little coffee, or insufficiently tamping the grounds before brewing can all lead to inadequate pressure for a proper brew. 2)It is important to note that the amount of espresso extracted will vary depending on the grind size and amount and reprogramming may be needed when the size and amount are adjusted
3.5" TFT full-touch, colorful display provides intuitive and simple experience of one-touch specialty recipes
De'Longhi Coffee Link App lets you create and save up to 3 personalized espresso recipes in your profile, so every cup of coffee is always customized to your unique taste
16 one-touch or customized coffee drinks: latte, espresso, cappuccino, flat white, iced coffee, regular coffee and more.
Built-in conical burr grinder with 13 settings for always freshly ground coffee, for any beans of your choice.
Last update on 2023-03-03 / Affiliate links / Images from Amazon Product Advertising API
Quick Rundown Of Jura E8 15097
Jura E8 Chrome Automatic Coffee Machine
Stainless steel machine with chrome color
Professional aroma grinder
17 different specialty coffee drinks
Dedicated hot water spout system
Exclusive Extra Shot function
Last update on 2023-02-13 / Affiliate links / Images from Amazon Product Advertising API
Product Videos
Related Articles to Delonghi Dinamica Plus
Related Articles to Jura E8
References

I am a passionate coffee drinker. Since I left my job as a barista a few years back in 2012, I've been sharing my expertise on coffee and buying the best coffee equipment online. That's how Wild Boar Coffee came to life.
I write about everything coffee-related under the sun. Where to buy the freshest coffee beans from? How to test coffee beans based on texture, aroma, and acidity?
I know all this from scratch – all thanks to my years and years of experience as a barista. So I've gotten real up-close-and-personal with coffee beans and different brewing techniques.