Even while both machines are worth considering, the Jura E8 is slightly higher in rating than the Gaggia Cadorna Prestige. In this article, I compare the Gaggia Cadorna Prestige vs Jura E8 based on a few key considerations. Such as price, performance, design, durability, and ease of use.
With great programmable features and a better coffee grinder, the Gaggia Cadorna Prestige is a great entry-level machine. Especially for someone looking for a sturdy and dependable pick for home use.
The Jura E8, with more upgraded features, offers plenty of compact-yet-powerful features. It packs a punch when you want more intricate customization and temperature controls. It extracts more aroma and flavour from coffee, and it does it sooner than Gaggia without inconsistencies.
Gaggia Cardorna Prestige vs Jura E8: Comparision Chart
Table could not be displayed.
Gaggia Cardorna Prestige vs Jura E8: Differences
The Jura E8 wins 6 – 4 against Gaggia Cadorna Prestige for its premium-grade features and smooth functionality. Read further to find out the strengths and weaknesses of each machine when compared…
1. Coffee Grinder
The Winner: Gaggia Cadorna Prestige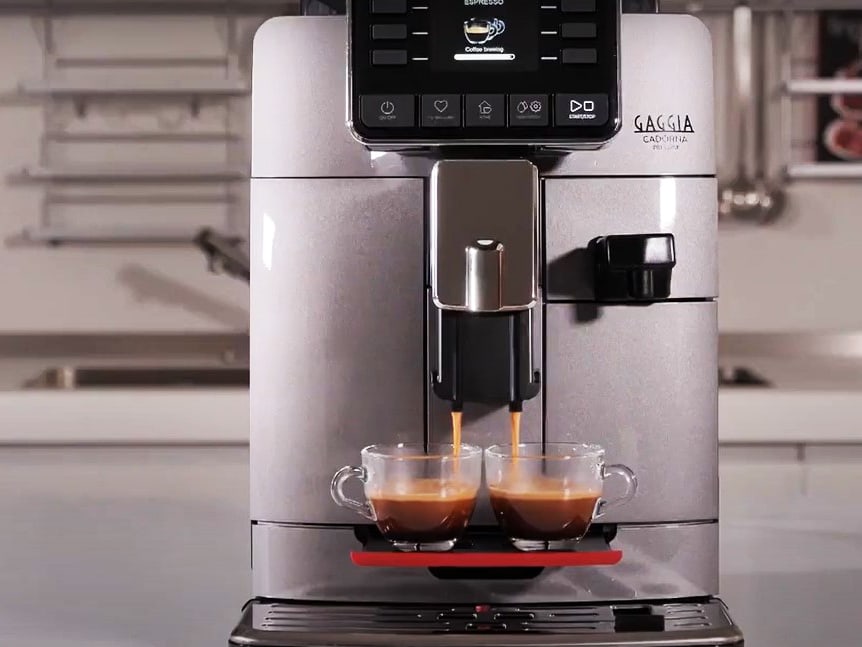 The coffee grinder of the Gaggia Cadorna Prestige is a ceramic burr grinder with 10 grind levels. It's also a flat burr grinder which offers more control over the fineness of the ground coffee.
A flat burr grinder has the most valuable design pulls the maximum flavour out of the coffee to produce a richer espresso taste. And the 10 grind levels ensure that the grinding of the beans is exactly as you want it.
The Jura E8, on the other hand, features an aluminium 6-level Aroma grinder. It's a conical burr grinder, though quieter than a flat burr, it lets you down with regards to control.
Ceramic is overall a better choice for making quick and accurate adjustments when you think about the fineness of the coffee grounds and how it affects espresso.
2. Programmable Drinks
The Winner: Gaggia Cadorna Prestige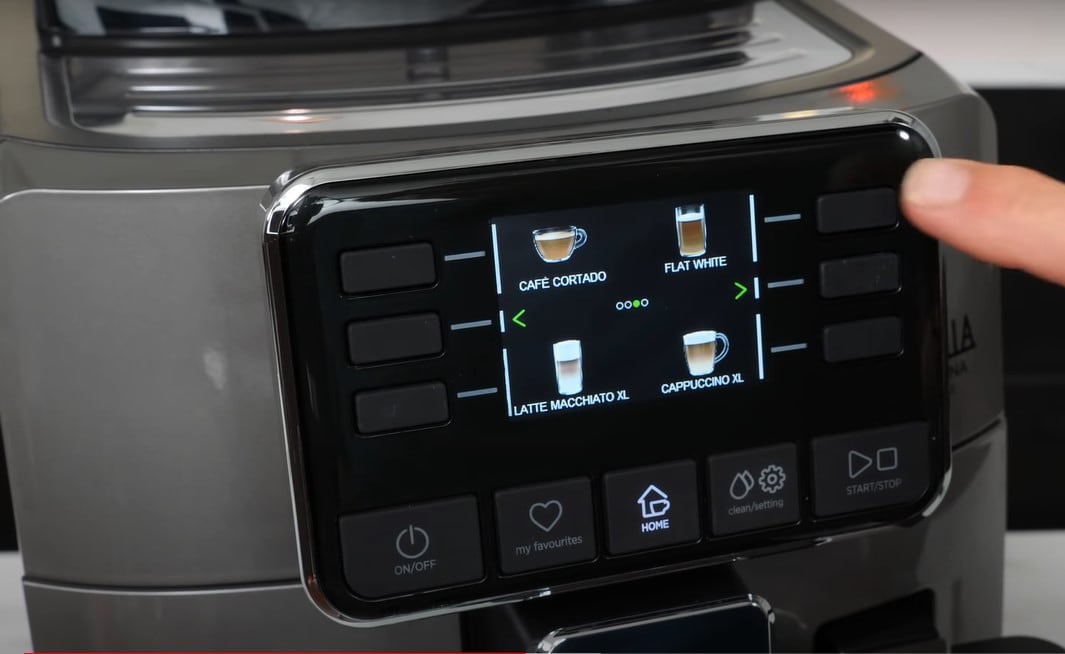 The Gaggia Cadorna Prestige comes with 14 coffee drinks and 4 user profiles. Under each programmable setting, you can make certain alterations to the flavour and aroma of the coffee, per cup.
And with the user-profile feature, you can save up to 4 customized drinks. The machine memorizes all your personalized settings. And each user profile will be instantly available to you at the touch of a button.
The Jura E8 comes with 12 programmable coffee drinks – leaving the Café Au Lait and the Café Cortado. But in the Jura E8, you have the hot water setting for green tea which the Gaggia does not have. The Jura E8 also features a Special Coffee selection that's missing in the Gaggia.
With the Jura E8, you also have the flexibility to pick from 8 programmable levels of coffee strength. The Gaggia Cadorna Prestige brews according to the coffee drink you select and any customizations.
3. Espresso Brewing
The Winner: Gaggia Cardorna Prestige
This refers to the number of drinks both espresso machines can make at once. Now, the Gaggia Cardona Prestige comes with a special feature that grinds and brews two times. Once you make your selections, the burr grinder doubles the volume of coffee grounds, for cups, and the same for the brewing mechanism as well.
The Jura E8 does not offer this feature. This means it brews only one cup at a time.
4. Brewing Performance
The Winner: Jura E8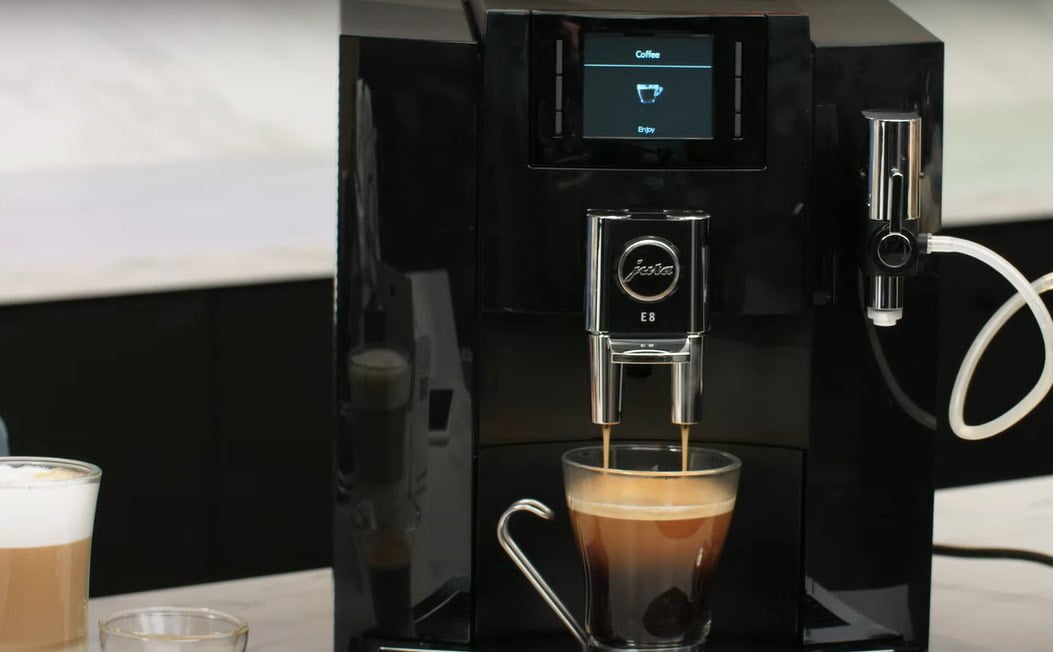 The Jura E8 comes with a larger brew group. For starters, you can select your espresso-based on multiple factors: the pre-programmed coffee drinks, customizable settings, and the 8 programmable strength settings.
This will determine how strong you want the espresso to taste. Then the machine adjusts the ground coffee's volume based on the strength.
The Jura E8 also produces a larger dose than the Gaggia Cadorna Prestige. When you compare the values, you'll notice the coffee dose range of the Cadorna Prestige is slightly smaller. It doses between 6.5 g to 11.5 g of ground coffee. Meanwhile, the Jura E8 doses out between 5 g to 16 g.
So as you can see, the Jura E8 provides a better value for money with its higher dose range and more programmable functions. This significantly impacts the flavour of espresso.
5. Cup Height
The Winner: Gaggia Cardona Prestige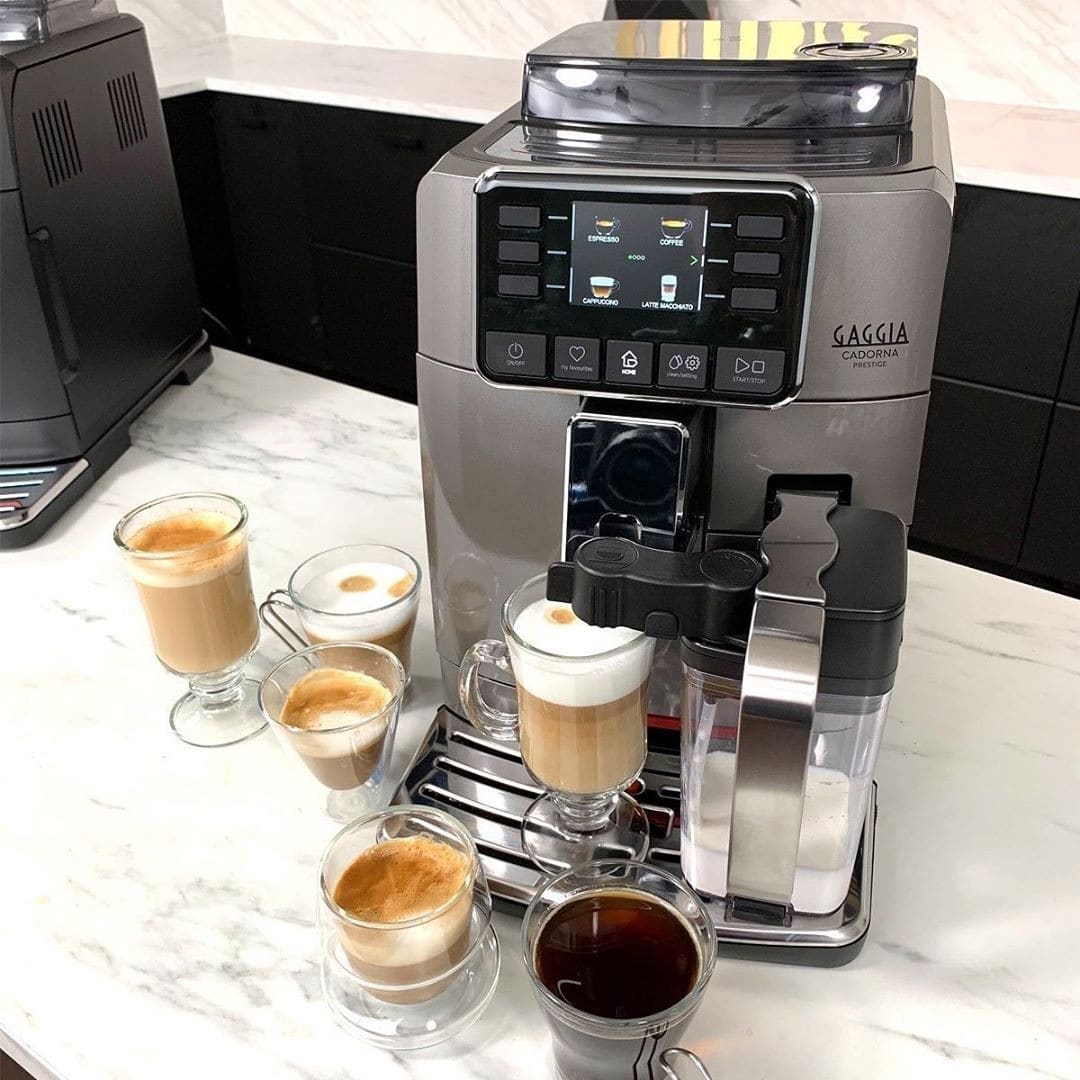 You might want to drink a tall drink someday, right? A taller cup height of an espresso machine can save you time in brewing and after.
You can slide taller mugs under the coffee spout on the Cadorna Prestige than Jura E8. The former maintains a taller cup height of 6.1 inches. And the Jura E8 does of 4.4 inches.
So it's a noticeable difference between the two. You can still put wider cups under the Jura E8. But switching between two cups is necessary when you want to have long black Americanos or creamy drinks.
6. Milk System
The Winner: Jura E8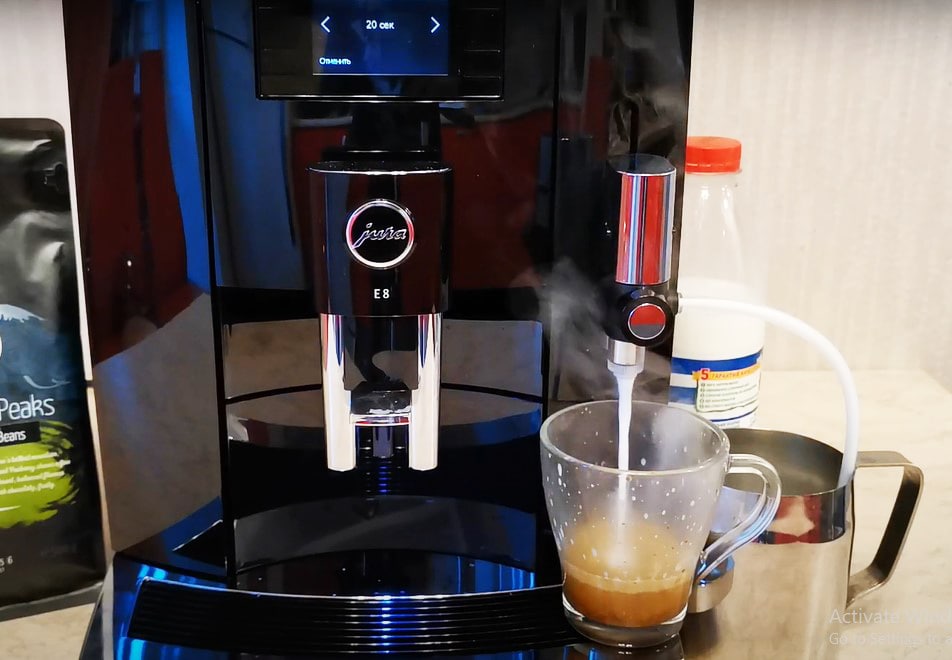 A good espresso machine with a fantastic milk system is not good enough.
Thankfully, both machines, the Gaggia and Jura, offer incredible milk frothing functions. Let's start with the Gaggia Cardorna Prestige. The Cappuccino frother offers sharp, precise controls.
The automatic milk frother comes with an integrated carafe. This carafe is special in that it lets you store the milk in the fridge between brews. As per the milk frothing mechanism, the carafe froths the milk twice to get rid of any residue air bubbles from its texture.
It's the same carafe that automatically cleans itself so that it's hygienic and useable for longer. The effects of the Cappuccino system and carafe make the Cadorna Prestige a reliable choice for frothing. It maintains a steady temperature for milk with the perfect amount of foam.
Speaking of which, the Jura E8 features a programmable milk foam amount. It's a simple and intuitive setting that allows you to decide the volume of foam to make the texture of milk creamier or lighter.
This makes Jura E8's milk frother, even without a carafe, a better pick. It does a brilliant job of frothing milk for different drinks. The fine customizable froth is what you often get in a coffee shop.
It also features automatic rinsing and descaling with a one-touch, quick cleaning program.
7. Temperature Controls
The Winner: Jura E8
Between the QuickHeat Single Boiler system of the Gaggia Cadorna and the Single Thermoblock Heating System of the Jura E8. The Jura E8 heats up faster in less than 25 seconds than the Gaggia.
The Gaggia Cadorna Prestige takes a while to heat up, up to 30 to 35 seconds. It's made up of aluminium and stainless steel that ensures less waiting time.
The faster heating time of the Jura E8, when combined with its compact size, makes a better impact for long-term use. It must also be mentioned the Thermoblock is more energy-efficient to use at home.
8. Espresso Flavor
The Winner: Jura E8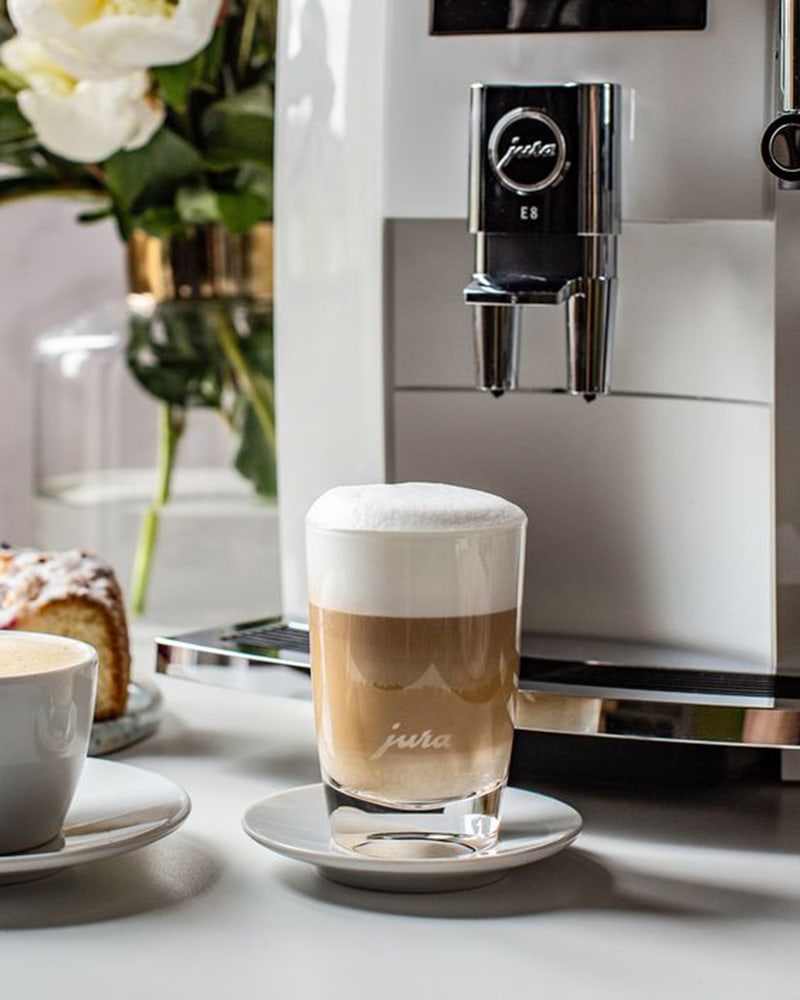 The Pre-Brewing feature of the Gaggia Cadorna Prestige provides plenty of body and flavour to espresso.
But with the Jura E8, the espresso flavour is more noticeable, thanks to the Pulse Extraction Process, or PEP. This feature makes sure that the hot water flows through the coffee in shorter intervals.
It's quick but not rushed so that the espresso becomes too watery or bitter or saturated. The ideal shot pulling time, according to baristas, is between 20 and 30 seconds. And Jura's PEP technology delivers precisely that. You can a 2-ounce double espresso shot in 24 seconds, tops!
The taste is richer, with more crema that even contributes to the creamier taste, and a longer-lasting in-cup temperature.
The Jura introduces some pre-infusion time before PEP to swell the ground coffee before pulling. It is better than Gaggia Cadorna Prestige. In fact, it's better than more expensive Jura machines on the market. You can alter the dose from 5 g to 16 g with the 8 programmable strength settings.
9. Capacity
The Winner: Jura E8
Since there is no portafilter in either machine, there is a used coffee drawer inside that you can clean out after a few cups. And the capacity of the Jura E8 is higher as it can store up to 16 coffee pucks versus the Gaggia Cadorna Prestige that holds only 10.
10. Cleaning
The Winner: Jura E8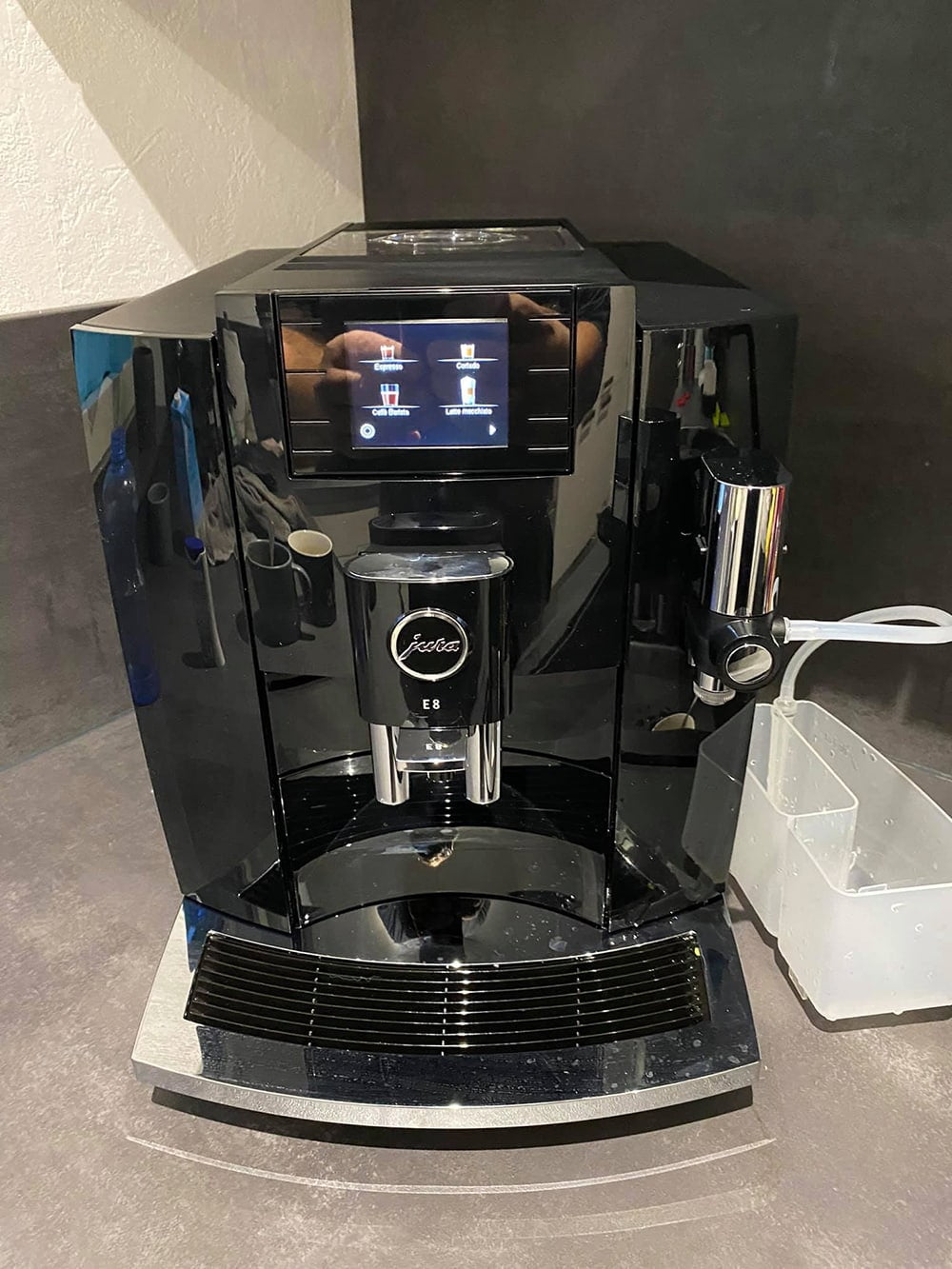 Scale build-up is a part of every espresso machine. That is why descaling is an important function that cannot be avoided.
The Gaggia descaler is easy to use and it does the job effectively. The machine will alert you when it needs to be descaled. You have to follow the steps of descaling by referring to the manual but it's a no-brainer!
The Cadorna is also compatible with high-quality water filters that you can use to protect against excessive scale such as the Brita Intenza+ water filter.
If you've ever wondered why the Jura E8 is a more expensive pick. That's because of the CLEARYL filter. With this, you won't need to descale the machine. The machine alerts you when the filter needs changing.
But for as long as you have that filter, you don't need to descale the machine. Features like the Intelligent Water System really improve the overall use of the machine.
Gaggia Cadorna Prestige vs Jura E8: Similarities
There are plenty of similarities too between the Gaggia Cadorna Prestige vs Jura E8. You can use pre-ground coffee to brew espresso quickly. Their responsive and bright TFT displays are easy to navigate through. And most importantly, they have a similar size which is just right for any home space.
Both machines are also made up of ABS plastic with almost the same water tank and bean hopper capacities. The Gaggia Cardorna Prestige has a 60 ounce water tank and a 10.5 ounce bean hopper. And the Jura E8 has a 63 ounce water tank and a 9.9 ounce bean hopper.
The slight difference between both machines does not have any impact on their performance.
Quick Rundown Of Gaggia Cadorna Prestige RI9604/47
Gaggia Cadorna Prestige Super-Automatic Espresso Machine, Medium
14 Pre-Programmed Beverages|Build your home barista menu with 14 pre-programmed beverages including a ristretto, espresso, espresso lungo, coffee, americano, cappuccino, cappuccino XL, café au lait, café cortado, latte macchiato, latte macchiato XL, flat white, frothed milk, and hot water for tea, hot cocoa, or infusions.
Integrated Milk Carafe|An integrated milk carafe creates the perfect temperature and texture of milk foam to make a beautifully layered milk based beverage. It runs through an automatic rinse cycle to get rid of any residual milk so you won't have to worry about a messy clean-up process.
4 User Profiles|Create up to 4 user profiles on the Cadorna Plus and save your favorite drinks for everyday consistency.
Intuitive User Interface|A full color TFT display allows you to scroll through 14 specialty beverages with backlit buttons and experiment with a number of customizable settings to build your favorite barista-style beverage.
1 YEAR : Hassle free 1 year handled by Gaggia directly.
Last update on 2023-03-03 / Affiliate links / Images from Amazon Product Advertising API
Quick Rundown Of Jura E8 15097
Jura E8 Chrome Automatic Coffee Machine
Stainless steel machine with chrome color
Professional aroma grinder
17 different specialty coffee drinks
Dedicated hot water spout system
Exclusive Extra Shot function
Last update on 2023-02-13 / Affiliate links / Images from Amazon Product Advertising API
Product Videos
Related Articles to Gaggia Cadorna Prestige
Related Articles to Jura E8
References

I am a passionate coffee drinker. Since I left my job as a barista a few years back in 2012, I've been sharing my expertise on coffee and buying the best coffee equipment online. That's how Wild Boar Coffee came to life.
I write about everything coffee-related under the sun. Where to buy the freshest coffee beans from? How to test coffee beans based on texture, aroma, and acidity?
I know all this from scratch – all thanks to my years and years of experience as a barista. So I've gotten real up-close-and-personal with coffee beans and different brewing techniques.