Between the Jura E8 vs Z6, Jura Z6 has a premium feature-rich design and its aluminium casing has won awards! It makes delicious espresso drinks at the touch of a button. And transforms the way coffee tastes from bean to cup in a matter of seconds.
The Jura E8 isn't bad at all – considering that it wins 3 points against the Jura Z6 with only a point away from being at the top. But it does lack the power punch that espresso drinkers love about the Jura Z6.
While both machines are fine choices, the Z6 is more fine-tuned to deliver rich and fresh and aromatic espresso out of the coffee beans you put in. What's really impressive about the Z6 in its design and quality brewing system.
The Jura E8 is a good choice for entry-level users who want a simple, quick machine that is easy to maintain and can make espresso at the touch of a button.
Jura E8 vs Z6: Comparision Chart
Table could not be displayed.
Jura E8 vs Z6: Differences
The Jura Z6 wins 4 – 3 against the Jura E8. It's one of the best espresso machines money can buy. With more programmable settings, a faster and quieter grinder, and a user-friendly design.
1. Espresso Taste
The Winner: Jura Z6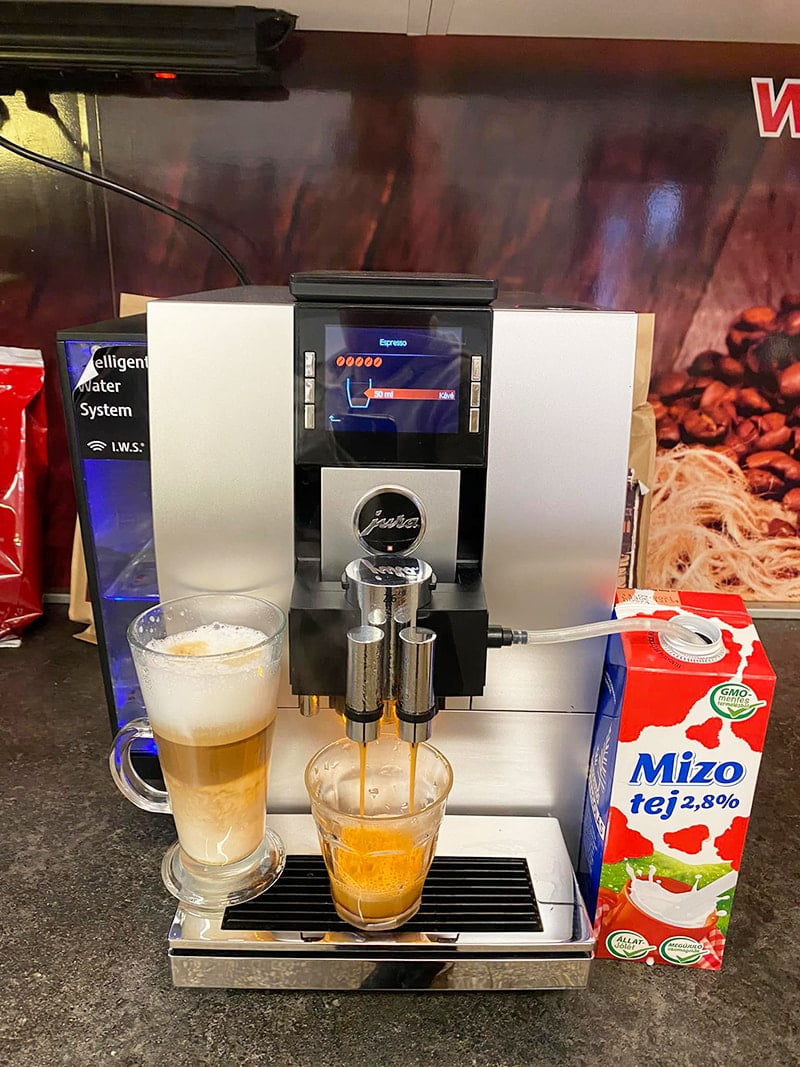 +Coffee Grinder
With the Jura Z6, the beans are well taken care of with an upgraded Aroma G3 grinder. While on the Jura E8, you're using the modern yet basic model of the Aroma grinder.
While both are excellent for grinding coffee beans at a consistent speed, the Aroma G3 is quieter. Many users of the Jura E8 have complained that the grinder is a bit too loud. While the Aroma G3 runs smoothly, produces a finer and full-bodied espresso taste, and its blades are sharper and retain their sharpness for long.
Both espresso makers come with Pulse Extraction Process, the Aroma G3 produces richer and aromatic coffee at the push of a button on the Jura Z6.
2. Dose Control
The Winner: Jura E8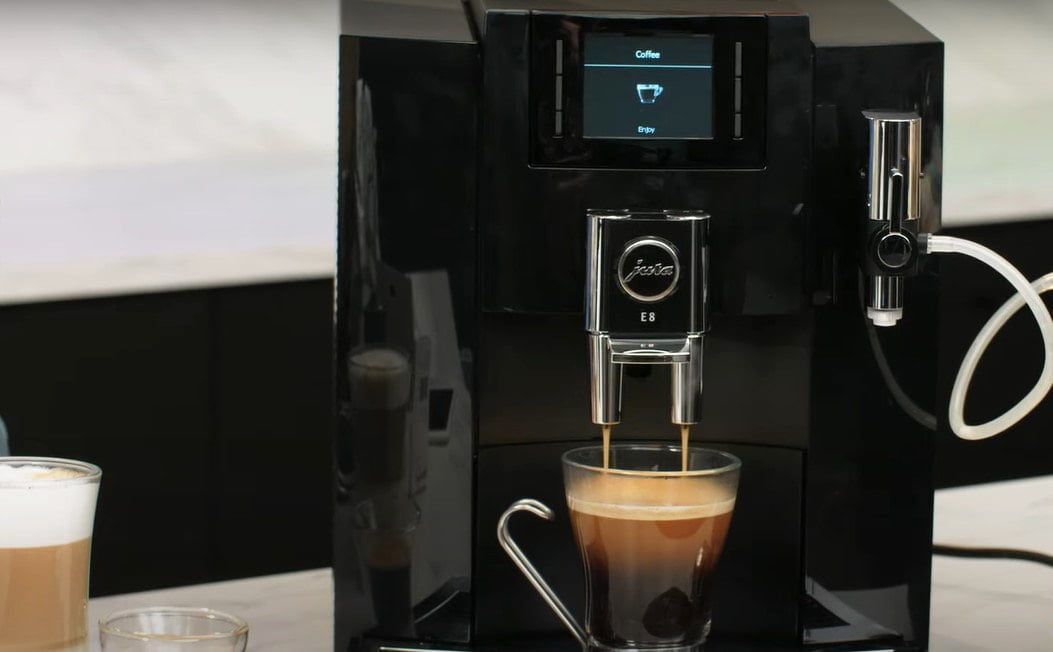 +Coffee Specialties
The E8 offers 17 coffee drinks for you to pick from. While the Jura Z6 offers 13 espresso-based and milk drinks.
The Jura E8 offers new special coffee drinks such as the Café Barista, Cortado, Lungo Barista, Espresso Doppio, and a few extra shots for drinks like Flat White. The Jura Z6 does not offer such varieties of espresso drinks.
But it does include interesting espresso choices like Latte Macchiato, Flat White, Cappuccino, Macchiato, Ristretto, and Espresso.
So why more espresso drinks? For someone like me who drinks espresso every day, having multiple coffee recipes at my disposal, at the touch of a button, is helpful. I can drink tons of delicious espressos daily, just like in a barista, with my choice of beans and coffee strength and milk.
3. Milk System
The Winner: It's A Tie!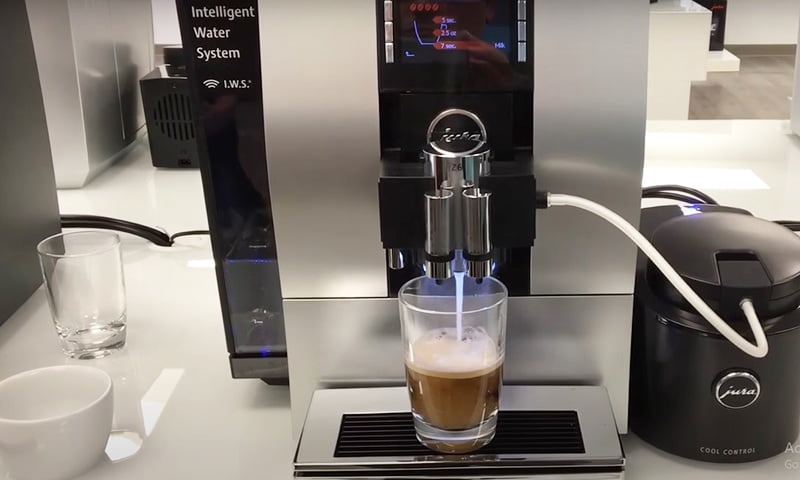 It's a tie between the Jura E8 and Z6 since they both offer automatic and efficient milk frothing. The Jura E8 features the Fine Foam G2 frother which is fast, easy to clean, and consistent. The Jura Z6 features the standard Fine Foam frother but what's impressive about this wand is that it comes with 10 pre-set milk temperature settings.
The Jura E8 does feature programmable milk texture control but you cannot adjust the temperature of the milk as intricately as on the Z6.
4. Cleaning & Maintenance
The Winner: It's A Tie!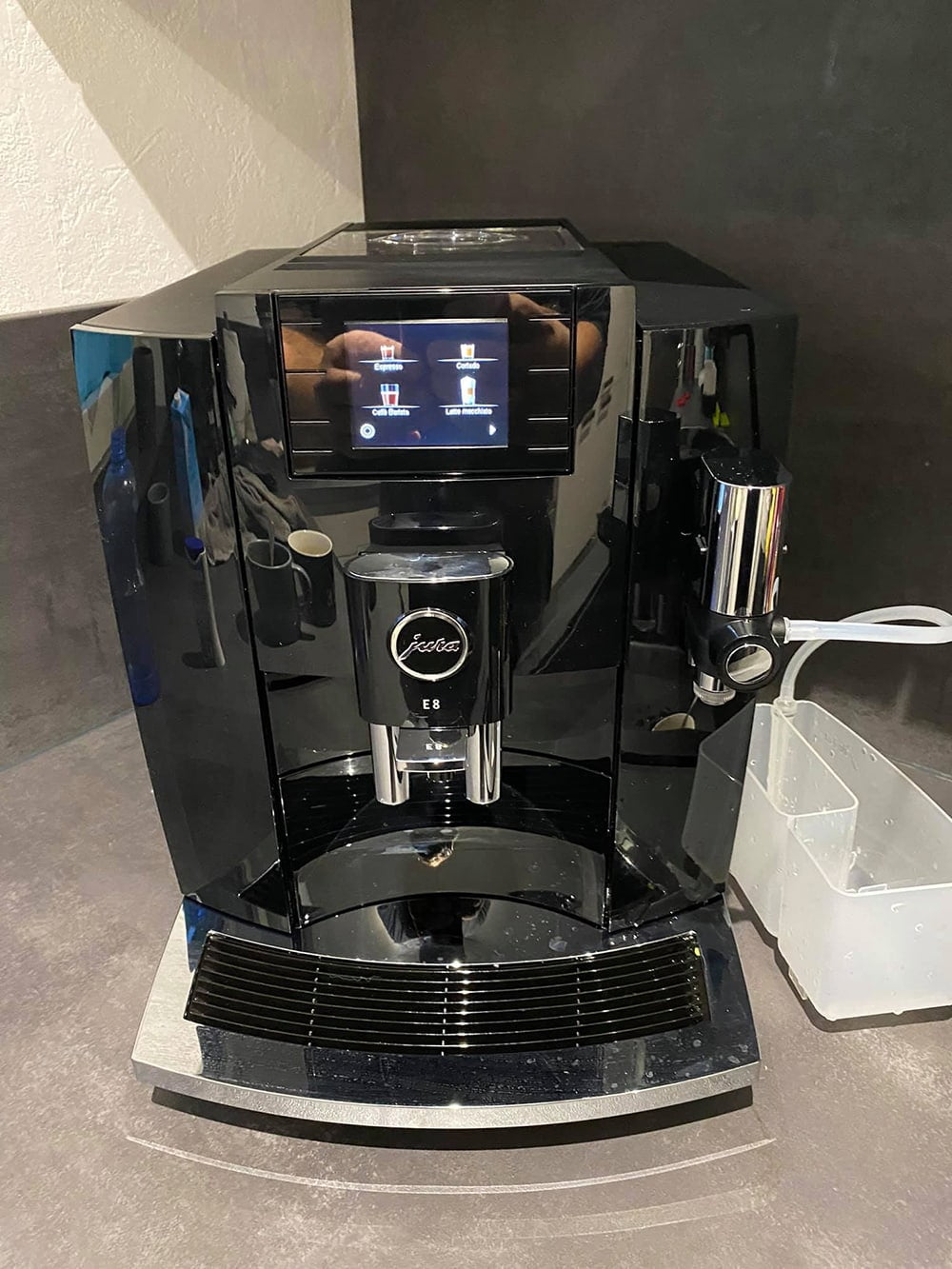 +Capacity
Though the Jura E8 and Z6 have the same bean hopper size, they hold different capacities of water. The Jura E8 holds up to 64 ounces while the Z6 holds a little more than that – up to 81 ounces.
This slight increase in water tank capacity affects the weight and dimensions of the Jura Z6 as well. Making the Jura Z6 about 4 pounds heavier and broader by width and length.
It must also be pointed out that the Z6 features a 20 pucks grounds container that stores used coffee after brewing so you don't have to empty out the container straight away. You can wait for 20 servings to finish. The Jura E8, on the other hand, stores up to 16 coffee pucks.
So with regards to portability and lightweight design, both are important for home espresso drinkers, the Jura E8 is a comfortable and compact machine. But the Z6, being slightly bigger, lets you store more water in case you're not the only one drinking coffee at home.
5. Utilities
The Winner: Jura Z6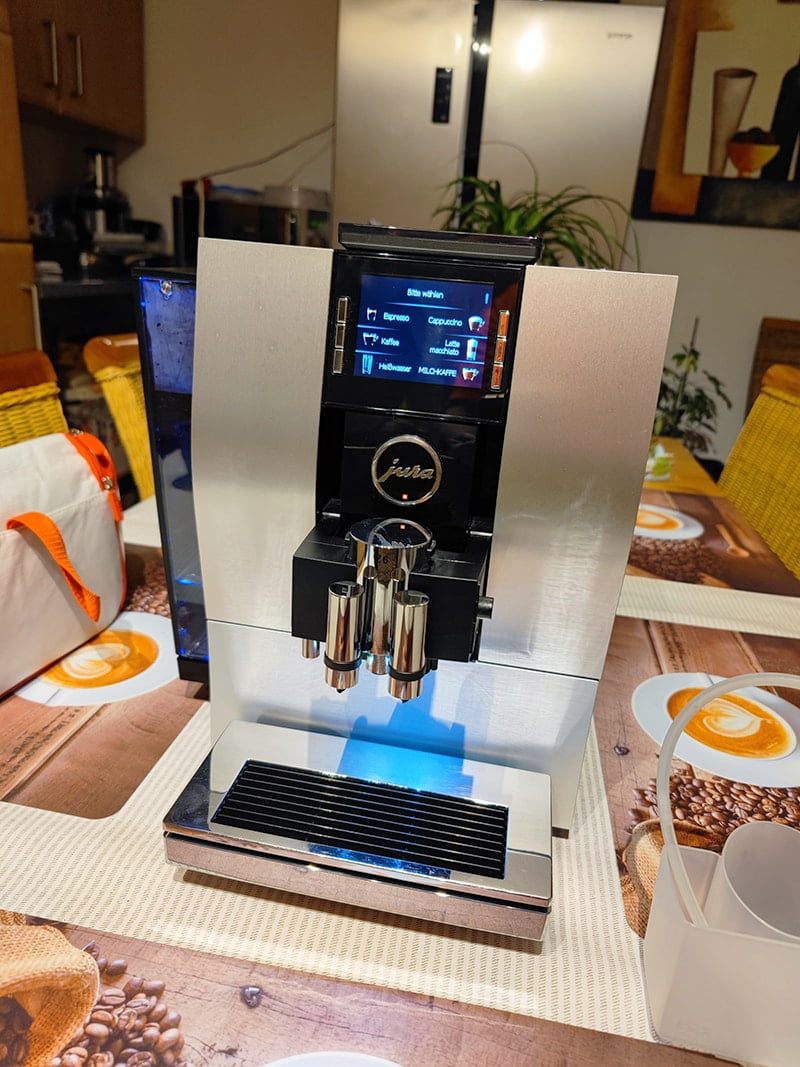 +Height Adjustable Spout
The Jura Z6, owing to its slightly larger size, also features a taller spout design. This is a convenient feature as it allows you to place a tall glass or probably even a travel mug under the spout without any trouble.
The Jura E8 lets you adjust the spout from 2.5 to 4.3 inches. While the Jura Z6 goes up to 6 inches. However, it doesn't go down as low as 2.5 inches which means there might be some splatters on the steel surface when pulling a single espresso shot in one of those tiny espresso cups.
Jura E8 vs Z6: Similarities
1. Brewing Technology
Both machines can brew two coffees simultaneously. They also use Pulse Extraction Process, 15 bar pump system, and Thermoblock heating as their primary brewing functions. These features maintain and yield better espresso taste for a variety of espresso drinks.
Both machines also feature a powder chute for pre-ground coffee. All the coffee customizations apply to grinding the beans or using the pre-ground coffee. So you can make a macchiato with coffee beans at home or pre-packaged powdered coffee with an espresso grind size.
Speaking of which…
2. Programmability
One of the best things a home espresso machine can offer you is programmable functions. Certain coffee variables that you can adjust to improve the flavor and intensity and aroma of espresso.
With the Jura E8 and Z6, that is altering the coffee's strength and brewing temperature. In fact, both machines also come with hot water programmability, allowing you to adjust the temperature of the water by 3 levels.
As far as coffee strength and temperature go, you have the option of selecting from 10 coffee strengths and 3 brewing temperature levels.
You can also program the coffee's volume per serving. This includes brewing 2 espressos at once or making your pre-selected drink such as a cappuccino or a macchiato extra strong at the touch of a button.
3. Automatic Shut-Off
With auto shut-off, you can set a timer for when you want the machine to turn off so it doesn't sit idle with the power on for very long. This preserves not only energy consumption but ensures that the water filter or brew unit do not run for longer than they have to. This can prolong the shelf life of your machine to a huge degree.
Both the Jura E8 and Z6 come with Energy Efficient features for power-saving and long-lasting durability. And speaking of maintaining the high-quality of the machine, they also feature integrated cleaning modes to ensure smooth and clog-free operation. This, coupled with the built-in water filter, makes both the Jura E8 and Z6 a fine and sturdy choice for years of use.
4. Smart App-Connect
Some modern Jura espresso machines are equipped with something called the "J.O.E." This is Jura's smart and intuitive smartphone app that you can download on your phone or tablet. It does, in just a few taps, exactly what the control panel of an espresso maker can do.
Speaking of the control panel, you have complete access to the TFT display with buttons and a rotary dial which is available on both machines.
Moving on…
On the J.O.E. app, you can customize all your espresso drinks in seconds. The app's interface comprises edgy and smooth scroll bars, buttons, and indicators. It will also notify you when the machine needs descaling or refilling or if there's any problem at all. It's just like using a social media app – but for your espresso maker! You can select from a whole catalogue of delicious espresso drinks.
Quick Rundown of Jura Z6 15093
Jura 15093 Automatic Coffee Machine Z6, Aluminum
The pulse extraction process (P.E.P.) allows the whole bouquet of aromas to Blossom. Result: possibly the best Espresso of all time - at the touch of a button
The innovative nozzle technology prepares fine, compact and very tempting milk foam. The machine switches from milk to milk foam fully automatically
The Z6 packs incredible performance into compact Dimensions. All the control elements are conveniently accessible on the front
Maintenance is just as easy as preparing a Coffee: one touch of a button is all that's needed
Only Original Jura maintenance products Guarantee complete hygiene and protection. Only our protective formulas have been carefully optimized to suit the programmed and materials used in Jura automatic machines.
Last update on 2023-03-03 / Affiliate links / Images from Amazon Product Advertising API
Quick Rundown of Jura E8 15355
Jura E8 Piano Black Automatic Coffee Machine
ONE TOUCH: Prepare 16 barista quality specialties including espresso, coffee, cappuccino, flat white and latte macchiato at the touch of a button
PERFECT ESPRESSO: Ultimate coffee quality thanks to JURA's exclusive Pulse Extraction Process
CONICAL BURR GRINDER: Fast and precise AromaG3 grinder grinds whole beans to the optimum fineness
: JURA is always freshly ground, not capsuled - fresh taste with very limited waste - single serve machine
CAPACITY: 64 ounce water tank, 10 ounce bean container
Last update on 2023-02-13 / Affiliate links / Images from Amazon Product Advertising API
Product Videos
Related Articles to Jura Z6
Related Articles to Jura E8
References

I am a passionate coffee drinker. Since I left my job as a barista a few years back in 2012, I've been sharing my expertise on coffee and buying the best coffee equipment online. That's how Wild Boar Coffee came to life.
I write about everything coffee-related under the sun. Where to buy the freshest coffee beans from? How to test coffee beans based on texture, aroma, and acidity?
I know all this from scratch – all thanks to my years and years of experience as a barista. So I've gotten real up-close-and-personal with coffee beans and different brewing techniques.