Between the Jura Giga 5 vs Z6, you get to choose from a more commercial-grade bean grinder and more coffee programmability. The Jura Giga 5 is a commercial-grade espresso machine brought down to beginner levels. It has dual grinders, two bean hoppers, a large water tank, and an impressive range of espresso drinks.
The Jura Z6, on the other hand, is less feature-rich with a steel conical burr grinder, a smaller bean hopper, but more programmable settings for milk temperature and coffee strength.
Meanwhile, both machines offer a TFT color display, smart app connectivity, adjustable grinder settings, 15 bar pump, and PEP for delicious and aromatic espresso shots. They also produce piping hot milk and the opportunity to brew two espresso drinks simultaneously.
Jura Giga 5 vs Z6: Comparision Chart
Table could not be displayed.
Jura Giga 5 vs Z6: Differences
The Jura Giga 5 wins 4 – 2 against the Z6 because it has a better grinder, larger capacity, and more espresso drinks to offer. The Jura Z6 features a higher number of coffee strength levels and coffee personalization which the Giga 5 does not have.
1. Espresso Flavor
The Winner: Jura Giga 5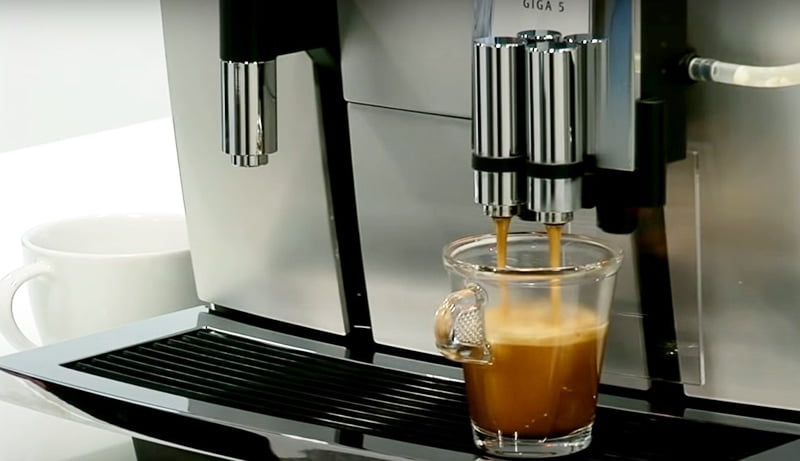 +Coffee Grinder
The most notable difference between the two is whether you want a ceramic disc grinder to grind your coffee beans at home or a steel conical burr grinder.
More specifically, the Jura Giga 5 features a dual ceramic disc grinder. And the Jura Z6 features the steel conical burr grinder (Aroma G3).
It's necessary to know your grinder because it impacts the flavor and extraction of espresso. How smoothly does the grinder grind the beans without heating up or affecting the texture of coffee?
Traditionally, ceramic grinders stay cool and can withstand intense use. It won't burn off the natural coffee oils in the beans, even if you grind back to back. And knowing the Jura Giga 5 comes with a dual ceramic disc grinder is quite helpful in that case.
Compared to that, the steel conical burr grinder does heat up. So it may result in a relatively warmer grind which lots of espresso purists frown upon. Even when you brew coffee at home.
Price-wise, the ceramic grinder is more expensive than steel grinders. But speed-wise, the steel conical burr grinder is faster but it does get hotter. It's also worth mentioning that out of 10 ceramic disc grinders, you won't find even a single faulty one. But in a line-up of 10 steel grinders, there will be 1-3 that are not up to the mark.
That is why I favour the dual ceramic disc grinder of the Jura Giga 5 over the steel burr grinder of the Z6 even though both produce rich espresso notes and dense, crema-infused shot quality.
2. Dose Control
The Winner: It's A Tie!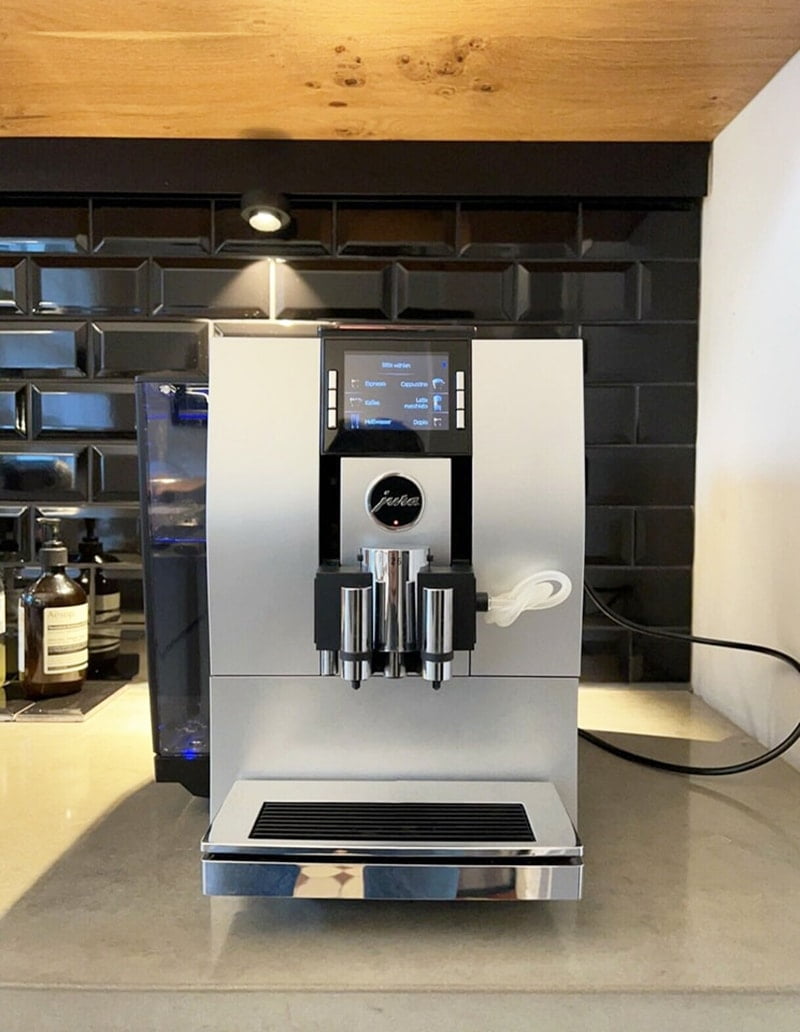 +Coffee Drinks
This is again where the Jura Giga 5 wins the battle. It has 19 pre-programmed and easy to customize by strength, temperature, and volume of espresso drinks. While the Jura Z6 has 13 drinks on its menu.
This means you can brew more variety of coffee drinks, in various sizes, on the Giga 5. All its coffee drinks are One-Touch which means you can rely on the default programmability of the machine to produce the richest and creamiest of espresso flavors.
Or, if you crave a bit more control, you can customize the strength and temperature of your drink with the touch of a button.
The Jura Z6 does offer programmable settings – but I'll get into that below!
+Coffee Programmability
The Jura Z6 wins back its edge with more control over its coffee drinks. It may not offer as many coffee drinks as the Giga 5 but it offers more programmability levels.
The Giga 5 comes with 5 coffee strength levels and the Jura Z6 comes with 10 levels. Both machines offer the same brewing temperature settings – up to 3 levels. But they also differ in milk programmability because the Z6 offers 10 temperature settings for milk. The same on the Giga 5 is not mentioned.
Both have a hot water dispenser but the Jura Z6 features 3 temperature settings for hot water as well. This is not available on the Giga 5.
Also weighing in the fact that the Jura Z6 comes with coffee personalization which lets you save your favourite espresso drink at the touch of a button. The Giga 5 offers no such coffee personalization feature to its user. You must select from its coffee menu which drinks you want to brew right away.
You can program the serving size on both machines and allow twin brewing which means brewing 2 cups of espresso simultaneously.
3. Milk System
The Winner: It's A Tie!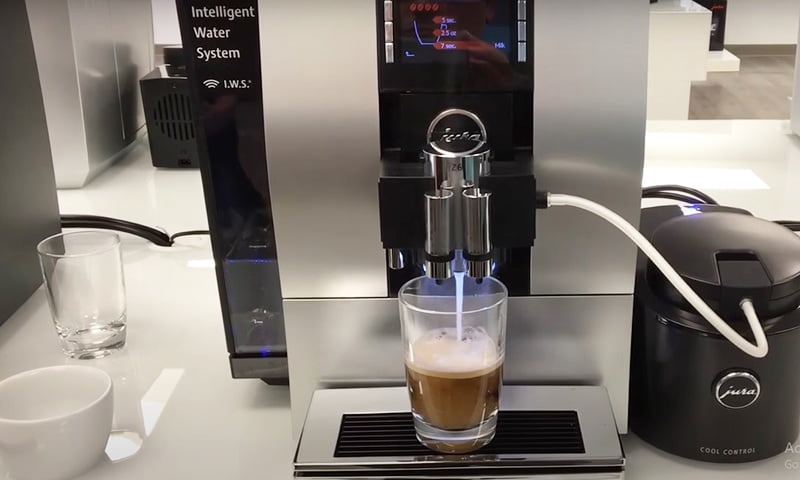 Both machines come with excellent milk frothing systems. The Jura Giga 5 comes with a milk spout that is easy to clean and maintain. It has a higher cost because it features dual spouts with a separate milk spout to create textured and creamy milk for cappuccinos, lattes, flat whites, etc.
You can also tweak the amount of milk foam you want based on the drink you select. It all happens quickly and effectively. After programming the machine and getting milk poured directly into the mug or glass, you can rinse the milk system to keep it clean and ready for the next brew.
The Jura Z6 features an automatic milk siphon system with a milk pipe that connects to the machine. You get to control the temperature of milk as well as the milk foam.
More programmable functions make the Jura Z6 the better choice for milk frothing. Although cleaning the milk pipe may take some effort as it is not dishwasher-safe.
4. Cleaning & Maintenance
The Winner: Jura Giga 5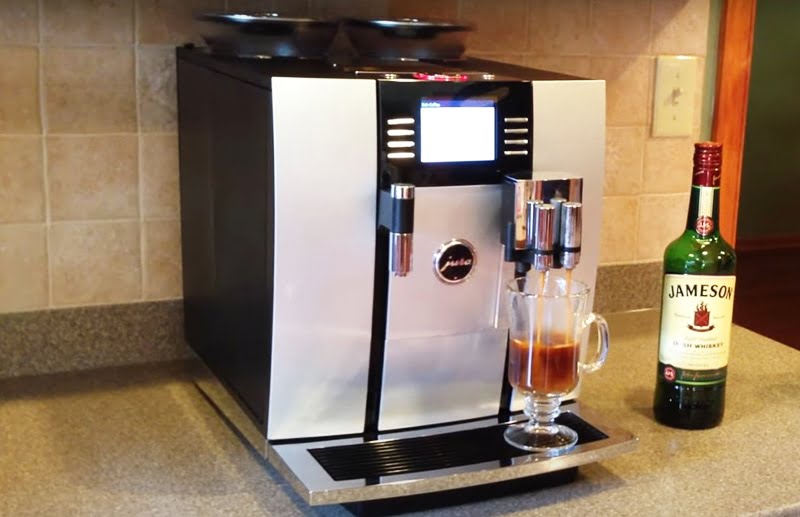 +Capacity
The Giga 5 comes in smaller housing but with a higher capacity than the Z6. This puts it at the forefront of why it's one of the best espresso makers for home use. It features a 91-ounce water reservoir and a dual ceramic grinder with 2 bean hoppers.
Each bean hopper can hold up to 277 grams of coffee beans. And each ceramic grinder works with a bean hopper. So you have dual grinding performance in place of just one.
The Z6 works a little differently. For starters, it comes with a single 280g bean hopper and a single grinder. Its water reservoir is 81 ounces.
Both machines offer the same size of coffee container for used coffee pucks – up to 20 coffee servings. And they also share a pre-ground coffee chute for decaf coffee.
Jura Giga 5 vs Z6: Similarities
Both espresso machines are entry-level competitors. But the Jura Giga 5 vs Z6 include features that make it easier for a coffee novice to make espresso drinks at home. This rests on the fact that both machines offer the same brewing functions with regards to PEP and 15 bar pump system.
There are also common elements to both machines as well. Those are…
Dual Coffee Spout
The machine's ability to produce two espressos in a single brewing cycle depends on the dual coffee spout. The Jura Giga 5 and Z6 offer the same. The espresso will come out of both spouts if you select the double option and place two espresso cups under the spout (1 cup under 1 spout).
If you see videos of barista espressos, you'll know how efficiently coffee experts make two espressos at one time using small espresso cups. So there's less of a mess on your drip tray and it's perfect for entertaining.
Wireless App
Yes, you can customize and access all the coffee drinks and functions using Jura's own J.O.E. app. The Smart Connect dongle has a Bluetooth connection that connects and syncs the espresso maker to your phone or tablet.
You can access all the things your espresso maker can do, including cleaning and maintenance alerts, on the phone – like a social media app. It's the best modern upgrade espresso makers can offer, considering the higher price range of both the Jura Giga 5 and Z6.
Pre-Infusion Technology
With pre-infusion technology, you can expect barista-quality results at the touch of a button. It's not something you have to manual "dial-in" the grind settings or temperature settings for. Nor do you have to manually adjust the dose or water ratio of the espresso.
Both machines do this automatically. And with the help of pre-infusion, the hot water will extract the smoothest and most consistent flavor of espresso, regardless of the beans you use.
This gives you the option to experiment with as many coffee beans as you as well. Light roast, medium roast, dark roasts with different flavor notes.
Adjustable Cup Height
On top of having dual coffee spouts, you can adjust the height of the cup clearance to accommodate taller mugs/glasses. The tallest mug you can place under the spout (on both machines) is 6 inches.
The Jura Giga 5 goes a little higher – about 0.2 inches – so there's no considerable difference between the two. It also stops a little lower than the Z6 – from 2.7 inches – and the Z6 goes as low as 3.2 inches.
Cleaning & Maintenance
Both machines come with water filters to get rid of heavy metals or minerals in the water. This prolongs the shelf life of the machine. But it also ensures that the espresso never tastes too bitter or metallic, even after weeks and months of use.
Both machines have several cleaning indicators that remind you when to descale/rinse the machine. And the drip tray is removable to empty out the excess water so that it doesn't overflow.
You can also read Jura's cleaning instructions but I assure you that the cleaning modes are self-explanatory. You'll have little to no reason to open up the user manual. The interface is quite straightforward, intuitive, and easy to understand.
Speaking of which…
Control Panel
Both machines have a TFT color display with buttons. The buttons are organized right next to the screen, just like an ATM machine, so you know exactly which button is for what. The color screen display adds a modern touch to the espresso maker, offering you a good display of the drinks the machine offers, their strength, temperature, and volume levels.
Quick Rundown of Jura Giga 5 15066
Jura 15066 Giga 5 Automatic Coffee Machine, Piano Black
Fast and quiet as a whisper thanks to two ceramic disc grinder | Pure, clean lines for a unique, sovereign character
Product dimensions – 12.6" W x 16.3" H x 18.9" D | Weight – 39.7 lbs. | Water capacity – 91.5 oz. | Bean container capacity (x2) – 9.88 oz. | Coffee grounds container capacity – 20 portions Max | Cord length – 59" | Voltage – 120V, 60 Hz
Create your specialty Coffee in no time thanks to a TFT display with rotary selection
Now you can become a professional Barista in a flash, with 12 imaginative Barista specialties selected with a turn of the rotary switch
The epitome of quality – doubled with the combined power of two grinders and two heating systems, the machine prepares every specialty Coffee to perfection
Last update on 2023-03-03 / Affiliate links / Images from Amazon Product Advertising API
Quick Rundown of Jura Z6 15093
Jura 15093 Automatic Coffee Machine Z6, Aluminum
The pulse extraction process (P.E.P.) allows the whole bouquet of aromas to Blossom. Result: possibly the best Espresso of all time - at the touch of a button
The innovative nozzle technology prepares fine, compact and very tempting milk foam. The machine switches from milk to milk foam fully automatically
The Z6 packs incredible performance into compact Dimensions. All the control elements are conveniently accessible on the front
Maintenance is just as easy as preparing a Coffee: one touch of a button is all that's needed
Only Original Jura maintenance products Guarantee complete hygiene and protection. Only our protective formulas have been carefully optimized to suit the programmed and materials used in Jura automatic machines.
Last update on 2023-03-03 / Affiliate links / Images from Amazon Product Advertising API
Product Videos
Related Articles to Jura Giga 5
Jura Giga 5 vs W3 Review: Comparing Critical Features That Will Make Any Espresso Drinker Fall In Love With This Bean-To-Cup Jura Espresso Machine
Related Articles to Jura Z6
References

I am a passionate coffee drinker. Since I left my job as a barista a few years back in 2012, I've been sharing my expertise on coffee and buying the best coffee equipment online. That's how Wild Boar Coffee came to life.
I write about everything coffee-related under the sun. Where to buy the freshest coffee beans from? How to test coffee beans based on texture, aroma, and acidity?
I know all this from scratch – all thanks to my years and years of experience as a barista. So I've gotten real up-close-and-personal with coffee beans and different brewing techniques.