There is one absolute winner only in the debate of Jura Z8 vs Z6: Jura Z8. These high-end espresso makers indeed share very similar features, but some details make Z8 the better option for pro coffee drinkers.
Jura Z8 is equipped with 2 Thermoblocks that brew and steam simultaneously while maintaining the optimum temperature for both processes. This model takes away the extra work of setting up the water filter if you use the CLEARYL Smart line. Taste-wise, its coffee is soft, balanced, and nutty.
As for Jura Z6, this model can also deliver the same espresso and coffee quality. It also makes minimal noise for its built-in conical burr grinder. However, its operation isn't as impressive as Jura Z8, despite being smartly optimized itself.
Jura Z8 vs Z6: Comparison Chart
Table could not be displayed.
Jura Z8 vs Z6: Differences
Jura Z8 wins 3 – 1 against Jura Z6. Even though these machines are almost the same, I can notice that Jura Z8 has a certain heating element upgrade that makes Jura Z6 stay in second place. You will get flavorful 16 varieties of beverages, auto-detection of the CLEARYL Smart water filter, and so on.
Coffee Flavor: tie
Grinder
The grinders of Jura Z8 and Z6 are technically the same. Both are conical burr grinders with Aroma G3 technology which offers 6 grind settings. So far, I have really enjoyed their operation. They deliver smooth and even coffee grounds that greatly affect the final taste of espresso or coffee.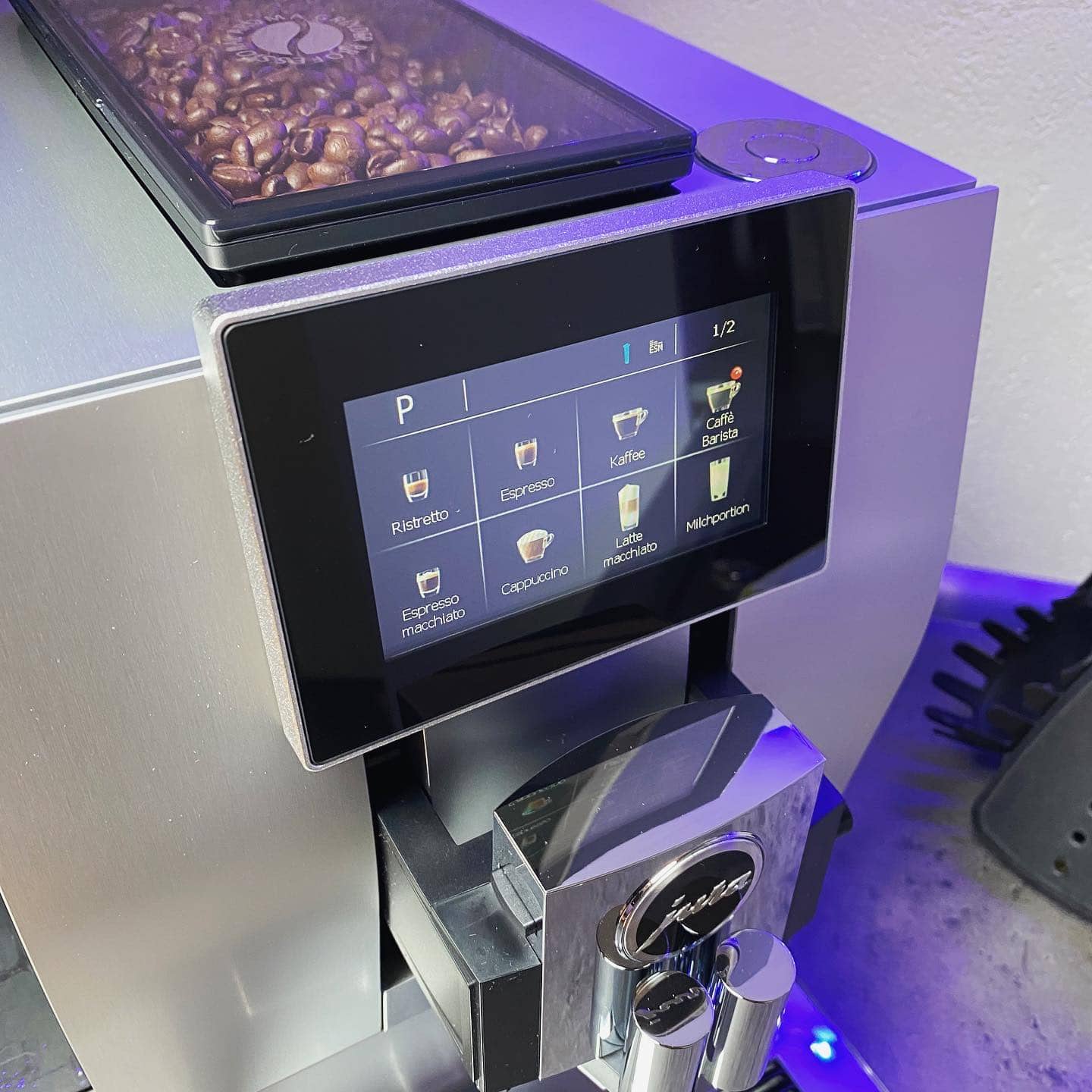 Like any espresso machine with built-in grinders, Jura Z8 and Z6 make noise when grinding and brewing. But I find them to be quite smooth compared to many other models at the lower price range. I guess it's normal for these high-end espresso makers to function more quietly. Nevertheless, I'm still impressed by the minimum sounds that they make.
Dosing + tamping
Since these are both super-automatic models, you can leave all the work to them. From grinding, dosing, tamping to pouring, Jura Z8 and Z6 handle it all. If you are a busy person and you don´t want an espresso maker that makes you dose and tamp manually or control the shot´s volume personally, I believe you will love these machines that I´m reviewing.
About the exact dose that these models pull, they share the same variable 5 to 16g dose depending on the recipe of each beverage. It is possible to adjust the amount via an application that connects with the machines, or you can do it directly on their interface.
Personally, I would prefer pulling a few more grams since I´m a heavy coffee drinker, anything strong and full-bodied energizes me. So I find the dose a bit small on these espresso makers. However, I notice that Z8 delivers a more robust flavor, even though it shares the same dose setting as Z6.
In conclusion, if you enjoy drinking a latte with a soft and aromatic flavor, you should consider Z6. But if you prefer strong espressos with a good aroma and a note of bitter aftertaste, I suggest you go with Z8.
Heating system
Jura Z8 absolutely dominates this round thanks to its 2 Thermoblocks. It means that this machine heats up very quickly while the brewing and steaming processes are controlled separately. Hence, the coffee temperature is always right. That´s why I never have to complain about this model´s ability to deliver great coffee.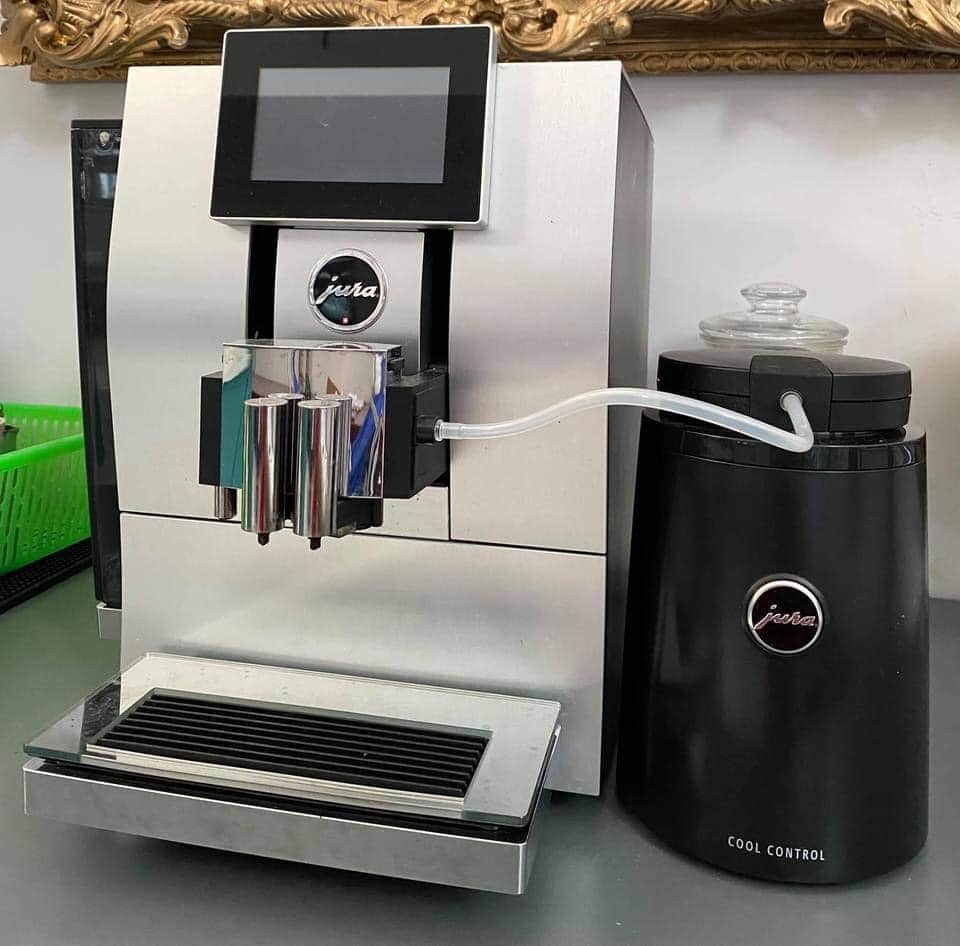 Z6, on the other hand, comes with a single Thermoblock only. It heats up quickly, just like Z8. But, the machine lacks exceptional temperature control. It pulls warm coffee instead of hot, and the temperature ranges around 180F. If you want to brew coffees that are good to drink right out of the spout, Z6 is a suitable choice. But if you want hot and steamy coffee, you should go with Z8.
Brewing technique
Z8 and Z6 brews via Pulse Extraction Process, or P.E.P. This technology shots water through the puck in short bursts allowing every aroma and note of flavor to come out evenly. You won´t have to waste a single good puck with these babies.
Obviously, we can´t see this process while it´s in function. But after tasting the coffee, I can tell that the technology work. I have never experienced weak espresso with Z8 and Z6, even though these models use only 5 to 16g of coffee for each dose.
Utilities: Jura Z8
Many users buy espresso machines with water filters and after a month or two, they claim that the filters don´t work and their coffee tastes mad funny. But, the truth is that we have to activate the filter for it to start working.
However, if you are thinking if there is any espresso machine that does it for you, I´m telling you that Z8 can. If you purchase the CLEARYL Smart water filter, this model will recognize it automatically, thus you don´t have to go through any setup and you get filtered water for optimum espresso flavor.
Milk system: tie
Our candidates tie in this round since they share the same milk system´s features. You will have to purchase a separate milk container but that doesn´t cost much anyway. In general, you will connect the container to Z8 and Z6 via a tube, and the nozzle system of these espresso makers will automatically steam and froth milk according to the type of beverage you pick.
According to the instruction, Z8 and Z6 can transform from steamed milk to foam in a heartbeat. And they live up to the expectation. I have brewed latte, and cappuccino with these many times and they always top it off with a heavenly creamy layer of microform.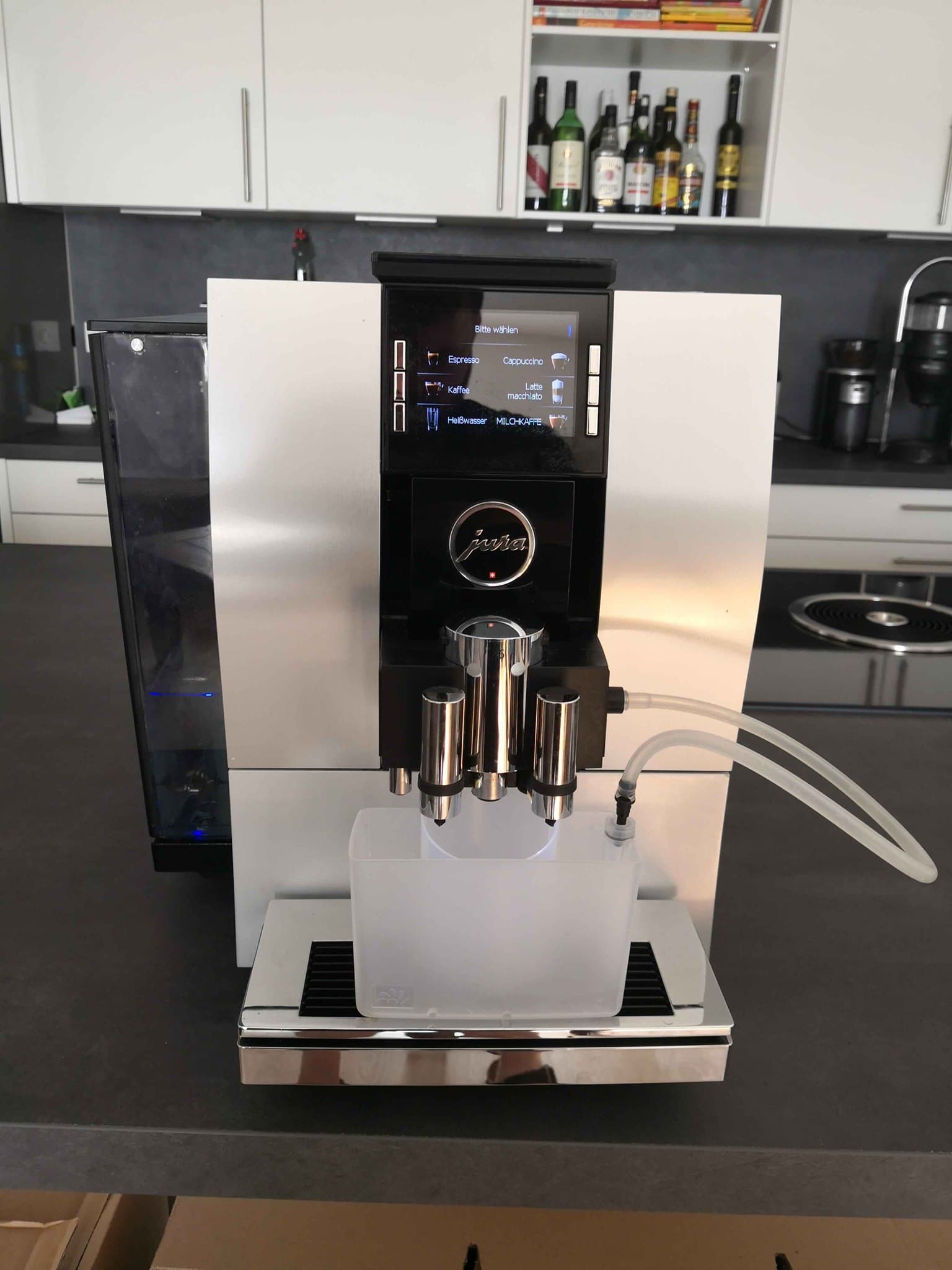 But, don´t expect the foam to be dry and airy, which is used for cappuccino frequently, because that is not the setting of these machines. You will get creamy microfoam that is just right for a good cup of latte and cappuccino.
Cleaning & Maintain: tie
Just in case you care about the dripping after extraction, you can relax with these bad boys. I have tested both and after they finish brewing, there will be a bit of coffee dripping out of the dispenser for around 3 seconds. After that, they shut off completely and avoid the extra cleaning work.
Design & Material: jura z8
Appearance-wise, Jura Z8 and Jura Z6 are similar. Both have aluminum front and top alongside plastic sides and back. Thanks to the aluminum parts, the machines are more durable and lightweight at the same time, much lighter than stainless steel. However, if both the sides and the back were made of aluminum as well, these machines would be 99% perfect for purchasing immediately.
Jura Z8 vs Z6: Similarities
Check out the 2 most important similar features of Jura Z8 and Z6 below.
Controllable Through App
Since the pair belongs to the high-end range, they can be controlled totally through an app that Jura has designed. Not just brewing, you can even change the recipe of each recipe through this app, which includes the coffee volume, the milk temperature, or the water temperature, among other options.
Variable Water Temperature
I really enjoy the variable water temperature options of Jura Z8 and Z6. There are 3 levels for us to choose from, from low to medium to high.
After testing both models, I suggest you set the temperature on Z6 to high and Z8 to medium or high. Z6 usually brews coffees at lower temperatures, around 175 to 180F, so setting the heat at high is wise. As for Z8, I don´t find any fault in the coffee temperature.
Quick Rundown Of Jura Z8
Last update on 2023-03-03 / Affiliate links / Images from Amazon Product Advertising API
Quick Rundown Of Jura Z6
Jura 15093 Automatic Coffee Machine Z6, Aluminum
The pulse extraction process (P.E.P.) allows the whole bouquet of aromas to Blossom. Result: possibly the best Espresso of all time - at the touch of a button
The innovative nozzle technology prepares fine, compact and very tempting milk foam. The machine switches from milk to milk foam fully automatically
The Z6 packs incredible performance into compact Dimensions. All the control elements are conveniently accessible on the front
Maintenance is just as easy as preparing a Coffee: one touch of a button is all that's needed
Only Original Jura maintenance products Guarantee complete hygiene and protection. Only our protective formulas have been carefully optimized to suit the programmed and materials used in Jura automatic machines.
Last update on 2023-03-03 / Affiliate links / Images from Amazon Product Advertising API
Product Videos
Related Articles to Jura Z8
Related Articles to Jura Z6
References:

I am a passionate coffee drinker. Since I left my job as a barista a few years back in 2012, I've been sharing my expertise on coffee and buying the best coffee equipment online. That's how Wild Boar Coffee came to life.
I write about everything coffee-related under the sun. Where to buy the freshest coffee beans from? How to test coffee beans based on texture, aroma, and acidity?
I know all this from scratch – all thanks to my years and years of experience as a barista. So I've gotten real up-close-and-personal with coffee beans and different brewing techniques.