For a serious espresso purchase, it's time to pick between the Jura ENA 8 vs Z6 espresso makers. While both are great, there is a significant price gap between the two. The ENA 8 is the most affordable in comparison to the Z6 being the most costly.
So does this mean the Jura Z6 has better, more upgraded features than the ENA 8? Yes, that is true. The Jura Z6 has time and shot quality on its side. While it's not as compact and lightweight as the ENA 8, it supports more customizations for milk, espresso, and even brews 2 cups simultaneously while the ENA 8 can only brew 1 cup at a time.
Jura ENA 8 vs Z6: Comparision Chart
Table could not be displayed.
Jura ENA 8 vs Z6: Differences
The Jura ENA 8 and Z6 offer plenty of exciting features. But still, the Jura Z6 is more feature-rich and better equipped at handling espresso features than the ENA 8. It ranks a point higher than the ENA 8 (3 – 2). This must also explain to you why it has a higher cost than the ENA 8.
1. Dose Control
The Winner: Jura Z6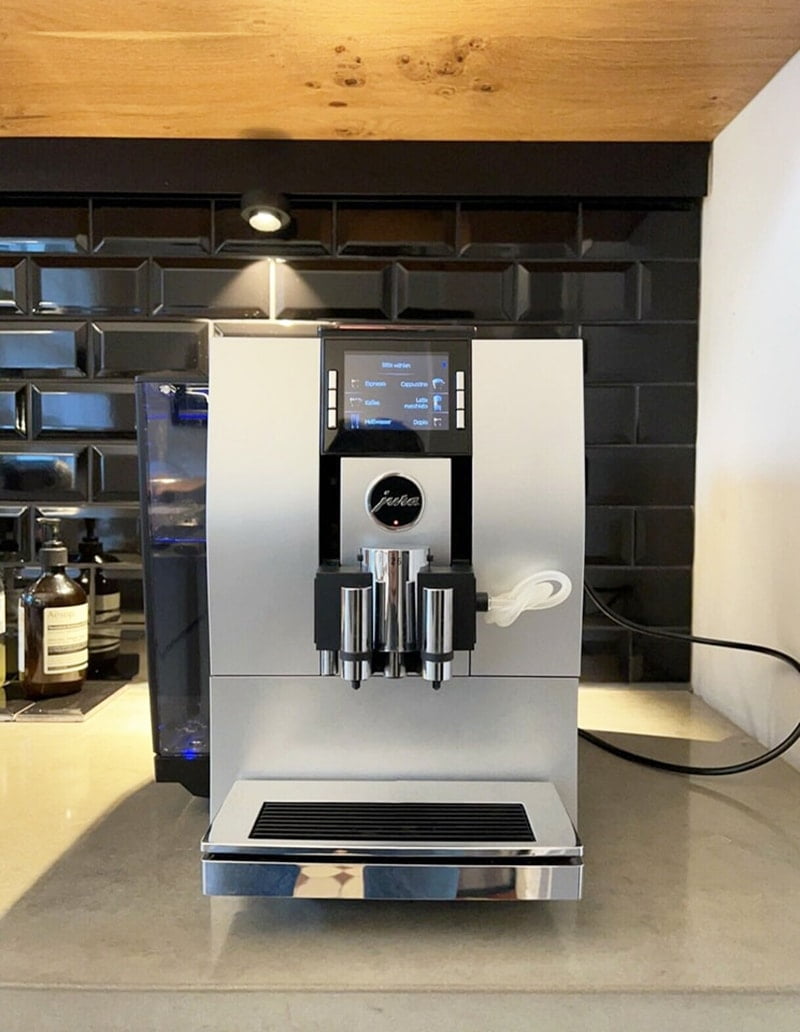 Jura Z6 supports twin brewing which means it can make two espressos simultaneously with one shot of espresso in one cup and another shot in another cup. This means you place two espresso cups right next to each other when brewing coffee.
Jura ENA 8 does not support such brewing sizes. It is a single-serve espresso machine that makes one espresso drink at a time.
This affects the dosage amount on both machines even though they both have the Aroma G3 grinder and PEP. The Jura ENA 8 pulls 6 to 10g of espresso while the Z6 pulls out 5 to 16g. So it's almost double which means a bold, aromatic, and full-bodied flavor of espresso.
2. Milk System
The Winner: Jura Z6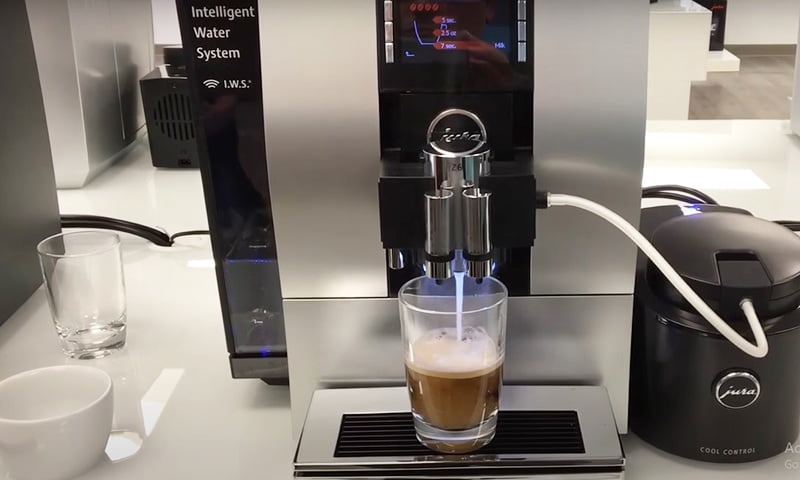 Even though both espresso makers feature the standard Fine Foam frother, the Jura Z6 features additional milk settings like the programmable texture control and temperature control. You can adjust the temperature of the milk with 10 pre-set levels. This is not the case with the Jura ENA 8.
Since the Jura Z6 features programmable milk foam and adjustable milk temperature, it is a better choice if you're focused on making hotter cappuccinos or creamier lattes.
This doesn't mean though that the ENA 8's frother is inadequate. It can just as effectively make a creamy flat white, cappuccino, and a latte macchiato automatically. Just the extra programmability gives the Z6 an edge over ENA 8.
3. Cleaning & Maintenance
The Winner: Jura ENA 8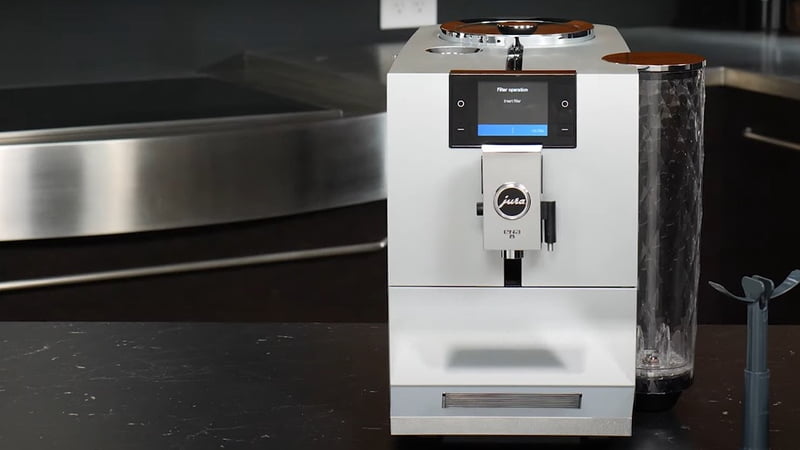 The water tank capacity of the Jura ENA 8 is more user-friendly and convenient for daily use. It comes with a 1L water reservoir on top of which its bean hopper size is 4.4 ounces. The machine also stores used coffee grounds for 10 servings which means you don't have to empty out the grounds container very often.
The ENA 8 is a lot more comfortable for homes that have narrow kitchen spaces. Even if you do have plenty of room, the last thing you'd want is for the espresso to take up most of the space, right?
So the ENA 8 is a lot simpler to refill and maintain in the long run. The Z6, on the other side, has a way larger water reservoir and bean hopper. It's more than double the size of the Jura ENA 8 – 2.3L – and its bean hopper is also a little more than double its volume – 9.9 ounces.
The Z6 also comes with a coffee grounds container for used coffee pucks – which you can store up to 20 servings at once.
4. Utilities
The Winner: It's A Tie!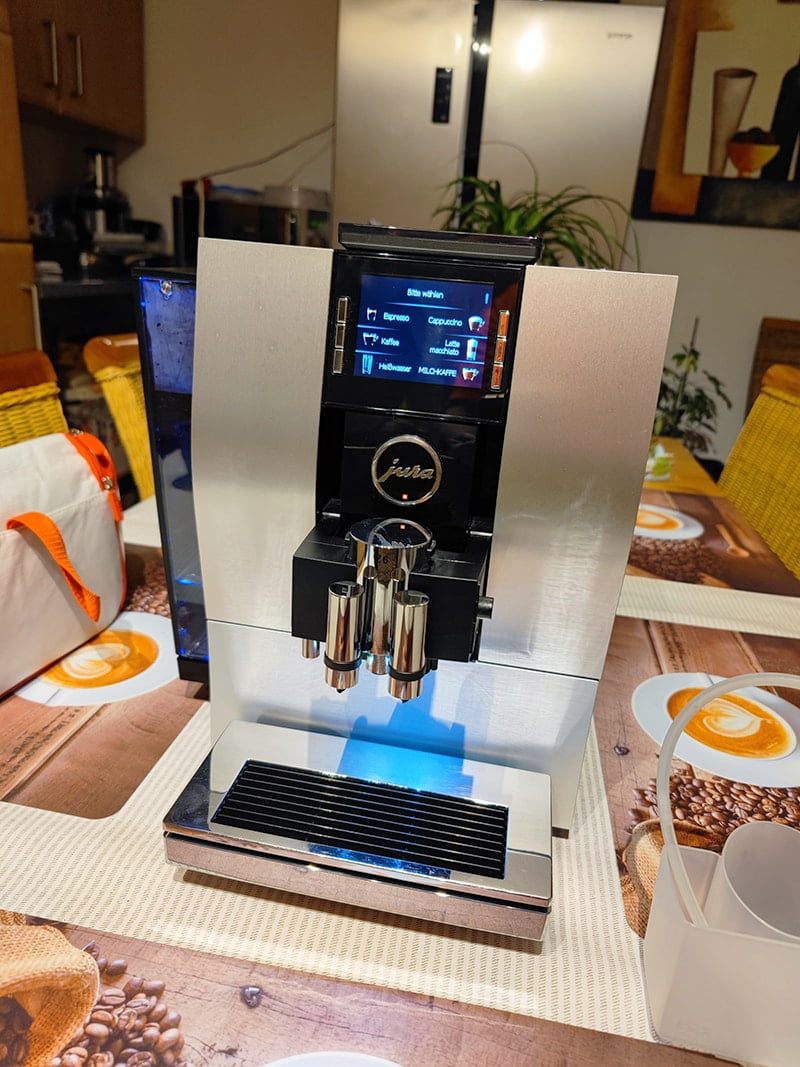 +Cup Clearance
There is a tie between the Jura Z6 and Jura ENA 8's adjustable spout height. The Z6 lets you slide under the spout a taller mug/glass than the ENA 8. Conversely, the ENA 8 lets you slide a shorter espresso cup without the risk of splatters.
The cup clearance of the ENA 8 is from 2.2 to 5.4 inches and that of the Z6 is 3.2 to 6 inches. So you see the difference? When you place a small espresso cup, if the espresso pours from a greater height, it can lead to splatters on the wall of the drip tray. By reducing the distance between the spout and the bottom of the mug, you prevent a great clean-up afterwards.
Jura ENA 8 vs Z6: Similarities
The Jura ENA 8 and Z6 have more things in common than you think.
1. Brewing Technology
This includes the PEP which is an impressive pulse brewing system meant to produce espresso just as rich as a manual barista machine but at home. There is also the 15 bar pump and Thermoblock technology for accurate temperature control and consistency over shot quality!
Moving on, you have the same coffee grinder – the Aroma G3 – on both machines with 6 grind settings. The number of coffee drinks between the ENA 8 and Z6 is much the same as they make espresso, coffee, cappuccino, latte macchiato without any hiccups.
The PEP ensures smooth and delicious espresso extraction while the grinder stays quiet and cool even during intense use. Speaking of the grinder, both machines are also compatible with a by-pass doser for decaf coffee.
2. Control Panel
Both machines come with a TFT color display and buttons. Nothing about using this type of interface feels bulky or outdated. It's fast, responsive, and intuitive. And thanks to vivid coffee icons and pre-set variables, you can easily select and customize your coffee drink without second-guessing.
The control panels also have certain cleaning and maintenance alerts to prolong durability and remind you when descaling is necessary.
3. Customizations
Both espresso makers let you adjust how strong you want your espresso, how much you want it in one cup, and its temperature. This means customizing the coffee strength (by 10 levels), the brewing temperature (by 3 levels) and the volume of espresso quickly and accurately.
You don't even have to remember the settings you've selected because the programmability of both machines is pre-set by levels, instead of numbers. This makes it easier for even a beginner to remember and personalize their favourite coffee drink.
The Jura ENA 8 and Z6 also feature 3 temperature levels for the hot water for tea, Americano, and hot chocolate.
4. Cleaning & Maintenance
Both machines have a water filter, auto shut-off, low-energy mode, and self-rinsing and cleaning modes. You don't have to manually tweak anything. Both machines remind you the right time to descale and there is automatic rinsing before and after use to make sure nothing gets in the way of your espresso.
You can also intuitively maintain both espresso makers with the help of the Smart Connect app. You download the app on your phone/tablet and access all the coffee functions from there itself. The app will also notify you when the machine needs to be cleaned or the water filter needs to be changed or the drip tray needs to be emptied.
Quick Rundown of Jura Z6 15093
Jura 15093 Automatic Coffee Machine Z6, Aluminum
The pulse extraction process (P.E.P.) allows the whole bouquet of aromas to Blossom. Result: possibly the best Espresso of all time - at the touch of a button
The innovative nozzle technology prepares fine, compact and very tempting milk foam. The machine switches from milk to milk foam fully automatically
The Z6 packs incredible performance into compact Dimensions. All the control elements are conveniently accessible on the front
Maintenance is just as easy as preparing a Coffee: one touch of a button is all that's needed
Only Original Jura maintenance products Guarantee complete hygiene and protection. Only our protective formulas have been carefully optimized to suit the programmed and materials used in Jura automatic machines.
Last update on 2023-03-03 / Affiliate links / Images from Amazon Product Advertising API
Quick Rundown of Jura ENA 8 15281
Sale
Jura ENA 8 Metropolitan Black Automatic Coffee Machine
COMPACT ONE TOUCH: Prepare 10 barista quality specialties including espresso doppio, cappuccino, flat white and latte macchiato at the touch of a button
PERFECT ESPRESSO: Ultimate coffee quality thanks to JURA's exclusive Pulse Extraction Process
CONICAL BURR GRINDER: Fast and precise AromaG3 grinder grinds whole beans to the optimum fineness
ECO FRIENDLY: JURA is always freshly ground, not capsuled - fresh taste with very limited waste - single serve machine
CAPACITY: 37 ounce cylindrical-shape, easy-grip water tank, 4.4 ounce bean container, optional pre-ground chute
Last update on 2023-03-03 / Affiliate links / Images from Amazon Product Advertising API
Product Videos
Related Articles to Jura Z6
Related Articles to Jura Ena 8
References

I am a passionate coffee drinker. Since I left my job as a barista a few years back in 2012, I've been sharing my expertise on coffee and buying the best coffee equipment online. That's how Wild Boar Coffee came to life.
I write about everything coffee-related under the sun. Where to buy the freshest coffee beans from? How to test coffee beans based on texture, aroma, and acidity?
I know all this from scratch – all thanks to my years and years of experience as a barista. So I've gotten real up-close-and-personal with coffee beans and different brewing techniques.