For classic and European style coffee, the Jura espresso machines like the Jura E6 vs Z6 are the best choices for home espresso drinkers. You can make barista-style coffee at home. And you can use a wide variety of coffee beans in different blends and flavors and roasts.
Having said that, between the Jura E6 vs Z6 – which is better?
I found that the Jura E6 is a popular but entry-level espresso machine. For a low price, you get direct access to delicious espresso shots, longer coffee drinks, and lastly, the classic cappuccino. It includes a built-in grinder, milk frother, and automated cleaning functions.
But if you're craving for more, you can go for the Jura Z6 which has more intricate coffee customizations and milk frothing features. It has everything the Jura E6 has but more which makes it a lot more tempting than what you generally see in espresso machines.
Jura E6 vs Z6: Comparision Chart
Table could not be displayed.
Jura E6 vs Z6: Differences
The Jura Z6 wins 4 – 1 against the E6. This is because the Jura Z6 has more features that make it run faster, more accurately, and efficiently.
1. Espresso Taste
The Winner: It's A Tie!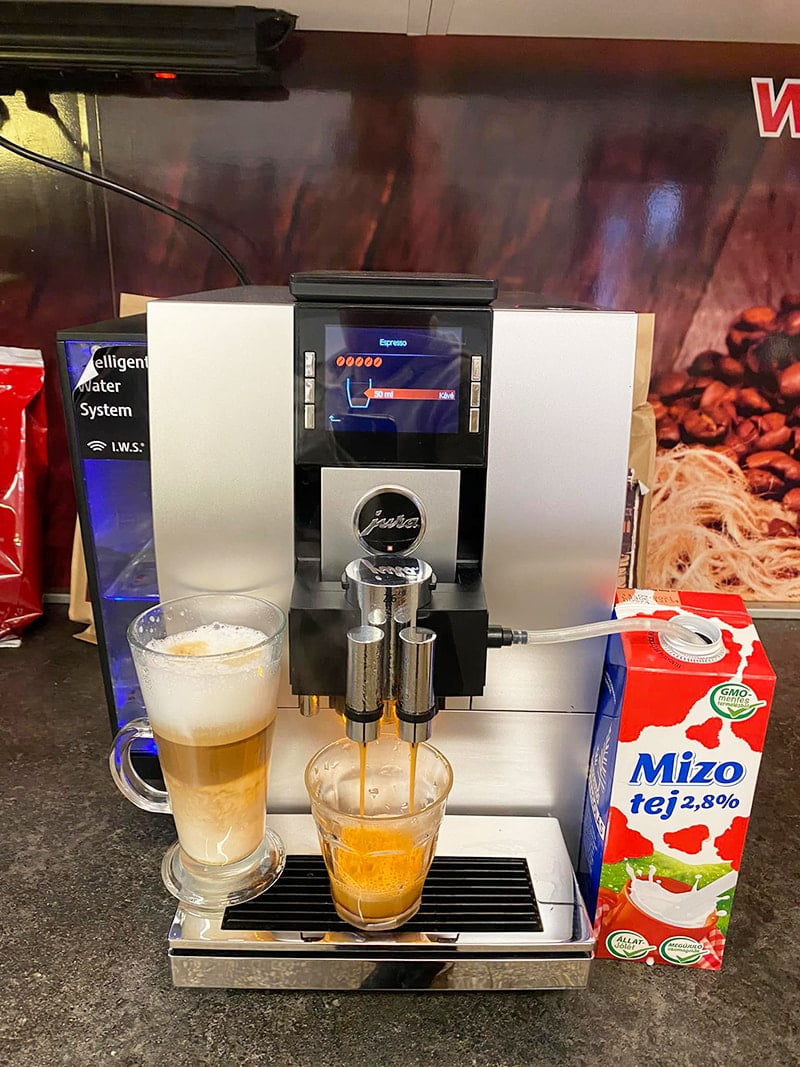 It's a tough choice between the Jura E6 and Z6 because both espresso makers produce great-tasting espresso. But let's break down their strengths and weaknesses.
Coffee Specialties
The first thing I'd like to mention about the E6 is that it features only 6 coffee drinks. Namely espresso, double espresso, coffee, double coffee, and cappuccino and milk foam.
The Jura E6 also features a 1-2 cups brewing feature which means you can brew two cups side by side easily and quickly. The machine just doubles the volume of the coffee ground and water. You don't have to do it twice.
The Jura Z6, however, features the same twin brewing cycle but it does have 13 drinks to offer you. This means you can drink more variety of drinks using the Z6 than the E6.
Pre-Ground Coffee
I'm purposely mentioning this here because the flavor you get out of the pre-ground coffee, using the Jura Z6, makes the Z6 a lot more tempting than the E6. Because the E6 does not feature a by-pass doser for pre-ground coffee. This means that unless you own a bag of decaf coffee beans, you cannot brew decaf coffee using the E6. But you can use the Jura Z6.
Aroma Preservation Cover
The Jura E6 wins back some of its charms with a bean hopper that stores a good amount of coffee beans (280g) and keeps them fresh and firm and aromatic with the Aroma Preservation Cover Lid. The Jura Z6 does not have this additional feature.
And anyone who has used coffee beans before knows how quickly they spoil if they come in contact with outside air and moisture or direct sunlight. So the Aroma Preservation Cover allows the beans to stay fresh for longer which directly impacts the flavor of espresso.
2. Dose Control
The Winner: Jura Z6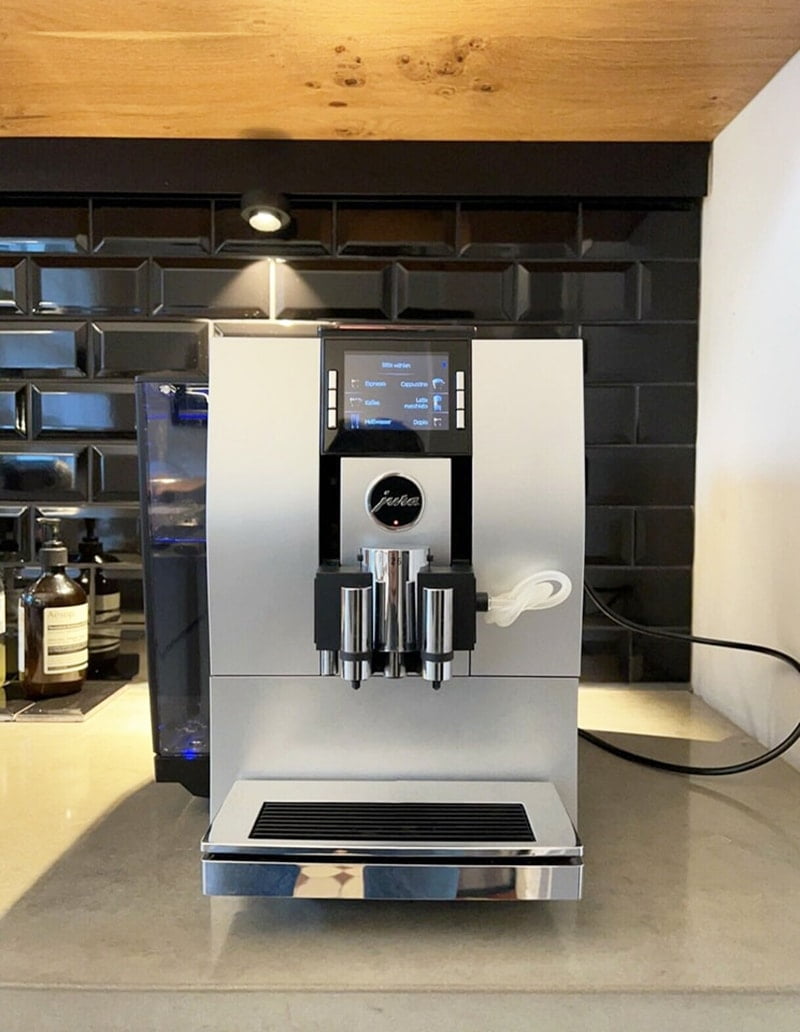 Starting with the different levels of coffee strength both espresso machines offer, you will be glad to know that both have coffee intensity settings. This means you can drink really strong coffee or slightly balanced coffee depending on your mood.
But the Jura Z6 has more programmable features than the E6. For starters, it offers 10 levels of adjustable coffee strength and the Jura E6 offers 8 levels. It also has more programmable brewing temperature levels (3 levels) – that is 1 more than the Jura E6 (2 levels).
And that's not all! Besides the programmable strength and temperature, the Jura Z6 also allows you to save one coffee customization of your choice. So the personalized coffee recipe feature is only on the Z6, the Jura E6 does not have this.
But it does feature a one-touch coffee functionality which makes it intuitive and dependable to use when you're in a rush.
3. Milk System
The Winner: Jura Z6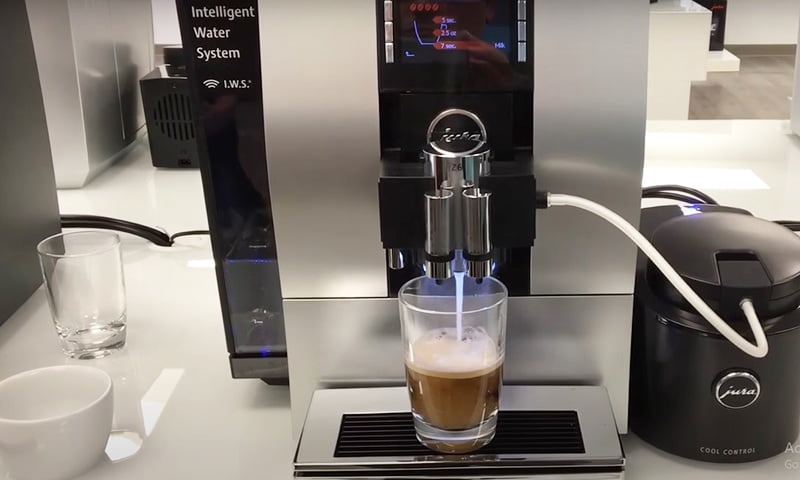 Who doesn't like to control how hot they want their coffee to be? Even modern espresso machines make the mistake of lowering the temperature of milk frothing. So you are forced to preheat the milk before frothing it.
Thankfully, you don't have to do this with the Jura E6 or the Z6. And with the Jura Z6, you have the added advantage of controlling the milk temperature from 1 to 10 levels.
The Jura E6 does not come with such programmability which is a letdown, in comparison to the Jura Z6.
4. Utilities
The Winner: Jura Z6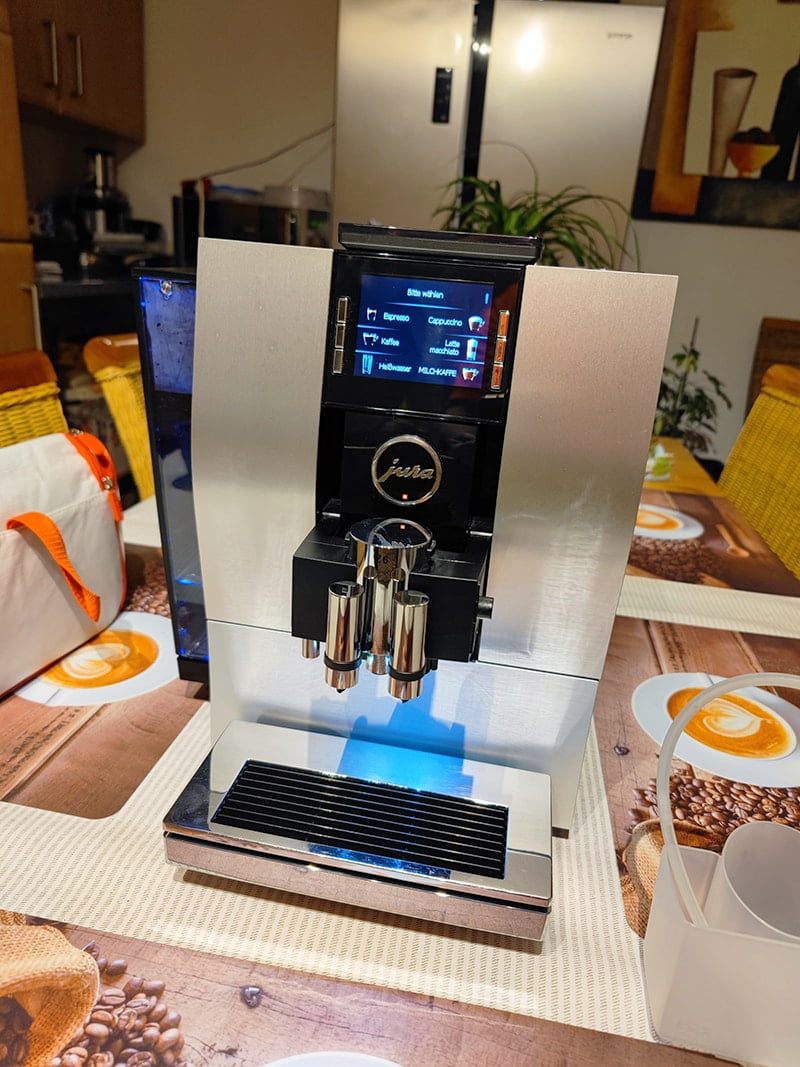 Size
The Jura E6 features a 64-ounce water tank with a 280g bean hopper. The Jura Z6 has the same bean hopper capacity but its water tank is almost 20 ounces. So the water tank capacity of the Z6 is 81 ounces.
But this also means that the Jura E6 is more compact which gives it an advantage over the Jura Z6. Especially for people who have narrower kitchen spaces.
Interface
Moving on, the Jura E6 features a basic TFT color display with buttons. But the Jura Z6 features a TFT color display with a rotary switch and buttons. This is for quick and effective programmability that makes the interface of the Z6 a lot easier and faster to handle than the E6.
Cup Clearance
Another impressive feature about the Jura Z6 is that it features a taller mug clearance than the E6. But, on the other hand, the Jura E6 is able to accommodate a smaller cup under its spout than the Z6.
Allow me to clarify the confusion. The adjustable cup height of the E6 is from 2.5 inches to 4.5 inches. And that of the Z6 is from 3.2 inches to 6 inches.
Do you know what I mean now? If you want to use a smaller espresso cup without splatters, the 2.5-inch height adjustability of the E6 is most compatible. It will pour espresso directly into a tinier cup without splattering.
The Z6's 3.2-inch spout height is relatively higher so while you may be able to slide in tiny espresso under the spout, some splatters are to be expected.
On the flip side, you can easily place a taller mug or even a travel mug under the coffee spout of the Z6 because it is height adjustable up to 6 inches. While the E6 is only up to 4.5 inches which is not so good for tall glasses and mugs.
Jura E6 vs Z6: Similarities
As for the similarities, the Jura E6 and Z6 have more than a few. The 15 bar pump system, Pulse Extraction Process, intelligent pre-infusing technology, Fine Foam frother, Low-Energy mode, programmable coffee volume, strength, and temperature, and so on.
This means that while both machines are great for espresso drinkers, the Jura Z6 is an upgraded pick with a higher cost.
When you think about directly brewing the perfect cup of espresso, single or double shot, and frothing some milk for a cappuccino, both machines are fast and user-friendly picks. They are fully automatic machines that allow you to spend almost 80% less time brewing an espresso machine – compared to the functionality and hands-on experience of using a super-automatic!
Both machines also feature integrated cleaning cycles for keeping the milk system and built-in brewing parts clean and ready for every brew!
Quick Rundown Of Jura Z6 15093
Jura 15093 Automatic Coffee Machine Z6, Aluminum
The pulse extraction process (P.E.P.) allows the whole bouquet of aromas to Blossom. Result: possibly the best Espresso of all time - at the touch of a button
The innovative nozzle technology prepares fine, compact and very tempting milk foam. The machine switches from milk to milk foam fully automatically
The Z6 packs incredible performance into compact Dimensions. All the control elements are conveniently accessible on the front
Maintenance is just as easy as preparing a Coffee: one touch of a button is all that's needed
Only Original Jura maintenance products Guarantee complete hygiene and protection. Only our protective formulas have been carefully optimized to suit the programmed and materials used in Jura automatic machines.
Last update on 2023-03-03 / Affiliate links / Images from Amazon Product Advertising API
Quick Rundown Of Jura E6 15070
Sale
Jura E6 Automatic Coffee Center, Platinum
Makes 6 specialty drinks including: cappuccino, Coffee, two coffees, Espresso, two Espresso, milk foam
Controls make it easy to find, customize and brew your favorite drinks
Pulse extraction process brews Coffee with a full, rich bouquet and delicious flavor
Eight Coffee strength levels allow you to fine tune each drink
Fast, quiet G3 grinder creates 60 percent less Leftover ground Coffee
Last update on 2023-03-03 / Affiliate links / Images from Amazon Product Advertising API
Product Videos
Related Articles to Jura Z6
Related Articles to Jura E6
References

I am a passionate coffee drinker. Since I left my job as a barista a few years back in 2012, I've been sharing my expertise on coffee and buying the best coffee equipment online. That's how Wild Boar Coffee came to life.
I write about everything coffee-related under the sun. Where to buy the freshest coffee beans from? How to test coffee beans based on texture, aroma, and acidity?
I know all this from scratch – all thanks to my years and years of experience as a barista. So I've gotten real up-close-and-personal with coffee beans and different brewing techniques.