Jura S8 vs Z6 has been an interesting review battle so far since I find their design extremely similar. According to the advertisements, they have almost the same features. But do they function the same way?
Jura S8 is the true winner for me. This model brews more consistently and the flavor can vary from mellow to robust, depending on how I set up the machine. The coffee temperature is hot and I adore its thick layers of crema. I also recommend this model to any user who loves cappuccino, S8 makes great dry foam.
The runner-up Z6 is formidable and is recommendable for larger families thanks to its 81oz water tank. The coffee flavor is balanced and smooth and the flat whites and lattes are amazing. But there are certain points that make this model not as potent as S8.
Jura S8 vs Z6: Comparison Chart
Table could not be displayed.
Jura S8 vs Z6: Differences
Jura S8 wins 4 to 1 against Z6 thanks to its many optimum brewing features and good price. The coffee flavor can vary from smooth to strong and I enjoy the thick cream layer that this device can deliver. Cleaning is not so hectic either. Find out all the details below.
Coffee Flavor: Jura S8
+Grinder
These machines share the same grinder technology, which is Aroma G3. The grinder offers 6 different settings that grind coffee beans from fine to coarse. The higher the number, the finer the ground. So if you prefer strong coffee, don't hesitate to set the grinders at a high level. Personally, I enjoy strong coffee, so I usually set S8 and Z6's grinders at 5, cappuccinos and lattes taste heavenly, and pack a punch.
After testing the machines, I find them very truthful to the advertisement. The grounds always result even, and the quality is maintained thanks to the conical burr grinder. Thus, I never got extra bitter coffee because of the grinders, even though a touch of bitterness isn't bad for me either.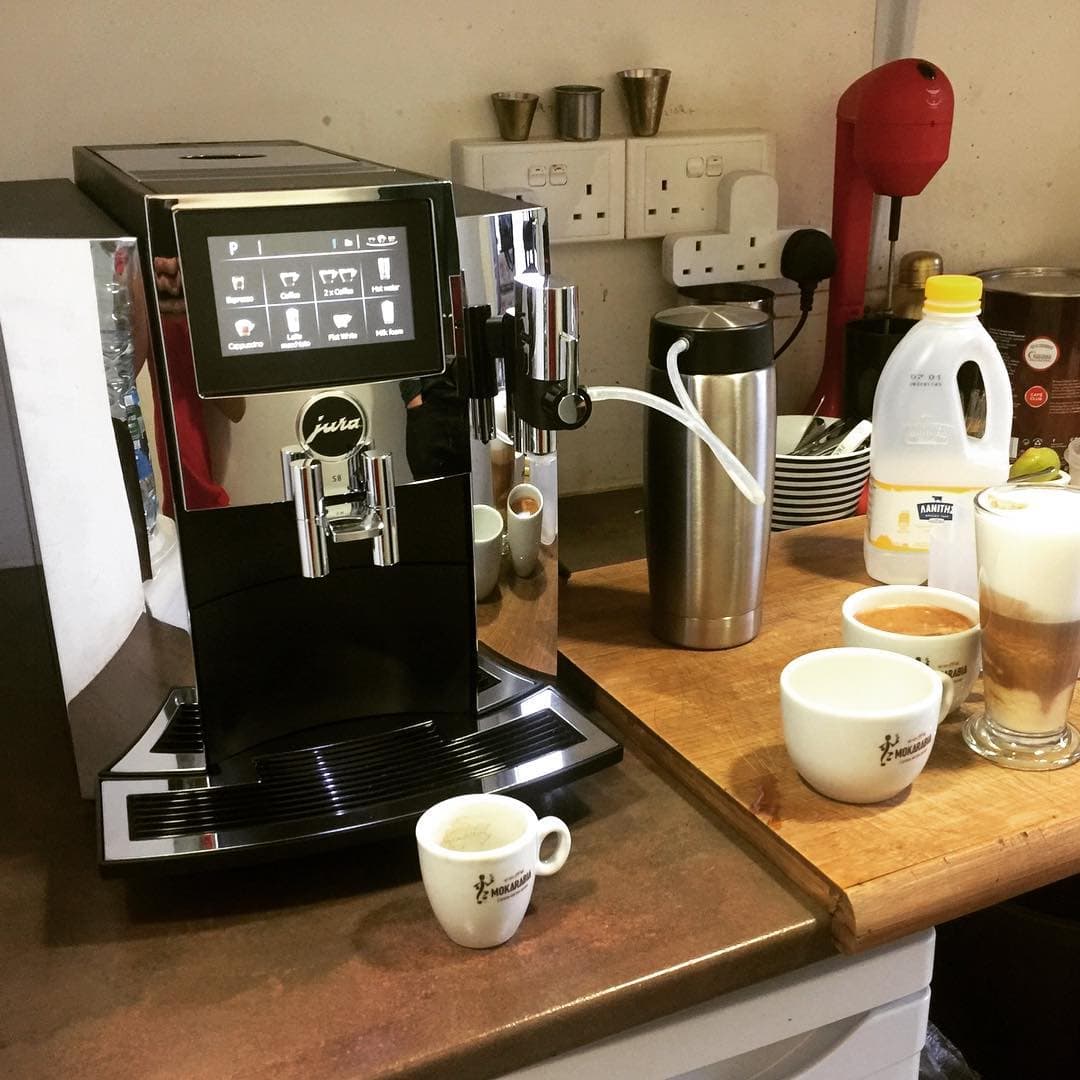 If you are wondering about the noise, I would say that Jura S8 and Jura Z6 aren't 100% quiet, but they are pretty "silent" compared to other coffee grinders, and they function smoothly. From my experience, S8 makes slightly more sound than Z6.
Do they make noise? Yes. Is it enough to annoy you and wake up the entire house? No.
+Dosing + tamping
The dose varies from 5 to 16 grams for both machines, and the dosing and tamping are automatic. By choosing a coffee or espresso recipe, Jura Z6 and S8 automatically grind some coffee beans according to the recipe and then tamp the ground tightly for an ultimate extraction.
Judging from the used puck in the coffee ground container, both Z6 and S8 do an excellent job in tamping. I have checked the centers of the pucks. They are moist but not wet, and they don't puddle in the container.
Instead, most of the pucks maintain their solid form. So, needless to say, I believe the machines have done an excellent job at tamping with the right pressure, not too tightly nor loosely.
There isn't much difference between the two in terms of dosing and tamping time. S8 takes around 18 to 20s to prep an espresso, and Z6 takes around 15-18s.
+Heating system
Here is where I noticed the difference between Jura S8 and Jura Z6. Even though both come with a single Thermoblock heating system, the temperature control on Jura S8 is much more impressive. I'm not into warm coffee that is ready to consume right away. I prefer hot cups that last more than an hour.
That's why I prefer the heat control on Jura S8, which gives me 185-190F coffee all the time. With Z6, the temperature varies from 170 to 175F, which is great for drinking almost right away, but not for carrying away.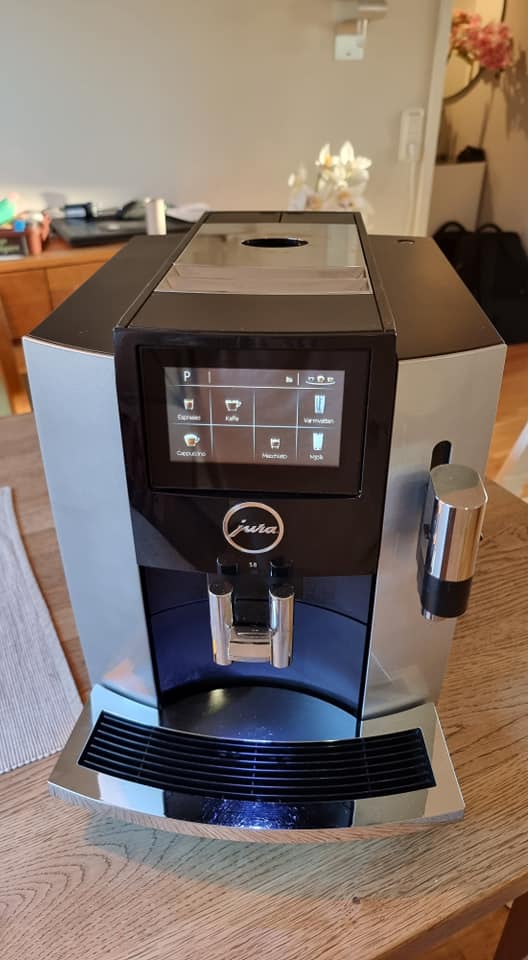 But, there is a catch here. If you want a big water tank, you should consider Z6 because it is equipped with an 81oz one. The water reservoir on S8 holds 63.6oz only. So, considering the size of the tanks, I think both are suitable for small families. But Z6's tank will last a bit longer if you drink coffee regularly.
+Brewing Technique
The brewing technique is the same: P.E.P, which means Pulse Extraction Process. It soaks the ground using short and fast bursts of water, allowing water to sip through every part of the ground, extracting all the flavor and aroma from the coffee beans/ ground. So far, I have been enjoying the coffee flavor from both machines. There isn't much difference in this aspect either.
But, I notice that the coffee flavor can get intense with Jura S8 while with Z6, it's harder to achieve the same "punch" of flavor. Also, Jura S8's pressure pump works better because I notice that with the same type of coffee bean, S8 can extract more crema than Z6. If you get your hands on the S8, you will be impressed by the velvety and thick layer of crema.
Utilities: Jura S8
+Touchscreen
Jura S8 is equipped with a touchscreen display that allows you to select the drinks, customize them, or clean the machine most conveniently. Personally, I prefer touchscreen control over buttons and rotary switches since I'm used to swiping my phone already. But overall, if you prefer a rotary switch and buttons, Jura Z6 is your star. S8, on the other hand, offers convenient touchscreen technology that I love.
+Separate spout for cappuccino and hot water
Also, Jura S8 has an individual spout dedicated to making cappuccino and hot water. The spout is height-adjustable, and it changes from 4.4 – 6.2 inches. This feature is quite convenient if you want to brew in a tall cup.
Milk system: Jura S8
Jura S8 and Z6 share the same mechanism for steaming and frothing milk. Both use a separate milk container and a pipe to connect them with the carafe/milk container and take up milk from there. Overall, they do all the work related to steaming and frothing, but the set-up will require you to chip in.
Here is my experience with milk foam, which many customers are interested in.
With Jura S8, I get airy, fluffy, and dry foam, which is great for a cappuccino. Most of the time, I don't see machines in this price range being able to make microfoam that reaches a drier state for the sake of cappuccino. So, in general, S8 can make creamy to dry foam, according to the settings or the recipes.
With Jura Z6, the milk foam is creamier, has more moisture, and definitely doesn't rise like dry foam. If you prefer creamy milk foam and don't ever need dry foam for cappuccino, I recommend Jura Z6.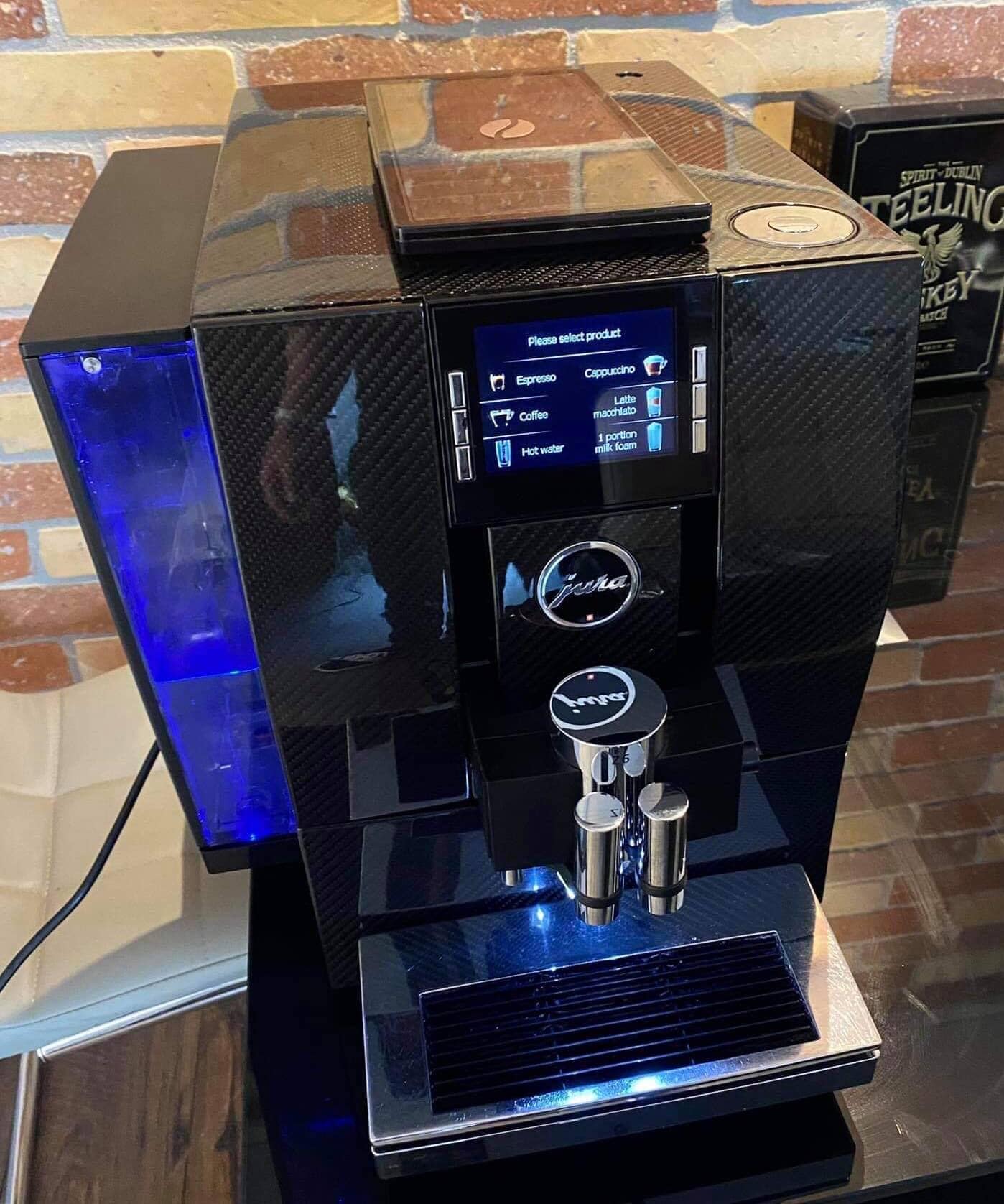 Cleaning & Maintain: Tie
The cleaning process is quite basic. You can run hot water through the brewing system without grinding coffee to clean the machines. In general, the systems will tell you when it's time to clean the coffee or milk circuit. But, dropping a cleaning tablet in the pre-ground path will eliminate all the leftover smell to make sure that the next batch of coffee has the best aroma and flavor.
When you turn off Jura S8 and Jura Z6, they will automatically push some hot water out of the nozzles to clean anything that might be left in the circuit. I find it very convenient.  
Design & Material: Tie
JURA S8 is made of stainless steel, while Jura Z6 is made of aluminum. It is inevitable that there are some plastic parts on both machines, but I have nothing to complain about it because the body part, which is made out of metal, is durable and rust-resisted.
Jura S8 vs Z6: Similarities
These similar points don't affect the operation of Jura S8 and Z6 greatly, but I think you should know them anyway.
Intelligent Water System with RFID technology
If you stick with the CLEARYL Smart filter, you can trust that these models automatically recognize it. Since these espresso makers are designed with Intelligent Water System with RFID technology, they can detect a specific type of water filter, which I just mentioned above, and work it without requiring any configuration.
Controllable Through App
This feature doesn't come with the machine right away. You will have to purchase a Bluetooth device, which Jura sells, to connect the systems of these machines with an app. Through the app, you can handle anything within the Bluetooth-recommend distance, like brewing a cup of flat white, cleaning the machine, or customizing any recipe.
Quick Rundown Of Jura S8
JURA S8 Automatic Coffee Machine, Chrome
ONE TOUCH: Prepare 15 barista quality specialties including espresso, coffee, cappuccino, flat white and latte macchiato at the touch of a button
PERFECT ESPRESSO: Ultimate coffee quality thanks to JURA's exclusive Pulse Extraction Process
CONICAL BURR GRINDER: Fast and precise AromaG3 grinder grinds whole beans to the optimum fineness
ECO FRIENDLY: JURA is always freshly ground, not capsuled - fresh taste with very limited waste - single serve machine
CAPACITY: 64 ounce water tank, 10 ounce bean container
Last update on 2023-02-13 / Affiliate links / Images from Amazon Product Advertising API
Quick Rundown Of Jura Z6
Jura 15093 Automatic Coffee Machine Z6, Aluminum
The pulse extraction process (P.E.P.) allows the whole bouquet of aromas to Blossom. Result: possibly the best Espresso of all time - at the touch of a button
The innovative nozzle technology prepares fine, compact and very tempting milk foam. The machine switches from milk to milk foam fully automatically
The Z6 packs incredible performance into compact Dimensions. All the control elements are conveniently accessible on the front
Maintenance is just as easy as preparing a Coffee: one touch of a button is all that's needed
Only Original Jura maintenance products Guarantee complete hygiene and protection. Only our protective formulas have been carefully optimized to suit the programmed and materials used in Jura automatic machines.
Last update on 2023-03-03 / Affiliate links / Images from Amazon Product Advertising API
Product Videos
Related Articles to Jura S8
Related Articles to Jura Z6
References:
Jura S8: https://us.jura.com/en/homeproducts/machines/S8-Moonlight-Silver-NA-15210-v19/Specifications
Jura Z6: https://us.jura.com/en/homeproducts/machines/Z6-Alu-UL-15093/Specifications#tabs

I am a passionate coffee drinker. Since I left my job as a barista a few years back in 2012, I've been sharing my expertise on coffee and buying the best coffee equipment online. That's how Wild Boar Coffee came to life.
I write about everything coffee-related under the sun. Where to buy the freshest coffee beans from? How to test coffee beans based on texture, aroma, and acidity?
I know all this from scratch – all thanks to my years and years of experience as a barista. So I've gotten real up-close-and-personal with coffee beans and different brewing techniques.