Jura Z6 vs Saeco Xelsis, which espresso machine operates more smoothly and is worth its pricy value? Let me give you the answer: Saeco Xelsis is the winner, and it can convince you the same way it did for me.
Saeco Xelsis has a more compact design, and it's ideal for 1-2 users (if they drink regularly). The quality of espresso has been phenomenal. Thanks to its efficient and quiet operation, I get very balanced and nuanced drinks. This device also froths impressive microfoam. Overall, I highly recommend this value-for-price machine.
As for the runner-up, Jura Z6 is equipped with a bigger water tank that requires a less frequent refill. The espresso quality also is good. However, it has specific weaknesses in temperature control and milk foam, which I will elaborate with more detail now. 
Jura Z6 vs Saeco Xelsis: Comparison Chart
Table could not be displayed.
Jura Z6 vs Saeco Xelsis: Differences
Saeco Xelsis wins 4-1 against Jura Z6 thanks to its consistent espresso delivery and stable operation. It also boasts of more additional features and a more compact design. What impresses me the most is the milk foam quality, which can switch from creamy to dry depending on the recipes. I expect no less from machines in this price range.
Coffee flavor: Tie
+Grinder
With Saeco Xelsis, we get a flat burr grinder that delivers smooth and even ground. It has 12 different settings, so I have been able to adjust the final texture however I think it is suitable with the types of beans that I use each time.
In general, I'm satisfied with this grinder. Even though it makes more noise than the one on Jura Z6, the ground texture has been more even and smoother.
Jura Z6 with an Aroma G3 grinder is a classic technology that Jura uses in almost every model. It basically is a conical burr grinder with 6 different settings that can deliver various coffee ground textures.
From my experience with Jura Z6 so far, the grinder doesn't fail to deliver consistent results time after time.
What about in the long run? Which grinder performs better? I believe the conical design of Jura Z6 should be less faulty in the next few years since the conical shape can keep away from jamming most of the time.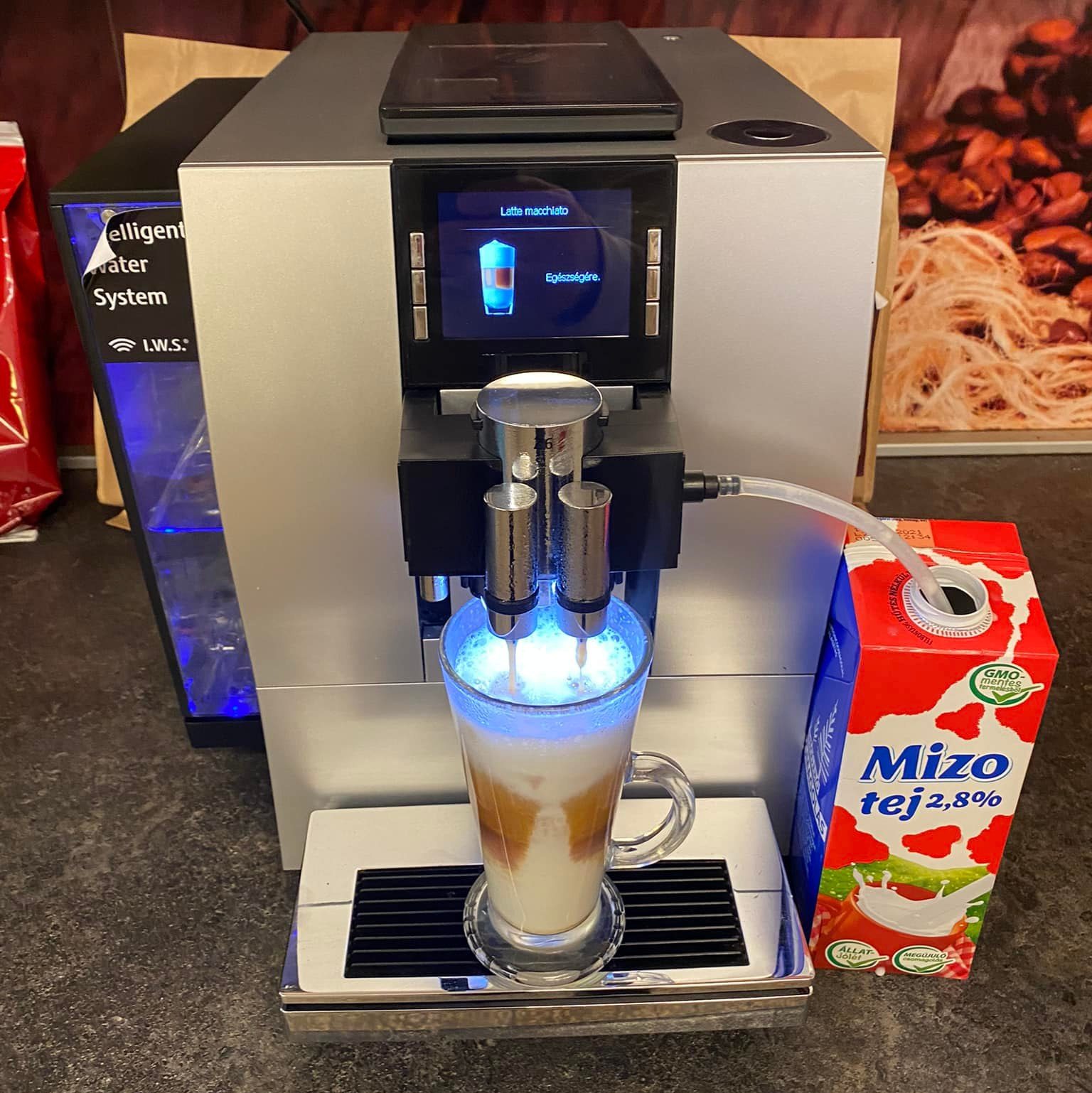 +Dosing + tamping
Xelsis uses from 7 to 10g, while Z6 uses from 5 to 16g. So what do I get from these dosing effects so far? With Xelsis, I notice a more balanced and mellow flavor of espresso. And by adjusting the coffee strength and aroma, I can easily get robust shots. And of course, the entire brewing process is automatic, from dosing to tamping, unless I want to change the recipes.
As for Jura Z6, its 5 to 16g dosing makes it easier to get strong coffee. So if you can handle a good amount of caffeine, this machine is quite a good option. Like the model above, this machine also doses and tamps automatically.
If you wonder about the crema quality, Xelsis does a better job. I have been trying to get thicker crema from Z6, but the machine can only deliver a decent layer of crema, nothing too impressive.
With Xelsis, on the other hand, I have been getting thick and creamy crema. And I assure you that it's crema, not coffee foam like many users would afraid of.
+Heating system
This pair has single Thermoblocks integrated with its system to brew espressos and coffees quickly and nicely. However, the performance that each delivers has been distinctive for me.
The temperature of the final drinks that Xelsis makes has been hot and steaming, but not too hot that it burns my tongue. With Jura Z6, the drinks are warm and soothing, but they tend to cool faster since the out-of-the-tap temperature isn't high.
If you want to drink right away after brewing, this won't be a problem. But if you prefer enjoying coffees in a leisured way as I do, Xelsis is the better pick.
Milk System: Saeco Xelsis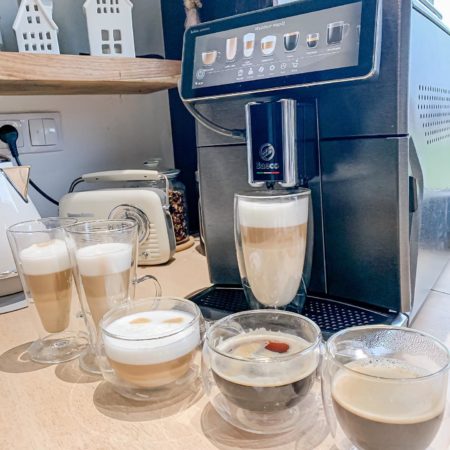 The milk system of Saeco Xelsis is definitely more elaborate. Saeco Xelsis delivers airy, velvety and dry foam for cappuccinos and thicker and creamier milk for macchiatos. It handles steamed milk and microfoam smoothly. I havent encountered a lousy job once.
However, the operation isn't very smooth. Sometimes, the dispenser will burst steamed water in a messy way before and after pouring milk.
About Jura Z6, it is equipped with a basic and standard milk system, the sameas Xelsis. It froths milk using an external carafe that connects with the system through a simple tube, just like Xelsis.
But, the milk foam isn't as diverse as the model above. With Z6, I get creamier milk foam, and I haven't succeeded in making dry foam for cappuccinos with this one.
Utilities: Saeco Xelsis
Saeco Xelsis wins this round thanks to its ability to control the drinks' aroma. We all love coffee's soothing and refreshing scent, and Xelsis takes it to the next level.
Also, this model has a touchscreen interface. I think since we are so used to smartphones with touchscreen, an interface of this kind will be more convenient. But if you prefer using physical buttons, Jura Z6 also is easy to manage.
Cleaning & Maintain: Saeco Xelsis
With more cleaning cycles available, Saeco Xelsis allows you to clean from briefly to thoroughly. In my opinion, the HygieSteam function is the most impressive. It cleanses the brew path and milk tube with high-pressured hot steam. The process is rapid and easy, so I suggest you do it after each brewing session for optimum espresso quality.
Both Xelsis and Jura Z6 have a complete cleaning cycle of about 20 minutes. With Xelsis, we use a cleaning solution mixed with water to clean the entire machine. With Z6, we use cleaning capsules that help clean the device completely, and we don't have to remove the brew group to wash separately.
Design & Material: Jura Z6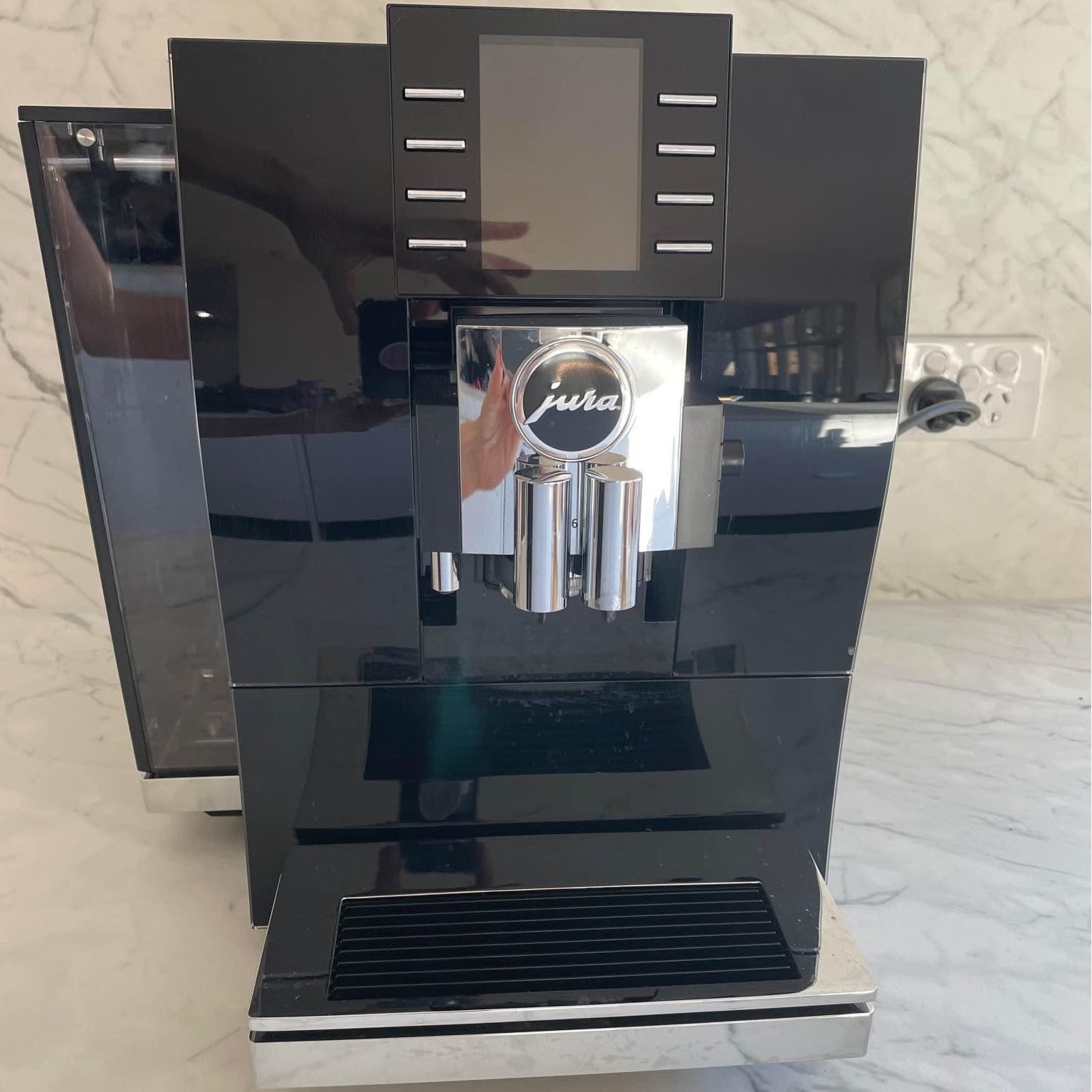 Since we are looking for an espresso machine that can entertain a large group of people, Jura Z6 definitely has a better design. Its water tank can hold up to 81 oz of water, while Xelsis can only store 57 oz of water. Also, since the water tank is clearly visible and is located at the side, I find it is easy to refill it.
Jura Z6 vs Saeco Xelsis: Similarities
Let's get to know some features that these well-designed espresso machines share.
Adjustable temperature
Saeco Xelsis and Jura Z6 allow us to adjust the brewing temperature. If you are in a hurry, you can brew less hot cups. But if you are staying indoor and having a relaxing day, opt for a higher water temperature and enjoy with ease.
Quiet operation
It's true that we can't avoid noise when using espresso machines that come with an integrated grinder, and the same goes with Saeco Xelsis and Jura Z6.
However, compared to many other product lines that I own and have reviewed, Z6 and Xelsis are pretty quiet. The grinding step makes a bit of noise, and the brewing step simply is smooth and quick. If you live in a place where too much noise isn't allowed, this pair might do the trick.
Quick Rundown of Saeco Xelsis
Philips Kitchen Appliances Saeco Xelsis Automatic Espresso Machine, SM7684/04, Titanium Metal
Note: 1)Too coarse a grind, too little coffee, or insufficiently tamping the grounds before brewing can all lead to inadequate pressure for a proper brew. 2)It is important to note that the amount of espresso extracted will vary depending on the grind size and amount and reprogramming may be needed when the size and amount are adjusted
15 coffee varieties at your fingertips: Explore the world of coffee - Espresso, cappuccino, macchiato, and a range of specialty drinks
Personalized Preferences: Everyone's custom coffee favorites can be saved in up to 6 user profiles for instant selection. Personalize each profile down to the finest detail
LatteDuo System: Prepare and enjoy single or double serving of any coffee recipe with one touch, including Cappuccino or Latte Macchiato
LattePerfetto: The external milk carafe creates a dense milk foam with a fine, silky texture
Last update on 2023-03-03 / Affiliate links / Images from Amazon Product Advertising API
Quick Rundown of Jura Z6
Jura 15093 Automatic Coffee Machine Z6, Aluminum
The pulse extraction process (P.E.P.) allows the whole bouquet of aromas to Blossom. Result: possibly the best Espresso of all time - at the touch of a button
The innovative nozzle technology prepares fine, compact and very tempting milk foam. The machine switches from milk to milk foam fully automatically
The Z6 packs incredible performance into compact Dimensions. All the control elements are conveniently accessible on the front
Maintenance is just as easy as preparing a Coffee: one touch of a button is all that's needed
Only Original Jura maintenance products Guarantee complete hygiene and protection. Only our protective formulas have been carefully optimized to suit the programmed and materials used in Jura automatic machines.
Last update on 2023-03-03 / Affiliate links / Images from Amazon Product Advertising API
Product Videos
Related Articles to Saeco Xelsis
Related Articles to Jura Z6
References:

I am a passionate coffee drinker. Since I left my job as a barista a few years back in 2012, I've been sharing my expertise on coffee and buying the best coffee equipment online. That's how Wild Boar Coffee came to life.
I write about everything coffee-related under the sun. Where to buy the freshest coffee beans from? How to test coffee beans based on texture, aroma, and acidity?
I know all this from scratch – all thanks to my years and years of experience as a barista. So I've gotten real up-close-and-personal with coffee beans and different brewing techniques.