Jura We6 vs Z6 has been an interesting battle in terms of performance, price, and convenience. After weighing all the differences, my final winner is Jura Z6.
Jura Z6 has a very stable operation and for coffee lovers who love a mellow and smooth cup of latte or macchiato every morning, this machine is the best pick. It also has a better milk system which makes creamy foam, ideal for lattes. I recommend this machine to every large family or user who lives in a shared dorm or apartment.
Jura We6 is a formidable runner-up thanks to its stable grinding operation and robust coffee flavor. You can trust its giant 100oz water tank to provide enough espressos for 3 to 4 days.
Jura We6 vs Z6: Comparison Chart
Table could not be displayed.
Jura We6 vs Z6: Differences
Jura Z6 wins 3 to 1 against Jura We6 thanks to its stable operation, good milk frothing quality, and convenient one-touch beverages such as flat white and macchiato that taste like heaven. Get to know how these machines actually function below. 
Coffee Flavor: Tie
+Grinder
The grinders are the same on We6 and Z6, which are Aroma G3 grinders. From my experience, I find them both to be stable when it comes to grinding coffee beans, which means that there haven't been any major jams or uneven ground.
Coffee lovers know that a lousy grinder can heat the coffee beans and make the flavor more bitter and burnt. Luckily, this is not a problem with We6 and Z6 because my coffees and espressos have been balanced and smooth so far.
Crema-wise, Jura Z6 delivers a thicker and creamier layer of crema that I adore. I have been testing using the same types of beans with both models to make sure that the comparison is fair, but most of the time, the crema layer made by Z6 always is thicker, or similar to that of We6.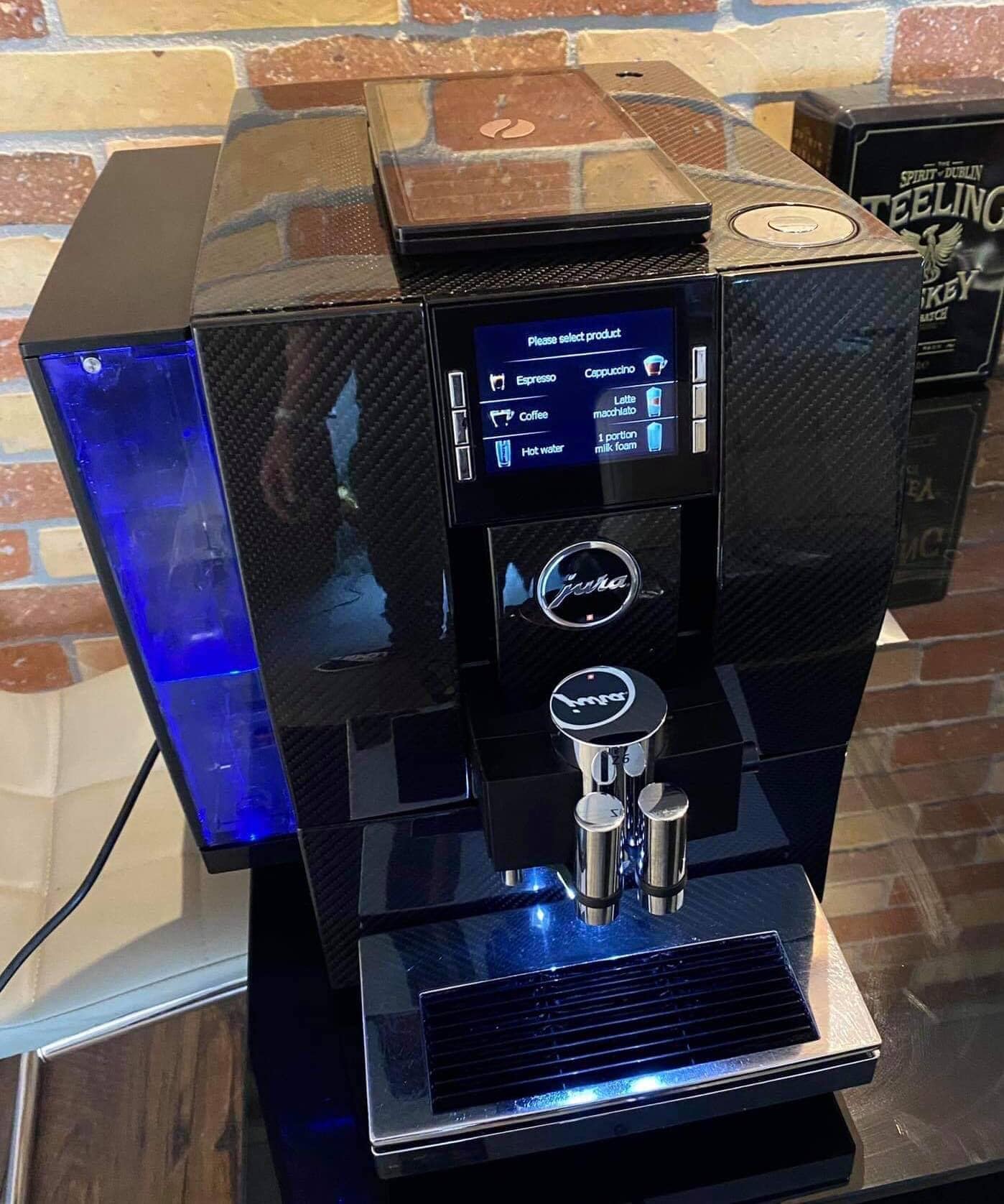 +Dosing + tamping
Jura uses the same dose on every machine, ranging from 5 to 16 grams. But, I notice a slight difference between the espresso flavor of the two. Both tend to brew smooth, balanced, mellow, and nutty coffee. Overall, the flavor doesn't get too strong, so it is very ideal for homeowners or users who don't like strong espresso that much.
But here is the difference: We6 brews slightly more bitter coffee while Z6 has a more balanced flavor. It's hard to say if the bitter flavor is a good or bad feature because it depends on each person's preference. 
But for me, I enjoy the slight note of bitterness, which makes my coffee more nuanced. And for coffee drinkers who love nutty and mellow coffees, Z6 is the optimum option.
+Heating system
Using the same heating system, single Thermoblock, We6 and Z6 don't take much time to heat up. From the instructions, they are ready to brew after about 1-2 minutes. But, from my experience with the two, it is better to leave them on 15 minutes prior to brewing time to ensure an ideal coffee/ espresso temperature. 
I have checked the reviews on Jura Z6 and We6 beforehand, and some customers have complained about the brewing temperature. I bought them anyway to see for myself, and it's true that if we hit the brewing button quickly after starting up these devices, the temperature won't be as hot as it should be. By leaving the machines on for 15 minutes, I got the ideal temperature right away: around 185-190F, not too cool, not too hot.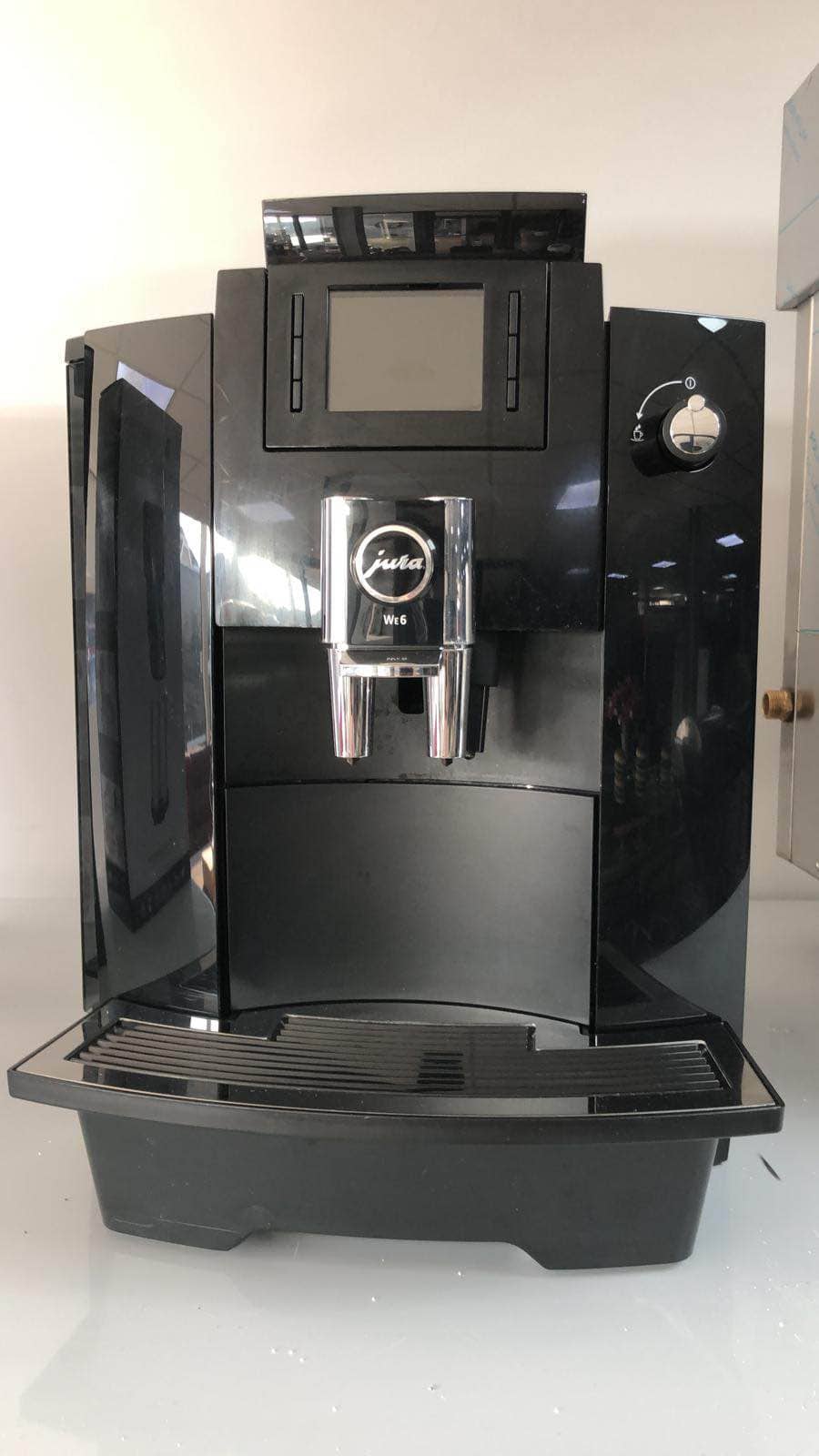 +Brewing technique 
Pulse Extraction Process is a technology developed by Jura, and it runs in this brand's many product lines. The trick is that it uses short and potent pulses of water to soak the puck and extract all the flavor from the coffee ground.
We can judge the performance of the brewing technology by looking at the used pucks in their container. From what I see, Z6 and We6 are doing an excellent job because the pucks are thoroughly used, the centers of the pucks are moist, and there is no water pooling in the container.
Though I can tell that Z6 applies more pressure on the pucks because they seem more intact than what I find in We6. This also explains why Z6 pulls thicker crema.
Utilities: Jura Z6
I love Jura Z6 because this machine has more one-touch beverages options. Alongside the basic drinks like espresso or ristretto, Z6 offers milk-based recipes like flat white, cappuccino, and macchiato. Jura We6 doesn't provide this. 
So if you enjoy milk-based coffees, Jura Z6 is a much better option. And if you already have a milk frother and now you look for the espresso extraction only, Jura We6 is still a good choice.
Milk system: Jura Z6
Since We6 doesn't have a real milk system, there isn't anything for me to comment on. So let's see what Jura Z6 has to offer. From my experience, Z6 is very ideal for making latte, flat white, and macchiato. The machine can steam milk to 140-145F and deliver creamy and velvety milk foam. Dry foam is not its specialty, so maybe not the best for a cappuccino. But it definitely can make milk foam.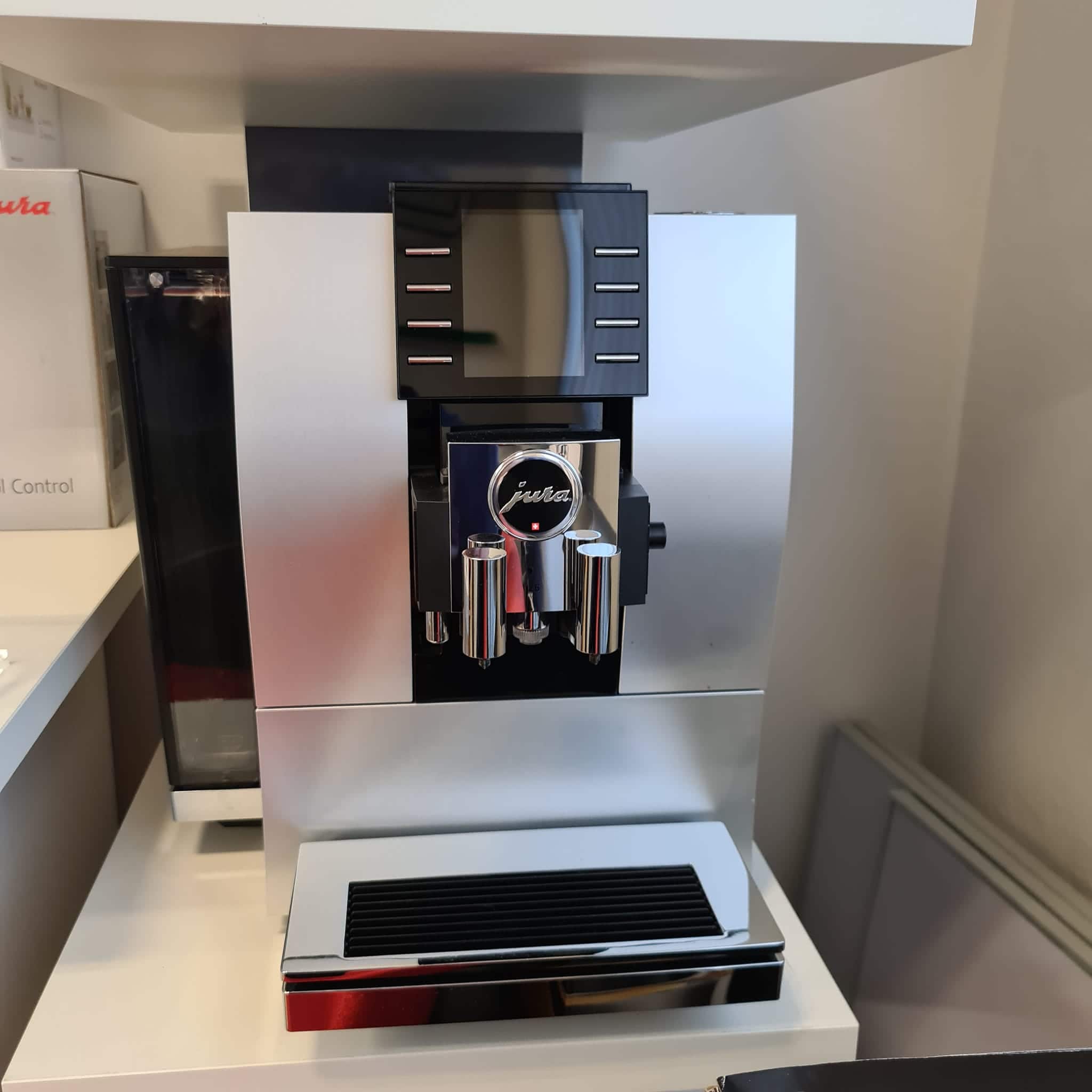 Cleaning & Maintain: Tie
Both models offer some cleaning options that are 100% automatic. For example, when I turn them off, they automatically run hot water through the nozzles to clear the brewing path from any leftover coffee or milk. This makes sure that the flavor from the next brewing session is authentic and stays true to the coffee beans' spirit. 
There are deep clean options as well. With these super-automatic espresso makers, we don't have to remove each part to clean entirely. Jura designs these machines with easy cleaning functions. To clean the grinder and the brew group, we use a cleaning tablet, and the machines handle the rest.
Jura We6 vs Z6: Similarities
Now, let's check the similarities between Jura We6 and Z6. And which is the ideal group of users that these devices target?
15 bars pump
The 15 bars pump has become essential for espresso machines out there. It is standard for pulling richer crema and extracting every flavor that a coffee bean offers. You can expect good crema from Jura Z6 and a more robust flavor from Jura We6.
Perfect for a shared apartment
With Jura Z6's 81 oz water tank and Jura We6's 100.4 oz water tank, you can expect these machines to serve a fairly large group of people per day. I recommend them the most for potential buyers who share an apartment with 3-4 other people or large families in general. They can handle a small office as well, but there are other models that might suit the job better.
Quick Rundown Of Jura Z6
Jura 15093 Automatic Coffee Machine Z6, Aluminum
The pulse extraction process (P.E.P.) allows the whole bouquet of aromas to Blossom. Result: possibly the best Espresso of all time - at the touch of a button
The innovative nozzle technology prepares fine, compact and very tempting milk foam. The machine switches from milk to milk foam fully automatically
The Z6 packs incredible performance into compact Dimensions. All the control elements are conveniently accessible on the front
Maintenance is just as easy as preparing a Coffee: one touch of a button is all that's needed
Only Original Jura maintenance products Guarantee complete hygiene and protection. Only our protective formulas have been carefully optimized to suit the programmed and materials used in Jura automatic machines.
Last update on 2023-03-03 / Affiliate links / Images from Amazon Product Advertising API
Quick Rundown Of Jura We6
Last update on 2023-03-03 / Affiliate links / Images from Amazon Product Advertising API
Product Videos
Related Articles to Jura Z6
Related Articles to Jura We6
Jura WE6 vs E8 Comparison Review: 4 Critical Factors To Compare When Picking The Best Super-Automatic Espresso Machine For Daily Use
References:
Jura Z6: https://us.jura.com/en/homeproducts/machines/Z6-Alu-UL-15093/Specifications
Jura We6: https://us.jura.com/en/professional/machines/WE6-15343-NA/Specifications#tabs

I am a passionate coffee drinker. Since I left my job as a barista a few years back in 2012, I've been sharing my expertise on coffee and buying the best coffee equipment online. That's how Wild Boar Coffee came to life.
I write about everything coffee-related under the sun. Where to buy the freshest coffee beans from? How to test coffee beans based on texture, aroma, and acidity?
I know all this from scratch – all thanks to my years and years of experience as a barista. So I've gotten real up-close-and-personal with coffee beans and different brewing techniques.