If you've never owned an espresso maker before, the Jura Z6 vs Giga 6 debate can help you decide what to expect from a complete bean-to-cup espresso maker. The Jura Z6 is the more affordable choice but it does not offer what the Giga 6 does.
The Giga 6 has two grinders, two thermoblocks, two water filters, and more coffee specialties to offer. The Jura Z6, on the other hand, has a steel burr grinder, fewer coffee drinks, and a TFT display.
The result of using the Giga 6 is for getting through multiple espressos a day without losing temperature or consistency. You don't have to wait between cups. The Giga 6 allows extraction of a complicated drink like a flat white in seconds without losing the natural intensity of espresso.
While the shot quality and overall performance of the Jura Z6 is great too. It's just not as premium and feature-rich as the Giga 6. Probably why the Giga 6 costs so much more, right?
Jura Z6 vs Giga 6: Comparision Chart
Table could not be displayed.
Jura Z6 vs Giga 6: Differences
The Jura Giga 6 wins 4 – 1 against the Jura Z6 because it has a faster brewing unit with two grinders and two thermoblocks. So it can make more coffee specialties than the Jura Z6 without losing temperature control or precision.
1. Espresso Taste
The Winner: It's A Tie!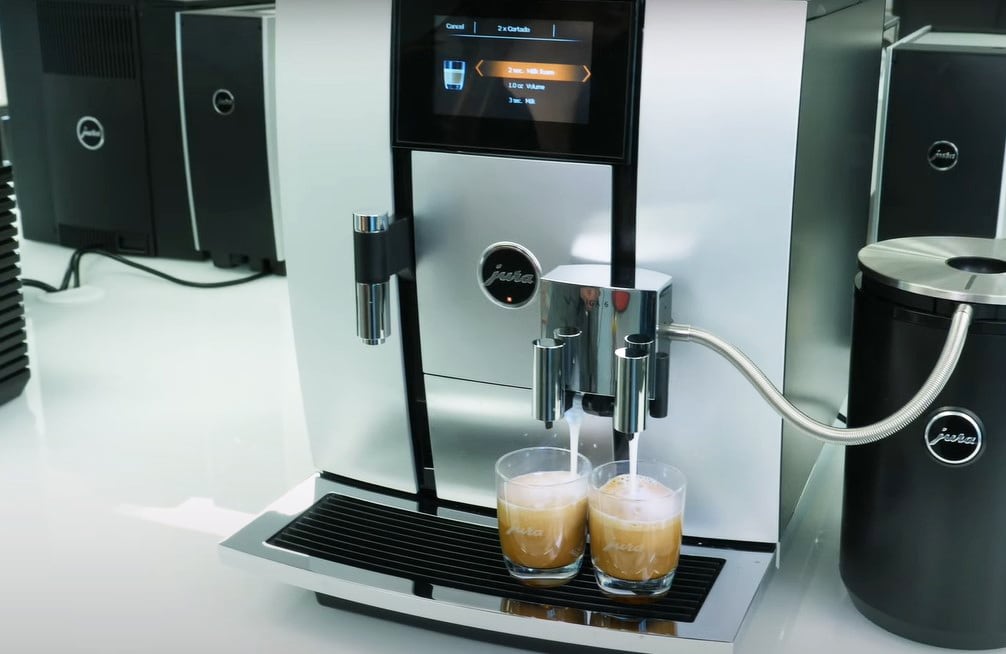 +Temperature
The Jura Z6 uses a single thermoblock boiler that controls the espresso extraction and the milk frothing. For an entry-level espresso machine for home use, this is the ideal feature.
The Jura Giga 6 holds dual thermoblock boilers; one for espresso and the other for milk frothing – considering this, you have a lot to compare. The temperature control on the Giga 6, as a result, is a lot faster and sturdier to control and adjust.
The Thermoblock heating of the Jura Z6 may get your machine hot and ready in no time. But there will be some time loss between brewing espresso and frothing milk. But the Jura Z6 also comes with dual coffee spouts that allow you to make two coffees at the touch of a single button, in a single brewing cycle.
The Giga 6 is a lot faster and easier to maintain higher temperatures for both espresso and milk. Because these two processes require very different levels of temperature. This can be smoothly managed with two thermoblocks.
+Coffee Grinder
The debate is between using a steel conical burr grinder – more specifically Jura's latest Aroma G3 grinder – which is designed for home espresso makers and a ceramic disc grinder designed for commercial use.
Taking into consideration the fact that the Giga 6 offers dual grinders, more coffee drinks, and a larger brewing capacity, the ceramic disc grinder is necessary. It's built for managing back-to-back espresso shots, just like a professional barista machine.
A steel grinder, like in the Jura Z6, can take on the needs of 1 to 3 people every day. But the grinder does require some downtime to cool off. Or else it overheats and overheating can cause the beans to burn off the natural coffee oils. So your espresso may taste a bit under-extracted and have no rich aroma at all.
But this minor complaint is only if you grind beans constantly in the Jura Z6. If you take it slow, brewing 2-4 espressos at a time, it should not be a problem at all.
For larger parties, more espresso drinks, the Giga 6's dual ceramic disc grinders can take the heat without actually heating up!
2. Dose Control
The Winner: Jura Giga 6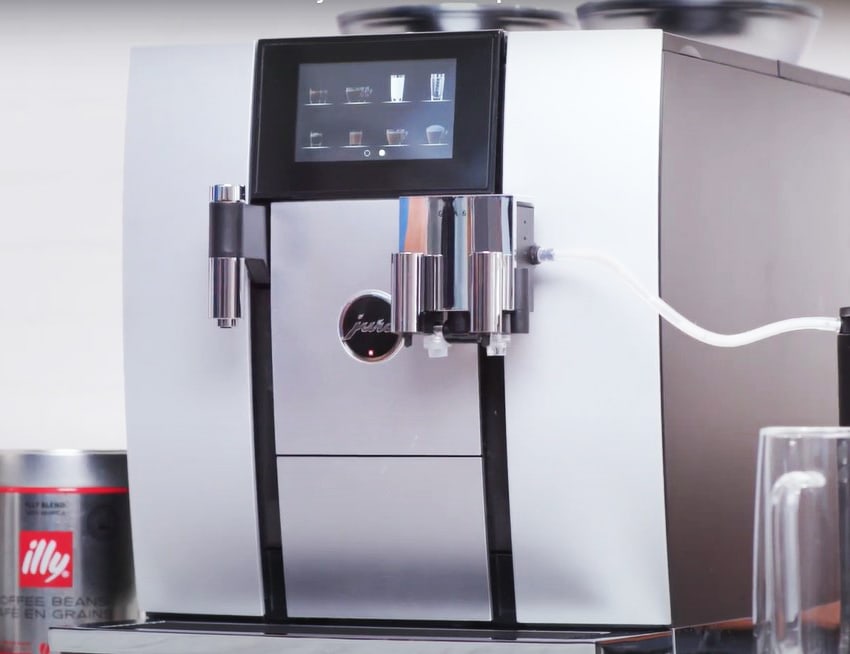 +Coffee Specialities
This is, by far, the most compelling reason to pick the Giga 6 over the Z6. The Giga 6 offers two times as many drinks as the Jura Z6, a little over the two times.
Where the Z6 offers 13 drinks, the Giga 6 offers 28 drinks. These are all espresso and coffee specialty drinks with deep coffee customization for strength, temperature, and volume.
It includes plain espresso drinks in various sizes and milk espresso drinks with different milk textures and volumes.
The Z6 also does include programmable coffee strength, temperature, and volume settings. The quality of each espresso drink is impressive including 0.5 ounces of Ristretto to longer coffee drinks as well. It can also make a flat white which is a rare thing to find in super-automatic espresso machines.
The higher count of espresso drinks that you can make at the touch of a button makes the Giga 6 a tempting pick for espresso lovers.
3. Cleaning & Maintenance
The Winner: Jura Giga 6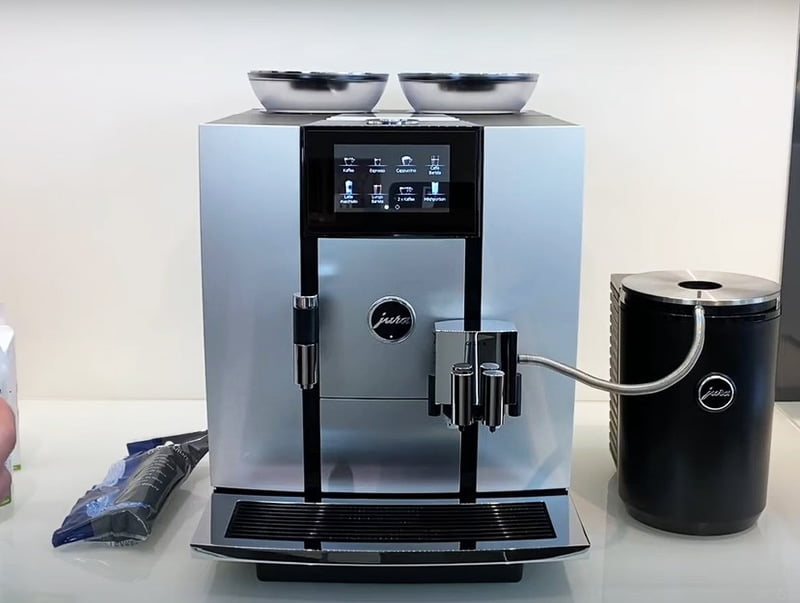 +Capacity
The slight difference between the Giga 6 and Z6's water reservoir is not the main point of this argument. What is is the difference between their bean hopper and the size.
To get it out of the way, the Giga 6 comes with an 87-ounce water tank while the Jura Z6 comes with an 81-ounce water tank.
For their bean hoppers, the Jura Z6 features a single bean hopper of 280g capacity. While the Giga 6, which is designed for entertaining larger parties, has two bean hoppers – both measuring 277 grams each.
Both share the same size of the coffee bin container – up to 20 used coffee pucks before you have to empty it out again.
4. Utilities
The Winner: Jura Giga 6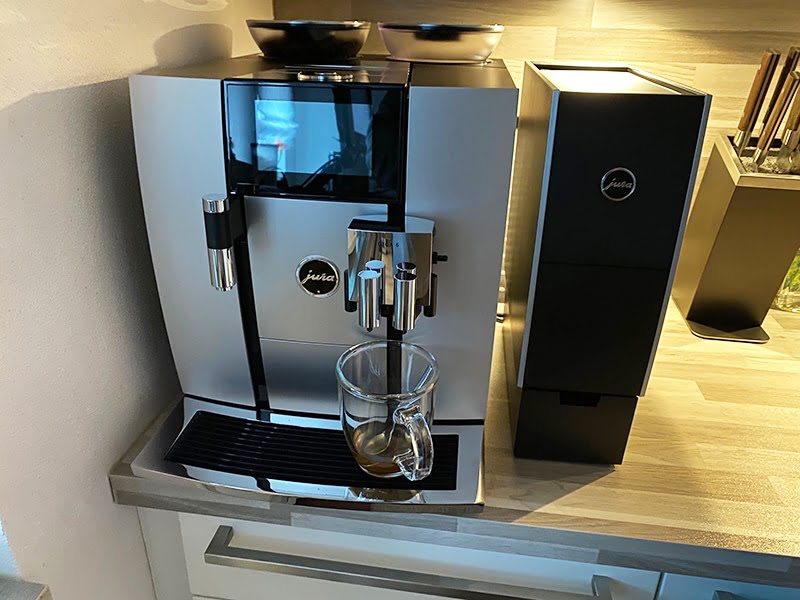 +Control Panel
The Jura Z6 comes with the standard TFT display with buttons. The TFT display has color coffee icons with sliders/bars for programmability. It also includes cleaning alerts and indicators so you know what's going on with the machine at all times.
The Giga 6, however, comes with a modern upgrade with its 4.3-inch touchscreen display. To start with, the display is a lot wider than the TFT display because it has no buttons lined up.
Tap the screen to select your coffee, customize it, and voila. The touchscreen display does simplify the process of selecting and programming. And the wide display gives you a clearer and bolder view of the maintenance alerts.
It seems more organized and streamlined for daily use. Because of the compressed setup of the TFT display on the Z6, the Jura Giga 6's touchscreen looks like a good feature to pay a little extra money for.
Jura Z6 vs Giga 6: Similarities
Both machines share some incredible features that make both compelling choices for espresso drinkers.
This includes the PEP brewing system, Thermoblock technology, and Pre-Infusion technology. All these features ensure uninterrupted brewing performance with a richer, stronger, and more aromatic flavor of espresso.
Both machines also give you full access to 10 coffee strength adjustments and 3 brewing temperature settings. It doesn't matter what coffee beans you put into the hopper or pre-ground coffee since both machines feature a by-pass doser, you can make further adjustments to the taste and aroma.
The milk frothing system also includes 10 levels of milk temperature settings. So you can also adjust the temperature and volume of milk as per your personal taste.
The programming is quick and efficient to do. Both machines come equipped with a water filtration system and cleaning indicators to prolong the shelf life. And certain sturdy accessories such as the adjustable dual coffee spout, app connectivity, and hot water dispenser to make up a complete coffee station.
The dual coffee spout lets you adjust the height of the coffee spout to slide under short to tall mugs easily. Furthermore, you can sync the espresso maker to your phone to get access to all its coffee functions on your smartphone. You can select and customize everything using just your phone or tablet.
Quick Rundown of Jura Giga 6 15357
Sale
Jura GIGA 6 Aluminum Automatic Coffee Machine
Stainless steel body with aluminum finish
28 available specialties to choose from
87 ounce water tank
2 electronically adjustable ceramic disc grinders
Automatic Grinder Adjustment (A.G.A.) function
Last update on 2023-03-03 / Affiliate links / Images from Amazon Product Advertising API
Quick Rundown of Jura Z6 15093
Jura 15093 Automatic Coffee Machine Z6, Aluminum
The pulse extraction process (P.E.P.) allows the whole bouquet of aromas to Blossom. Result: possibly the best Espresso of all time - at the touch of a button
The innovative nozzle technology prepares fine, compact and very tempting milk foam. The machine switches from milk to milk foam fully automatically
The Z6 packs incredible performance into compact Dimensions. All the control elements are conveniently accessible on the front
Maintenance is just as easy as preparing a Coffee: one touch of a button is all that's needed
Only Original Jura maintenance products Guarantee complete hygiene and protection. Only our protective formulas have been carefully optimized to suit the programmed and materials used in Jura automatic machines.
Last update on 2023-03-03 / Affiliate links / Images from Amazon Product Advertising API
Product Videos
Related Articles to Jura Giga 6
Jura Giga 6 vs Z8 Review: Why You Should Go For This Jura Bean-To-Cup Machine To Satisfy All Your Daily Espresso & Coffee Needs 
Related Articles to Jura Z6
References

I am a passionate coffee drinker. Since I left my job as a barista a few years back in 2012, I've been sharing my expertise on coffee and buying the best coffee equipment online. That's how Wild Boar Coffee came to life.
I write about everything coffee-related under the sun. Where to buy the freshest coffee beans from? How to test coffee beans based on texture, aroma, and acidity?
I know all this from scratch – all thanks to my years and years of experience as a barista. So I've gotten real up-close-and-personal with coffee beans and different brewing techniques.