Jura E6 vs Delonghi Dinamica Plus: which bean-to-cup machine comes out on top? Without beating around the bush, my choice goes to the latter, and I'll tell you why.
The Delonghi Dinamica Plus, although priced significantly lower, has the upper hand in this battle with more grind settings and a wider array of one-touch drink options. Additionally, it has four user profiles for storing personalized settings and a built-in warmer for pre-heating cups before brewing.
The Jura E6, on the other hand, brews better espresso with Jura's patented P.E.P. technology. Its in-built grinder works faster and quieter, while the companion app knows Siri and is compatible with the Apple Watch.
Jura E6 Vs Delonghi Dinamica Plus: Comparison Chart
Image
Dimensions/Weight
10 × 12.4 × 17.6 inches/18.7 lbs
9 × 12.7 × 17.5 inches/19.6 lb
Heating System
Single Thermoblock Boiler
Single Thermoblock Boiler
Spigot Type/Cup Clearance
Water Reservoir/Bean Hopper
Compatible With Pre-ground Coffee
What I Like
The AromaG3 grinder works well.
Compatible with the J.O.E. app.
Compact footprint.
Straightforward and easy-to-use interface.
One of the cheapest Jura.
Can brew two shots at once.
Intuitive touch panel.
Aroma + grinder is great.
Affordable price.
Easy to use and clean.
Image
Dimensions/Weight
10 × 12.4 × 17.6 inches/18.7 lbs
Heating System
Single Thermoblock Boiler
Spigot Type/Cup Clearance
Water Reservoir/Bean Hopper
Compatible With Pre-ground Coffee
What I Like
The AromaG3 grinder works well.
Compatible with the J.O.E. app.
Compact footprint.
Straightforward and easy-to-use interface.
One of the cheapest Jura.
Image
Dimensions/Weight
9 × 12.7 × 17.5 inches/19.6 lb
Heating System
Single Thermoblock Boiler
Spigot Type/Cup Clearance
Water Reservoir/Bean Hopper
Compatible With Pre-ground Coffee
What I Like
Can brew two shots at once.
Intuitive touch panel.
Aroma + grinder is great.
Affordable price.
Easy to use and clean.
Last update on 2023-11-30 / Affiliate links / Images from Amazon Product Advertising API
Jura E6 Vs Delonghi Dinamica Plus: Differences
The Delonghi Dinamica Plus won the Jura E6 with a score of 6-3, and that's just the tip of the iceberg. Dive deeper into my detailed comparison to see how they differ!
Built-in Grinder
Winner: Tie
Like all high-end super-automatic machines, these models come equipped with integrated grinders. So they can save you the expense and kitchen space of an additional, costly grinder.
The Jura E6 features a Professional Aroma Grinder, which is also a stainless steel conical burr grinder like the one on the Dinamica Plus, but faster and quieter, I think. In return, the Dinamica Plus has 13 grind settings compared to the E6's 5 settings, so the former offers you a broader range to adjust the fineness of the coffee grounds to your exact preference.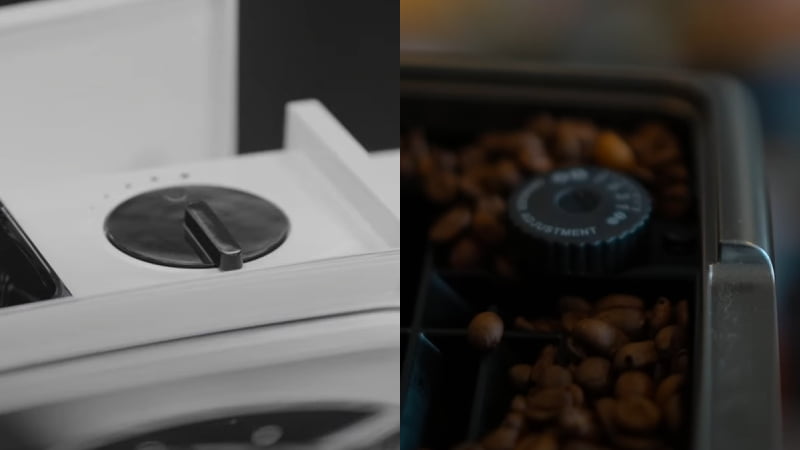 As always, only adjust the grind settings while the grinder is active, and it might take a few cups before the changes become noticeable. Well, maybe no one has ever told you, but avoid using oily coffee beans unless you're begging for trouble. The inner workings of the machine get clogged quite easily, and oily buildup could potentially lead to costly damages.
Oh, by the way, both have a bypass chute, so you can use pre-ground coffee instead of coffee beans. This feature becomes helpful whenever you want to have decaffeinated coffee or are simply temporarily running out of fresh coffee beans. Note that you should only use pre-ground coffee and not any other substance, such as chocolate or flavored powders, as they can harm the machine.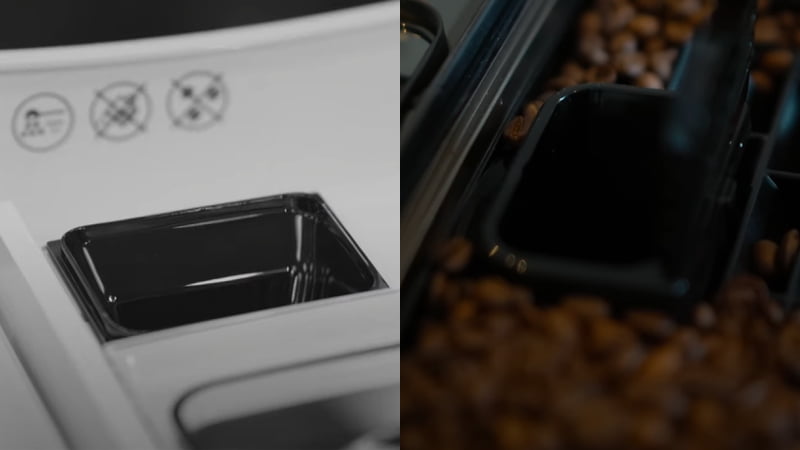 Brewing System
Winner: Jura E6
Both pre-infuse coffee grounds before entering the full extraction phase (at a maximum pressure of 15 bars on the E6 and up to 15 bars on the Dinamica Plus). Jura has something called the Intelligent Pre-Brew Aroma System (IPBAS), but it's indeed related to the pre-infusion stage. It causes the coffee grounds to swell (or "bloom") and ensures that water will evenly penetrate the coffee puck during the main extraction phase, helping to achieve a more uniform extraction of flavors and aromas.
Extracting espresso in the Jura E6 is a little different. It uses Jura's Pulse Extraction Process (P.E.P.), involving pulsing water through the coffee grounds in short intervals instead of a continuous stream of water. The pulsating extraction process facilitates the better development of the coffee flavors, resulting in a superior-quality espresso with rich, nuanced flavors.
Milk Frothing System
Winner: Delonghi Dinamica Plus
Right off the bat, their milk systems both require a milk holder, but Dinamica Plus ships with one, while the Jura E6 requires a separate purchase for this essential component. This honestly disappointed me a bit since the Jura E6 is exorbitantly expensive, and Jura expects users to spend additional money on what seems like a fundamental accessory.
The Dinamica Plus's milk system, or the LatteCrema system, includes a thermal milk jug. To make a milky drink, you need to take the hot water spout off the machine and add the jug. It produces thick, frothy milk instead of the microfoam required for flat whites or latte art, which is common among most automatic coffee systems.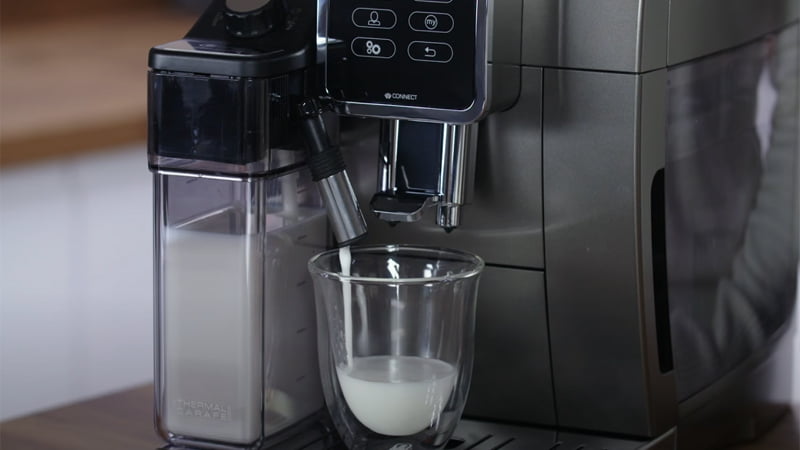 There is a convenient knob on the jug's lid that you can use to select from three foam settings: no froth, minimal, or maximum. The jug is removable and can be kept in the refrigerator when not in use, which is a big plus because you don't need to transfer the milk to another holder.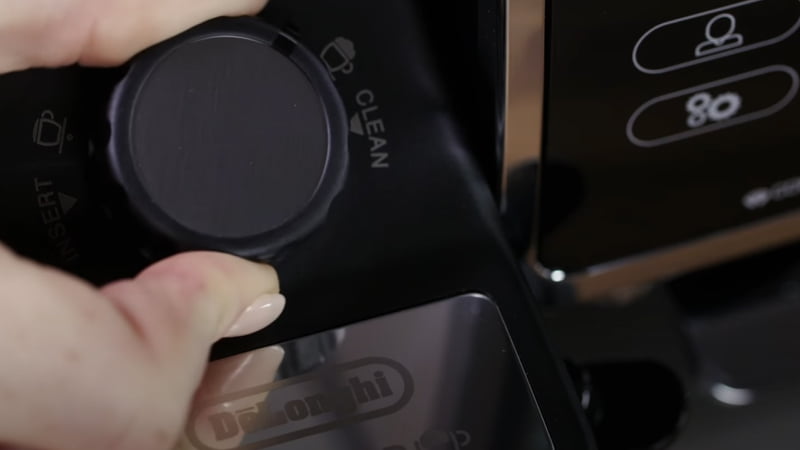 As for Jura E6, you can use your own container to hold milk or buy Jura's well-designed glass jug or its cool controller, which can keep your milk chilled independently. Either way, the milk holder will take up extra counter space instead of being neatly attached to the front of the machine, like the Dinamica Plus.
The E6 also produces thick foam for cappuccino and can't prepare other popular milk-based drinks like lattes. You will need to turn a knob located on the right side of the machine during this process, and if you forget, the machine will remind you via the screen.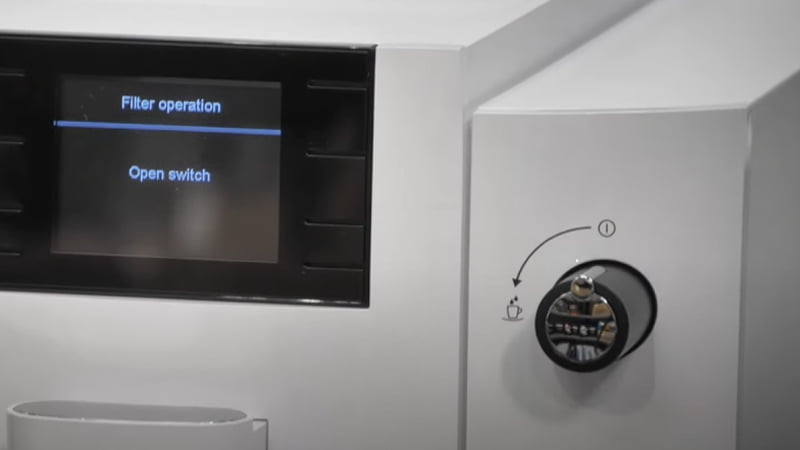 Design & Convenience
Winner: Tie
Dimensions & User Interface
| | Jura E6 | Delonghi Dinamica Plus |
| --- | --- | --- |
| Dimensions | 11 × 13.8 × 17.6 inches | 9.3 x 14 x 17 inches |
| Weight | 20 lbs | 20.9 lbs |
For many of you, the appearance of a bean-to-cup machine might not be a top priority – the coffee quality is what truly matters. But I just want you to know that the E6 and Dinamica Plus are good-looking appliances that are fingerprint-resistant and don't stain. My initial impressions of these machines are overwhelmingly positive.
There's too much plastic in their construction to keep costs down. Not much of an issue. These super automatic machines still feel sturdy and well-made, so I think they'll hold up well over time. Moreover, they are comparatively compact, so they aren't going to totally dominate your kitchen countertop.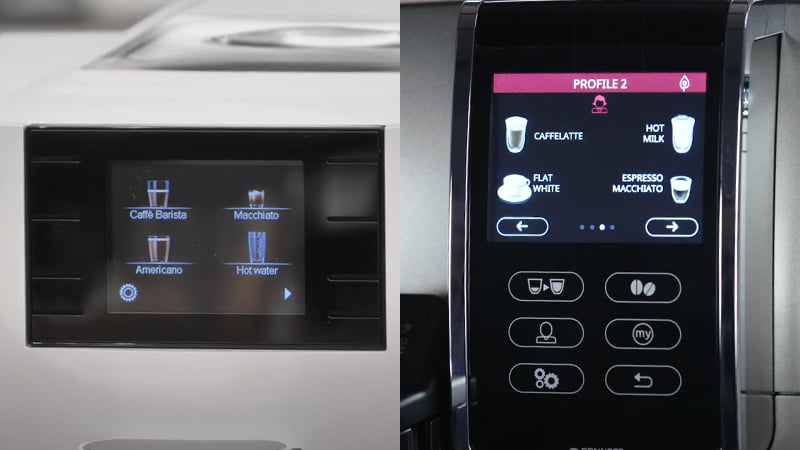 Speaking of the control panel, the E6 has a non-touch LCD screen that's notably intuitive and user-friendly. The Dinamica Plus features a contemporary touch screen, which is more suitable for the touchscreen-centric world we live in today.
Spout Type & Cup Clearance
| | Jura E6 | Delonghi Dinamica Plus |
| --- | --- | --- |
| Spigot Type | Dual | Dual |
| Cup Clearance | 2.6–4.4  inches | 3.5-5.5 inches |
Their dispensing units are height adjustable to accommodate cups of different heights. They are also capable of preparing two cups of espresso at once, so you and your spouse can enjoy your coffee together without queuing.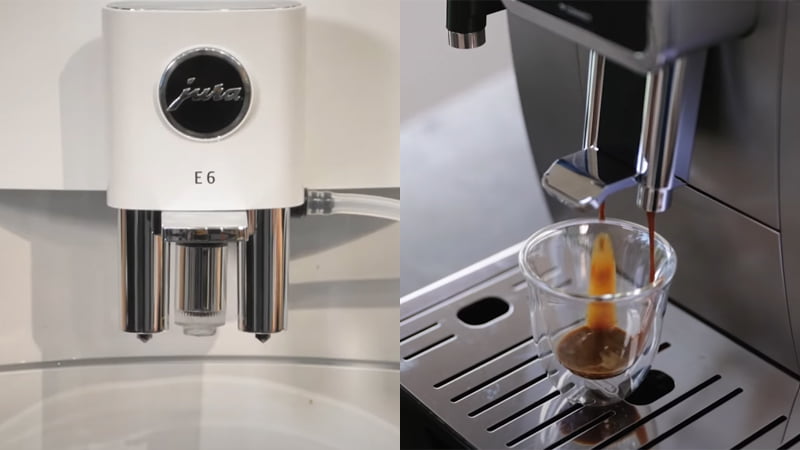 One thing that I think is a downside of the E6 is that it dispenses both milk and hot water through the same nozzle. That means you have to change spouts frequently when you need to alternate between a milk-based drink and a regular espresso shot, adding a manual step to the process. Likewise, the Dinamica Plus requires replacing the milk carafe with a separate spigot for hot water.
Water Reservoir & Bean Hopper
| | Jura E6 | Delonghi Dinamica Plus |
| --- | --- | --- |
| Water Reservoir | 1.9 liter | 1.8 liter |
| Bean Hopper | 0.29 liter | 0.37 liter |
Their water tanks are generally large enough to make several cups before needing to be refilled, adequately meeting the demands of most households. The Dinamica Plus's tank slides out from the front of the machine, which is easier to remove compared to the top-access tank of the Jura E6 (but you can fill it on the spot).
Both the E6 and Dinamica Plus come with water softener filters, which can be added to their tanks. These machines can still function without these filters, but I strongly recommend them unless you are using pre-filtered water. They not only cut out the need to regularly descale the machine but also enhance the flavor and aroma of the coffee.
Pre-programmed Coffee Options & Programmability
Winner: Delonghi Dinamica Plus
Jura E6
Delonghi Dinamica Plus
Espresso
2 × Espresso
Coffee
2 × Coffee
Caffè Barista
Americano
Macchiato
Cappuccino
Cappuccino Extra Shot
Portion of milk foam
Hot water
Gourmet Espresso
Double Espresso
Long Coffee
Truebrew Over Ice
Coffee Pot
Doppio+
Cappuccino
Latte Macchiato
Milk Cappuccino +
Cappuccino Mix
Caffelatte
Flat White
Espresso Macchiato
Hot Water
Both offer a long list of one-touch drinks, including popular ones like espresso, cappuccino, and latte macchiato, and you can have them right at your fingertips with just a simple button press. You also have a hot water option for tea or hot chocolate, with variable temperature settings.
As you might expect, these bean-to-cup machines offer the flexibility to customize any specialty drink. You can experiment with adjustments like the coffee strength, shot volume, milk dose, brewing temperature, and more to create drinks that perfectly align with your taste. You can then save the adjusted drinks so that the machine can make your favorite brew just a button press away next time.
The Dinamica Plus indeed stands apart from the competition with Delonghi's patented "cold brew" technology called TrueBrew Over Ice. But don't get it wrong, it's not really cold-brew espresso. Instead, it just steeps coffee grounds and brews espresso at a lower temperature, and what you get is a good shot of espresso that is closer to room temperature rather than being chilled or cold. Then, you can serve it with your ice cubes or whiskey rocks, depending on you.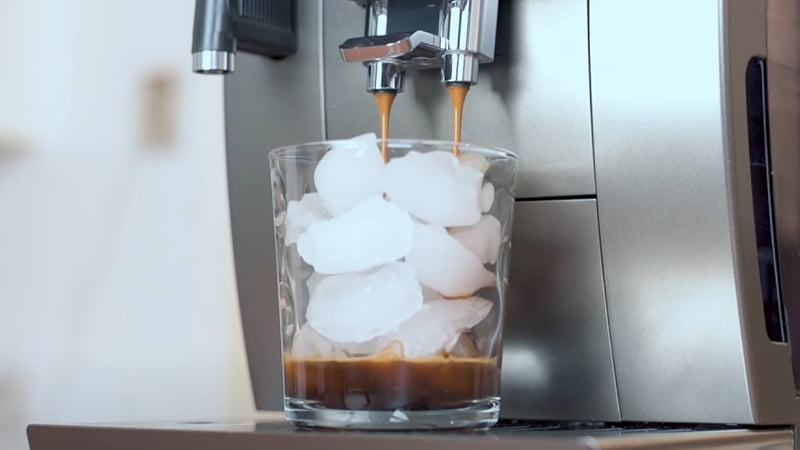 Another interesting thing about the Dinamica Plus is the pot function. This function allows the machine to brew up to six cups of coffee in a single brewing cycle, which is a convenient feature for serving coffee to a group, be it family, friends, or colleagues. But the Dinamica Plus uses a larger amount of water relative to the amount of ground coffee here, which could potentially result in a brew that is less strong or intense compared to a single-cup brewing cycle.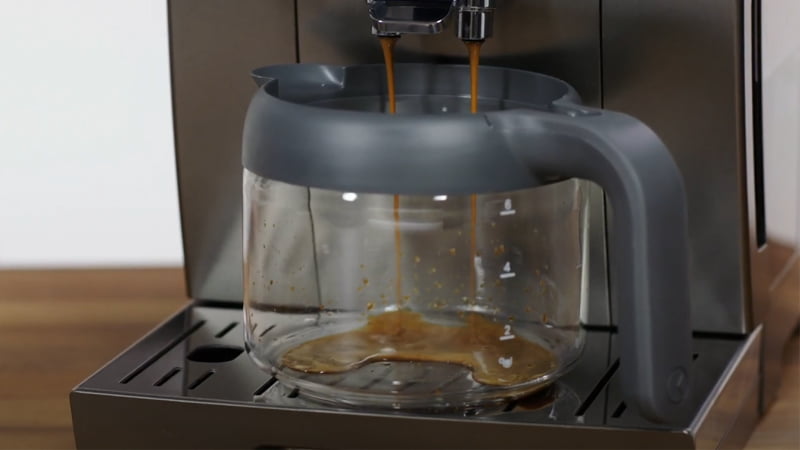 Cleaning & Maintenance
Winner: Delonghi Dinamica Plus
When it comes to cleaning and descaling, each of these machines will make it easy on you thanks to the available automatic rinsing programs. Detailed guidance is provided through the display, companion app, user manuals, and a plethora of instructional videos provided by the manufacturer. The water tank, drip tray, and used coffee ground box are all easy to remove and can be washed under warm water.
The Dinamica Plus has a removable brew group that requires manual cleaning, and personally, I prefer this hands-on approach. The Dinamica Plus's removable brew unit allows me to ensure its cleanliness and replace it when necessary. I don't doubt the efficiency of the E6's automatic cleaning cycle, but being able to visually inspect and clean the brew group gives me peace of mind.
Other Features
Winner: Delonghi Dinamica Plus
Built-in Cup Warmer
There's space to store and pre-heat a couple of cups on top of the Dinamica Plus, allowing the coffee temperature to be maintained when it is poured into the cup. Pre-heating the cup is particularly important for espresso and other coffee styles, where maintaining the ideal temperature is key to unlocking the best flavor and aroma.
The Jura E6 has no built-in cup warmer, but there are other ways, such as filling your cups with hot tap water and letting them sit for minutes or microwaving them if they're microwave-safe. Jura also offers a dedicated cup warmer accessory for those who are willing to spend extra bucks on an expensive device.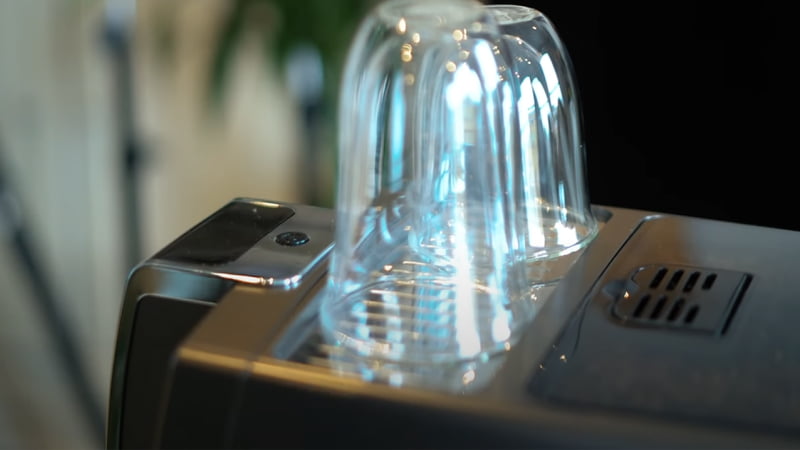 User Profile
The Dinamica Plus has up to four profiles for you and others to personalize your drinks, whereas the Jura E6 lacks this nifty feature. I bet everyone wants their espresso machine to come with this feature. I mean, who wouldn't prefer to save their personalized coffee recipes after making all of the tweaks to get the right ones?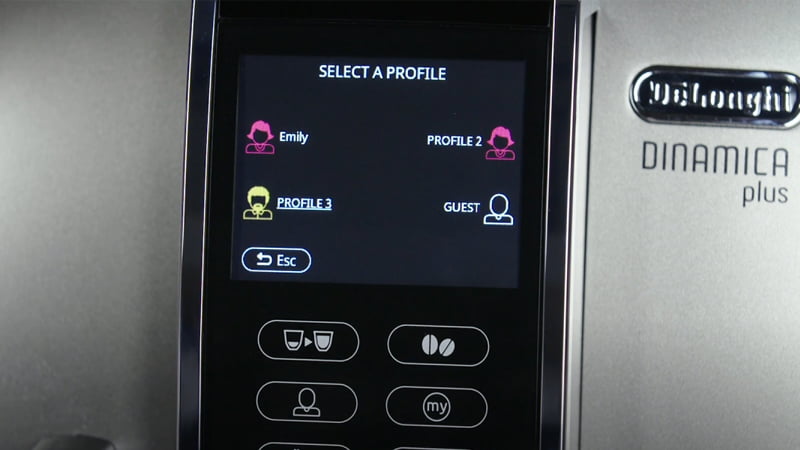 App Connectivity
The Jura E6 works with the J.O.E. app (or Jura Operating Experience), while DeLonghi, to compete with Jura, has integrated the Coffee Link app with the Dinamica Plus for remote operation. Both apps are great and offer impressive features.
These apps can be used to switch the E6 or Dinamica Plus on while you are in the bedroom or unwinding on your sofa and watching Netflix, so it's completed the heating-up stage by the time you saunter into the kitchen. You can also keep an eye on the brewing progress, and you don't have to do anything more than wait until your brew is ready. Just make sure one or two cups have been placed under the dispensing spout of your coffee machine beforehand.
Via these apps, you can also adjust all the settings and store your personalized ones for effortless repetition. These apps also send timely cleaning and upkeep notifications to ensure your machine stays in peak condition, all in the palm of your hand.
The J.O.E. app takes convenience to the next level by syncing with your Apple Watch, allowing you to impress guests with espresso preparations with just the touch of a wrist. What's more, you can integrate Siri shortcuts for your favorite coffee drinks, so you can order your next espresso with a simple voice command.
Jura E6 Vs Delonghi Dinamica Plus: Similarities
Heating System
Both the E6 and Dinamica Plus have one fast-heating thermoblock to brew espresso and steam milk. They can do both tasks at once, like ones with dual boilers, but there's almost no delay between espresso and milk dispensing.
Unlike traditional boilers, which heat a large reservoir of water, a thermoblock heats only the water required for a single espresso shot or milk steaming session. It consists of a block of metal with a water path carved inside. As water flows through this path, it is rapidly heated to the desired temperature. That's the core reason why these machines can heat up so quickly.
Quick Rundown Of Delonghi Dinamica Plus
Sale
De'Longhi ECAM37095TI Dinamica Plus with LatteCrema System, Fully Automatic Coffee Machine, Colored Touch Display,Titanium
Note: 1)Too coarse a grind, too little coffee, or insufficiently tamping the grounds before brewing can all lead to inadequate pressure for a proper brew. 2)It is important to note that the amount of espresso extracted will vary depending on the grind size and amount and reprogramming may be needed when the size and amount are adjusted
3.5" TFT full-touch, colorful display provides intuitive and simple experience of one-touch specialty recipes
De'Longhi Coffee Link App lets you create and save up to 3 personalized espresso recipes in your profile, so every cup of coffee is always customized to your unique taste
16 one-touch or customized coffee drinks: latte, espresso, cappuccino, flat white, iced coffee, regular coffee and more.
Built-in conical burr grinder with 13 settings for always freshly ground coffee, for any beans of your choice.
Last update on 2023-11-30 / Affiliate links / Images from Amazon Product Advertising API
Quick Rundown Of Jura E6
Jura E6 Automatic Coffee Machine, Piano White
Create delicious, café-quality beverages at home with the highly customizable JURA E6
It's just like having a coffee shop in your kitchen—without the line
A two-step system features dual milk and espresso spouts, ensuring an exceptionally smooth, delicious cappuccino at the push of a button
You can also choose from five other pre-programmed specialties, multiple temperature settings or even a hot water setting for tea or cocoa
Customizable coffee levels mean you can adjust the strength of the coffee so that you can enjoy beverages throughout the day
Last update on 2023-11-30 / Affiliate links / Images from Amazon Product Advertising API
Product Videos
Related Articles to Delonghi Dinamica Plus
Related Articles to Jura E6
References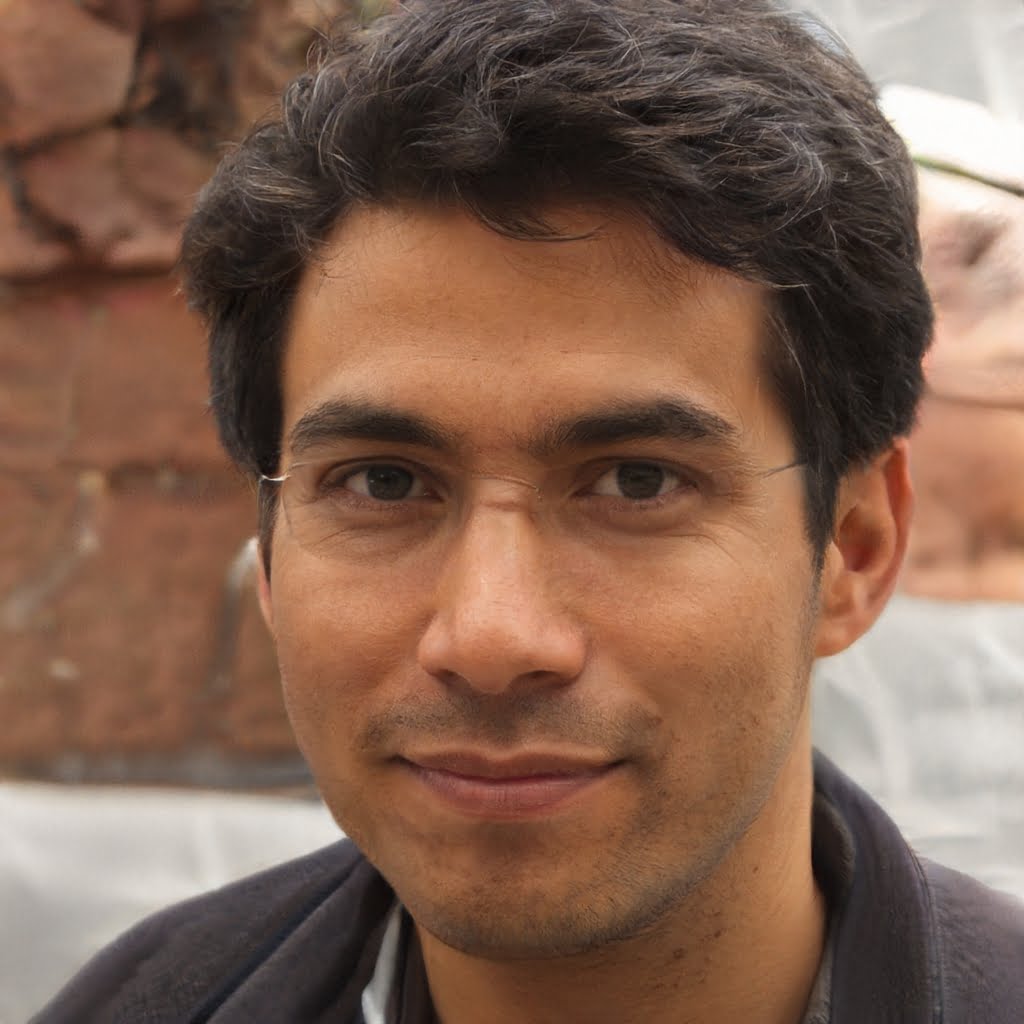 Felix Hendricks is a skilled barista with over 12 years of experience. He excels in crafting coffee and has a strong foundation in coffee machine mechanics. Felix holds a Coffee Machine Maintenance Certification from the Coffee Equipment Technical Institute, showcasing his ability to diagnose and repair coffee machines. He's also worked as a quality control specialist, selecting premium coffee beans for optimal flavor. Felix has a diverse work history, including stints at renowned coffee spots like Café Euphoria & Starbucks. His expertise in both brewing and machine maintenance makes him a respected figure in the coffee industry.